Accident in Stonegate Neighborhood Kills Teen: Arlington Heights Crash Into Tree Pins Passenger
Video of extrication rescue by Arlington Heights firefighter/paramedics on Windsor Drive north of Northwest Highway about 1:00 a.m. Thursday
UPDATE: John 'Jack' Gavin — identified as the male passenger in a car crash with a tree in — was pronounced dead about 8:00 a.m. Thursday, March 24, 2011 at Lutheran General Hospital. A 16-year-old driver survived the crash, and was released to his parents after he was examined by paramedics.
Arlington Heights police and firefighter/paramedics responded about 12:45 a.m. Thursday to a one-car crash into a tree on the west side of the park in the 400 block of South Windsor Drive. Police and firefighter/paramedics worked rapidly and with extreme care for a young male passenger that was pinned on the passenger side of a red 2000 Hyundai Sonata.

Firefighters/paramedics first removed the roof from the car with a Hurst cutter tool and an all-purpose saw. Next rescuers used a Hurst spreader tool to free the victim from the passenger side of the car where he was trapped. The patient was immobilized and transferred out the driver's side door on a backboard to a gurney, and to the rescue-ambulance.
Extrication took about 30 minutes after severe damage on the passenger side of the car that hit the tree caused the entrapment.
The teen was transported to Level I Trauma Center Advocate Lutheran General Hospital.
Arlington Heights police are investigating the accident.
Visitation for John J. "Jack" Gavin of Arlington Heights will be Monday, March 28, 2011 from 3 p.m. to 9 p.m. at Lauterburg and Oehler Funeral Home, 2000 E. Northwest Highway in Arlington Heights. Prayers will be said Tuesday, March 29, at 9:15 a.m. at the funeral home, proceeding to St. James Catholic Church, 831 N. Arlington Heights Road, Arlington Heights, for a funeral Mass at 10 a.m. Interment will be in All Saints Cemetery, Des Plaines.
Details and Guestbook at … Daily Herald via Legacy.com John J. "Jack" Gavin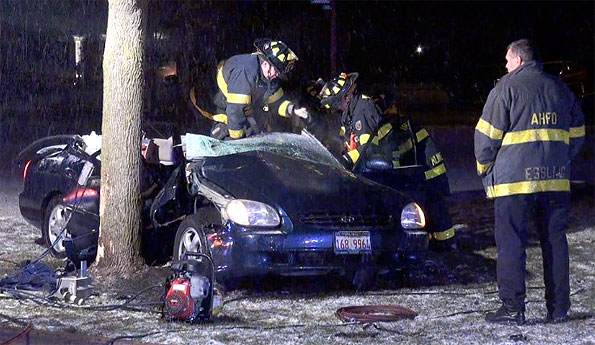 Arlington Heights firefighter/paramedics prepare to transfer a young male victim from his wrecked car to the rescue-ambulance.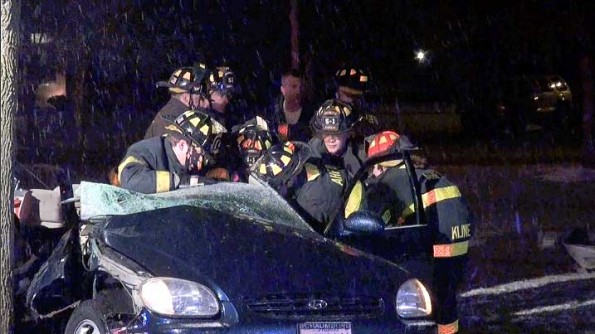 Extrication rescues are quite a team effort among firefighter/paramedics, the battalion chief, and police.

View Arlingtoncardinal.net/fireblog in a larger map