YouTube is the largest online video website, and the leading online video-sharing platform used by individuals and media companies, including CARDINAL NEWS. YouTube is owned by Google. This page is provided to describe helpful tips, known issues, and troubleshooting tips for YouTube operation.
In addition to our own videos, CARDINAL NEWS provides embedded videos shared by a variety of media sources. Some YouTube channel publishers do not allow embedded videos to play in other web pages or news articles, such as those published by CARDINAL NEWS. Instead of playing the video when the play button is activated, settings for the video are configured so that a link is provided to play the video on the official YouTube website.
Error Messages
Occasionally on some browsers, such as Google Chrome or Firefox, users may get an error when trying to play an embedded video in a website article. This issue has been reported by several users on Downdetector, and has been observed to be a repeat issue. Even CARDINAL NEWS has experienced this issue as a user. In January 2021 embedded videos did not work on Google Chrome on a Mac, but did work on Safari on a Mac and on Safari on iOS. The image below shows an error message that occurred on Mac OS with Google Chrome.
ERROR MESSAGE SAMPLE …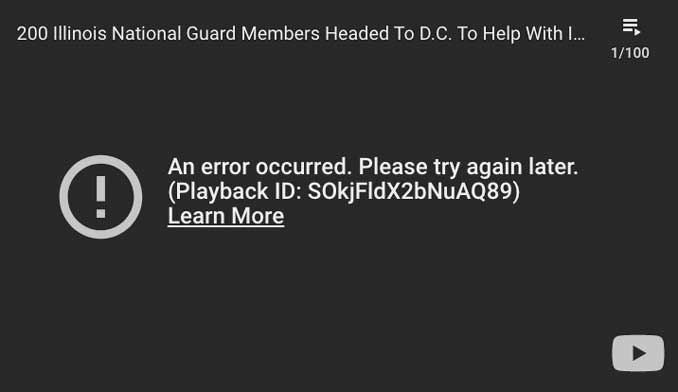 If this happens, and you want to see the video immediately, click on the video title at the top of the embedded video. The video will open in YouTube instead of playing the embedded video in the article.
In the long term, this error has been known to be eliminated by clearing the cache in the browser setting (See Google Support "Troubleshoot YouTube error messages").
Resolution
YouTube doesn't always automatically give viewers the highest resolution. In fact, sometimes 1080p videos might be served at 360p, which might load faster with slower connections, but without High-Definition (HDTV) quality. Delivery of the lower quality video could be due to detected Internet speeds or other factors. Most times you can correct the delivery to 1080p or higher using the selection in the "Gear" settings. Most CARDINAL NEWS (Arlingtoncardinal.com) videos are captured at 1080p or 720p.
Speed Settings
Many videos on YouTube.com/Arlingtoncards are published in long version that includes longer video compared to what you might see on a news broadcast. You might want to use the "Gear" settings to select a faster speed to check more quickly for parts of the video that might interest you.
Watch Later
Save your video to the Watch later list. If you set up a free YouTube account, you can save any video to a Watch later list. You can also easily find videos on your Watch later list on any other device that is logged in to your YouTube account — including Cable TV.
Check for More soon!
downdetector.com/status/youtube
downdetector.com/status/youtube/map
Use of YouTube Content (Videos) from Other Users
CARDINAL NEWS uses videos produced by other YouTube users to enhance articles with additional information from original sources, as allowable by YouTube Terms of Service (See "License to Other Users" below). CARDINAL NEWS also allows others to embed original video content from CARDINAL NEWS to other websites, but does not allow use of CARDINAL NEWS videos on services or methods independent or separate from YouTube.
See License to YouTube Terms of Service …
[EXCERPT] "By providing Content to the Service, you grant to YouTube a worldwide, non-exclusive, royalty-free, sublicensable and transferable license to use that Content (including to reproduce, distribute, prepare derivative works, display and perform it) in connection with the Service and YouTube's (and its successors' and Affiliates') business, including for the purpose of promoting and redistributing part or all of the Service.
License to Other Users
You also grant each other user of the Service a worldwide, non-exclusive, royalty-free license to access your Content through the Service, and to use that Content, including to reproduce, distribute, prepare derivative works, display, and perform it, only as enabled by a feature of the Service (such as video playback or embeds). For clarity, this license does not grant any rights or permissions for a user to make use of your Content independent of the Service.
Duration of License
The licenses granted by you continue for a commercially reasonable period of time after you remove or delete your Content from the Service. You understand and agree, however, that YouTube may retain, but not display, distribute, or perform, server copies of your videos that have been removed or deleted."