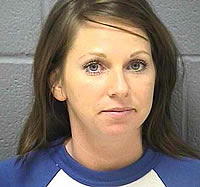 Ashley Blumenshine
(Police Photo)
Ashley M. Blumenshine, 27, a physical education teacher at Plainfield North High School teacher is accused of having sex with a 16-year-old boy after police say she allegedly had sex on Tuesday with the junior at Plainfield North in a vehicle behind a Kohl's. Ashley Blumenshine bonded out of the Will County Adult Detention Center after posting $7,500 about 5:30 p.m. Wednesday. She faces a court hearing on January 26.
Blumenshine, a Lisle resident who also coaches girls gymnastics at Plainfield North High School, was charged with criminal sexual abuse, and ordered not to have unsupervised contact with anyone under age 18 after a judge set her bond Wednesday afternoon. The aggravated criminal sexual abuse charge is a felony punishable by three to seven years in prison.
Plainfield Police Chief Bill Doster said police approached the scene behind Kohl's, 11860 S. Route 59, when they noticed two suspicious vehicles "at the end of the lot away from anything else." Will County Assistant States Attorney Mary Fillipitch stated at a bond hearing on Wednesday that both Blumenshine and the 16-year-old boy admitted to having sex. Assistant States Attorney Filipitch said a condom was found at the scene.
Blumenshine's attorney, George Lenard said Blumenshine has no previous criminal record, and that his client plans to plead not guilty.
Blumenshine is not married and is a graduate of Eastern Illinois University and Olivet Nazarene University in Bourbonnais.