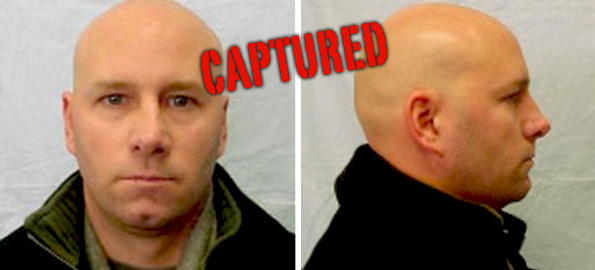 Suspect Robert Maday apprehended in West Chicago Friday at about 12 noon at Neltnor Boulevard (Route 59) and James Avenue.
Suspect Robert Maday captured in West Chicago at Route 59 and James after a short pursuit and car accident. West Chicago police officers in pursuit after a reported sighting of the charcoal gray Volkswagon Jetta. Vehicle was traveling on Route 59 and was first reported sighted in Batavia. West Chicago Police Department, Kane County Sheriff, FBI, U.S. Marshals, West Chicago Fire Department and Winfield Fire Protection District on the scene.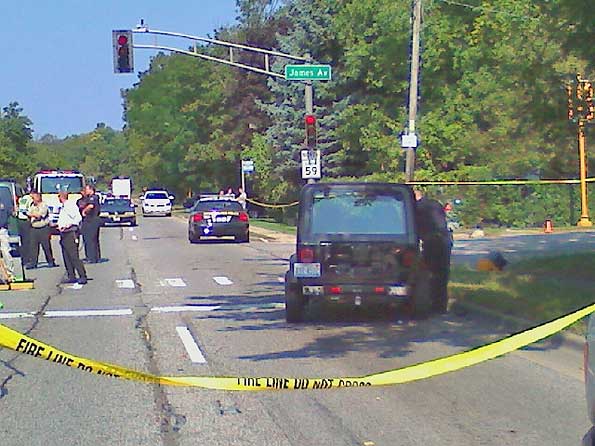 Accident scene at Route 59 and James Avenue where Robert Maday was captured Friday about noon. Photo courtesy of Pauley LaPointe/Spot News Chicago.
After sightings of Maday near Bartlett and St. Charles, four West Chicago police cars were in position on separate roadways that were likely to be traversed by Maday if he headed south. The Jetta was sighted near Main Street and Neltnor Boulevard (Route 59) by a West Chicago police officer who initiated a traffic stop. Immediately, the three other West Chicago police squad cars headed over for the traffic stop. Maday appeared to be complying with the traffic stop, but as police walked toward the car, he sped off. Meanwhile, Chicago Police Department/Cook County Sheriff Helicopter One was still providing air support for a search near Stratford Square Mall in Bloomingdale — about 10 miles by car and 5 miles by helicopter from the West Chicago pursuit. The helicopter had just relieved an FBI helicopter that was setting down for fuel. Helicopter One was seconds away, bearing down toward West Chicago to help with the pursuit, but Maday crashed the Jetta into a black Jeep Liberty and then a light pole, and landed in some tall bushes across the intersection of Route 59 and James Avenue.
Maday injured his back in the crash. Also a man was seen injured and being removed from a black Jeep Liberty. The Jeep Liberty was sideswiped in the crash.
As firefighter/paramedics from West Chicago and Winfield responded, law enforcement officers that were busy searching in Bloomingdale headed south to reach the pursuit and crash scene in West Chicago. Maday was seen face down, handcuffed behind his back.
Armed guards were in the ambulance as a police motorcade transported Robert Maday to Central DuPage Hospital. Chicago Police Department/Cook County Sheriff Helicopter One kept an eye over the motorcade as it traveled south on 59, east on Washington and south on Winfield Road toward Central DuPage Hospital.

View Chicagoland and Worldwide Crime Notebook Map in a larger map
Traffic opened up to one lane each direction on Route 59 about 1:10 p.m. Friday.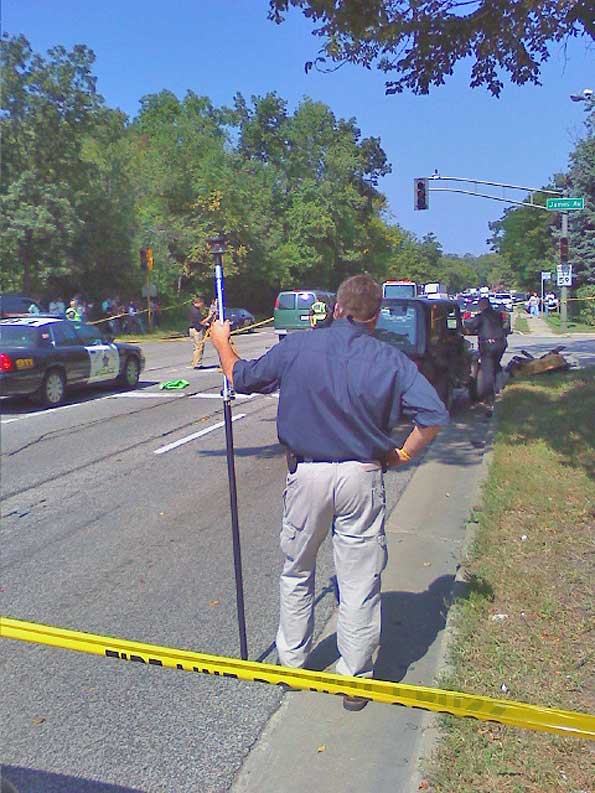 Investigators take measurements and photograph the scene at Route 59 and James Avenue in West Chicago. Photo courtesy Pauley LaPointe/Spot News Chicago.