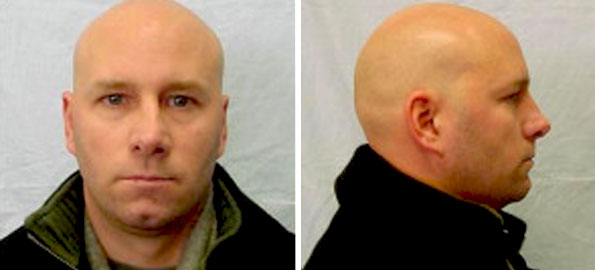 Robert R. Maday Mug Shot — Front and Side.
Robert Maday is suspected of hijacking a car on Hassell Road in Hoffman Estates and then robbing a bank in Bloomingdale.
A woman parked her charcoal gray Volkswagon Jetta (License A 392 864) into a parking lot in the 2300 block of Hassell Road in Hoffman Estates Friday morning about 6:45 a.m. and was approached apparently by Robert Maday. He approached with a gun and demanded her vehicle for his second aggravated vehicular hijacking in two days.
If the offender was Maday, he was wearing light blue jeans, a green T-shirt, and a baseball cap. He was also carrying a black duffel bag.
The offender was seen westbound on Hassell Road toward Barrington Road. He may have turned southbound on Barrington Road.
About two hours later Robert Maday is suspected of robbing the First American Bank at Schick and Gary near Stratford Square Mall at 8:55 a.m. (about 9 miles south of the Hassell Road carjacking). Robert Maday robbed this bank before … on November 6, 2008.
School districts in the area are in lockdown.
U.S. Marshal's office in Chicago: Authorities request anyone with information or sightings of Robert Maday call 1-888-869-4590.

View Chicagoland and Worldwide Crime Notebook Map in a larger map