CONTACT | COPYRIGHT | MISSION | PRIVACY | TECH INFO | TOS | VIDEO/PHOTOS/AUDIO | HELP | ADS


CONTACT :: WEB CONTACT INFO: Arlingtoncardinal.com/contact :: URGENT PHONE: 847-398-0123
The Cardinal — Arlingtoncardinal.com works in tandem with Arlingtoncardinal.net and Arlingtoncards.com. Together these three websites offer a comprehensive directory and news resource for people who live, work and play in Arlington Heights and Chicagoland. Arlingtoncardinal.com has become a trusted source for breaking news in Arlington Heights and Chicagoland. The news blog was founded on September 12, 2001 as part of Arlingtoncards.com, which was founded in 1999. Check out the old format going way back to September 2001 (The Cardinal old style news).
On Arlingtoncardinal.com, a news flash section with a fire blog and a crime blog has quick reports on Arlington Heights area news of emergency services responders and crime fighters as fast as major Chicago area news outlets. Articles are designed with links to major outlets that are provided so you can conveniently get to the in-depth story from a major news site — now or later.
The Cardinal provides short news stories with original content, original video, and original photos. The Cardinal also functions as a news aggregation website with video, feeds, summaries and links to other news sources from Chicagoland and around the world.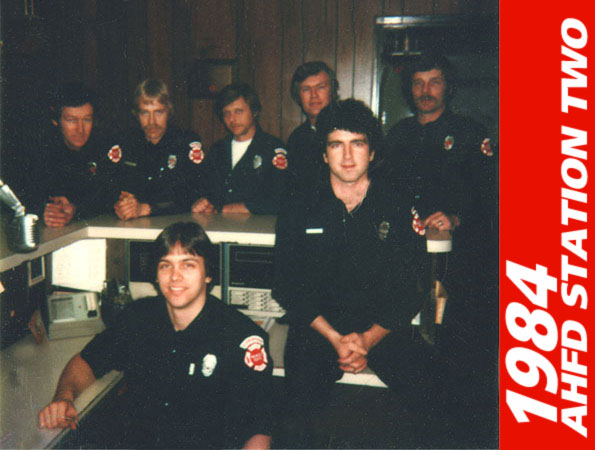 Firefighters and paramedics at the original Fire Station 2 (709 N. Arlington Heights Road) in the early 1980's. Standing left to right: Glen Amundsen, Ron Porter, Dennis Ritter, Gerald Colignon, and Bruce Rodewald, who later became the third fire chief for Arlington Heights. Seated: Publisher/Designer Mark Bostrom and Terry Valentino, who later became a Battalion Chief.
The author of these websites is Mark Bostrom, a former paramedic and fire dispatcher for the Arlington Heights Fire Department. Mark Bostrom is currently a personal trainer, author and publisher for numerous local and global websites involving local community directories and health and fitness content. See AA-ER.com for more information.
Mark brings expertise in human factors, ergonomics, safety engineering and human performance to the local and global websites published by AA-ER.com. A Master of Science degree in Exercise Physiology was supported by studies in work physiology and sports science disciplines, ergonomics and safety engineering. Mark's goal is to always improve human-machine and human-environment interaction from a 'humans first' approach. When all is well in a digital lifestyle world and a real world, 'machines work and humans perform.' In fact, that is the tag-line for AA-ER.com (aka … Aprioriathletics.com). When lifestyle is designed for optimal performance, and optimal interaction with machines and other human beings; a higher, even unexpected level of performance is possible. The power of the human mind and body is activated to higher levels of achievement when it is not bogged down by poor design, fear, doubt and uncertainty. Good design in your lifestyle brings gratitude and the will and affirmation to succeed … success that is possibly far greater than you even expect.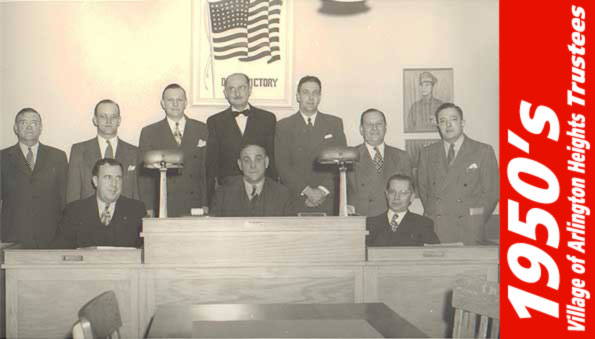 Arlington Heights Trustee Ralph L. Hoffie (third from right, second row), Village President Albert W. Goedke (seated, center), and the rest of the Village Board of Arlington Heights in the early 1950's.
Mark brings a wealth of information about the Arlington Heights and Chicago metropolitan area with experience in emergency services and common sense 'how to get things done' as a paramedic with the Arlington Heights Fire Department. His relationships and memories of one grandfather, Ralph L. Hoffie, who was a Village Trustee for the Village of Arlington Heights and another grandfather, Carl E. Bostrom, who was President of the Chicago Board of Trade are filled with experience and enlightenment to design, publish and deliver the helpful local information that fills the Arlingtoncards.com websites.

Chicago Board of Trade President Carl E. Bostrom at the Fifth Annual Grain Marketing Symposium in 1952.
Mark's interest in the fire service and breaking news may have somehow come from both grandfathers. Ralph L. Hoffie, as a Village Trustee, was instrumental in helping Arlington Heights purchase its first modern pumper, an American La France Fire Engine. Carl E. Bostrom, as President of the Chicago Board of Trade with an interest in grain commodities, responded to spectacular grain elevator fires that occurred occasionally in Chicago and downstate Illinois.
More information:
Arlingtoncards.com About section.
Chicago Board of Trade
Village of Arlington Heights
For a listing of recently added pages see the following resources:

del.icio.us/arlingtoncardsnew or Arlingtoncards.com/whatsnew
See also the Web Address Staging section to see an overview of pages being considered or already added to the Arlingtoncardinal Blog.
Arlingtoncardinal.com is an Amazon Associate website, which means that a small percentage of your purchases gets paid to Arlingtoncardinal.com at no extra cost to you. When you use the search boxes above, any Amazon banner ad, or any product associated with an Amazon banner on this website, you help pay expenses related to maintaining Arlingtoncardinal.com and creating new services and ideas for a resourceful website.
PARDON OUR DUST:
The Cardinal — Arlingtoncardinal.com has just moved to a new host and is using new software to present breaking news information with a more efficient design. A majority of articles are still searchable on Google, Yahoo, Ask.com and other search engines; but some search results will lead you to "404 | Page Not Found!"
If you use the Arlingtoncardinal.com Search Box in the upper right corner of every page, you should be able to find your intended results.
Some features (such as the CATEGORIES & NAVIGATION HELP menu) are not fully functional, but will be soon. The CATEGORIES & NAVIGATION HELP menu is designed to help viewers understand how to use THE CARDINAL. The new format will have many new features, too.
Join us in looking forward to new ways to organize breaking news and helpful information as THE CARDINAL gets in shape!
FIXES UNDERWAY …
Page Dimensions
Some pages from the old website have migrated with improper dimensions. This may cause some overlapping of text or graphics on a page. These dimensions are being fixed to bring the proper dimensions to the new pages.
Category Classification
Some categories are being re-classified and some articles have migrated into the wrong categories. Articles are being audited and are being moved to new and/or proper categories.
Blog Style/Format Changes
The new site does not keep the descriptive page at the top of respective category. The descriptive pages describe or introduce the respective category and its archive list. The descriptive page for each category is (or will be) viewed by using the CATEGORIES AND NAVIGATIONAL HELP … menu at the top of each article. Descriptive pages can also be reached by going to the CATEGORIES page (linked at the top of every page). The CATEGORIES page has an overview of all categories and sub-categories.
The CATEGORIES page can be reached going direct to Arlingtoncardinal.com/categories …
Help … How Articles Are Displayed …
An article is displayed after clicking a referral link of a major search engine such as Google, Yahoo! or Ask. The referral link may direct users to the actual post, to a list of articles of a particular date that includes that article, or it may refer to a bad link. If you don't see the article, try using the new search box in the upper-right corner of every page. The less keywords you use, the better chance of hitting your result.
You can also browse the categories. Keep in mind that articles can be viewed by search result, by category archive, and by tag. Popular tags are listed in the Popular/Features/Comments/Tags/Subscribe Box in the right column.