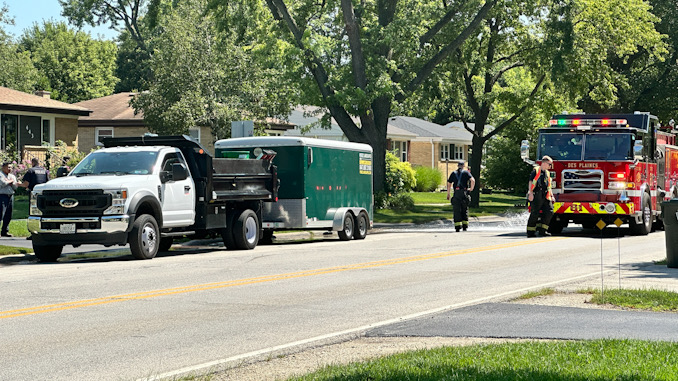 Wednesday, August 16, 2023 will be marked down in traffic safety history as a bad day for bicyclists and pedestrians. Six crashes involved bicyclists or pedestrians, and five of the crashes involved a pedestrian or a bicyclist and a motor vehicle. Pedestrians and/or bicyclists were injured in Des Plaines, Elk Grove Village, Mount Prospect, Park Ridge, and a Cook County Forest Preserve near Streamwood and Schaumburg.
Beginning around 1:04 p.m. Wednesday at the border of Des Plaines and Mount Prospect in the block of 400 North Mount Prospect Road Des Plaines, which is also the block of 300 South Mount Prospect Road, a landscaping employee was hit by a van and seriously injured. Additional information in separate article …
Also in Des Plaines, police, firefighters, and paramedics responded about 1:32 p.m. to a report of a person struck by an automobile at the intersection of Thacker Street and Center Street. The scene was cleared by about 2:15 p.m.
Elk Grove police, firefighters and paramedics responded about 2:37 p.m. to a report that bicyclist crashed with a vehicle near Rohlwing Road and White Trail. Southbound Rohlwing Road was shut down for rescue and investigation until about 3:43 p.m.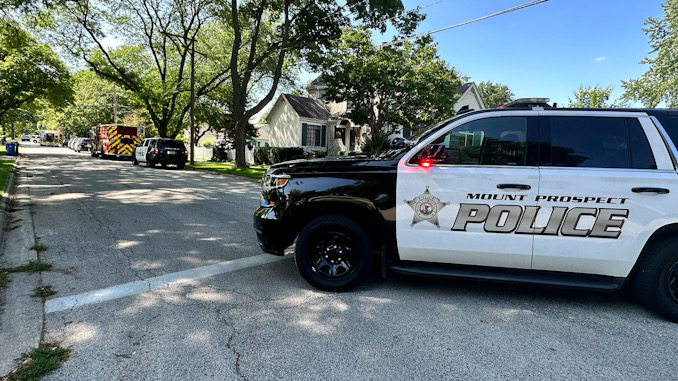 Mount Prospect police, firefighters, and paramedics responded about 2:40 p.m. to a report that a bicyclist crashed with a car in the block of 900 East Evergreen Avenue. The bicyclist was seriously injured, but was not initially believed to be suffering life-threatening injuries. Additional information to follow in a separate article.
Cook County Forest Preserve police, and firefighters and paramedics from Streamwood responded about 3:12 p.m. to a report that a bicyclist crashed near the Schaumburg Forest and the Poplar Creek Trail System between Golf Road and Schaumburg Road, west of Sutton Road.
In Park Ridge, about 5:17 p.m. police, firefighters and paramedics responded to a report that a person was struck by an automobile on Northwest Highway near Dee Road.
---
Pedestrian Killed Last Night in Evanston
A 60 year-old woman was struck about by a vehicle Tuesday night about 9:35 p.m., mid-block, 1300 Central Street near Asbury Avenue. She was transported by Evanston Fire Department paramedics to North Shore Evanston where she was pronounced dead. A male driver, age 65, stayed at the scene and cooperated with police. Initially, there were no charges or citations announced by police.
A 60-year-old woman was struck and killed Tuesday night in Evanston (WGN News). YouTube Tips ⓘ