Russian soldier: "No need to come in here (Ukraine)." YouTube Tips ⓘ
Russia Ukraine invasion Day 6 March 1, 2022
HEADLINES …
Note: Reports are not verified; check Google search results as part of your own verification. Headlines in italics added after CARDINAL article's publish date/time.
*****************
Elite Chechen fighting unit assigned to assassinate Ukrainian President Volodymyr Zelenskyy has been neutralized by Ukrainian military
Russian POWs say they didn't know they were being sent to war
Destroyed and Seized Russian Military Hardware by Ukraine Reported Tuesday March 1, 2022 | Global Conflict Maps
UATV English | Foreign Legion of Territorial Defense of Ukraine/YouTube. 4 simple steps to join heroic Army. Promotional video for plea for foreign soldiers to join the Foreign Legion [Age-restricted video (based on Community Guidelines) for graphic violence.
The 'go f*ck yourself' border soldiers at Snake Island who were reported killed are alive and well, but held as prisoners by Russian military
Russian military strikes Kyiv TV tower
Southbound Russian military convoy stalled north of Kyiv
"We were not told anything. They just told us to march ahead" The commander told us that we were told we are going to drills", "We were deceived and being used as cannon fodder." A Russian soldier who became captive in Ukraine tells how they ended up here. YouTube Tips ⓘ
Putin attempting fake provocation to draw Belarus troops into Ukraine
Belarus troops in Ukraine
Check source for in-depth Ukraine coverage:
News from UKRAYINSKA PRAVDA
Missile strike kills 4 at Kharkiv police headquarters
Russia shells G3 hospital in Novobaravsky district in Kharkiv
650,000 Ukrainians have left Ukraine Tuesday, March 1, 2022
Former British sniper Shane Matthews head into Ukraine with medical supplies to treat wounded on front line
Father of All Bombs (FOAB) launchers detected in Ukraine
Time in Ukraine GMT +2
Kyiv Weather
Kyiv residents shelter in unheated basements
THE RIGHT-CLICK
For HEADLINE Google Search lookups:
[Apple iPhone: Press and hold to select text]
[Mac/Windows: Triple click to select text]
ⓘ How Lookup/Search Google works ⓘ
HEADLINES …
Note: Reports are not verified; check Google search results as part of your own verification. Headlines in italics added after CARDINAL article's publish date/time.
*****************
Minister of Digital Transformation Mykhailo Fedorov asks Ukrainian YouTube bloggers to launch round the clock truth stream targeting Russian citizens
Russian soldier's final text message to his mother before his death describes that he's in Ukraine in terrible conditions, real war targeting civilians
Apple halts sales in Russia
Apple disables maps features in Ukraine
Apple bans propaganda apps regarding Ukraine war; RT news downloads blocked outside Russia
Dell suspends sales to Russia
BMW stops exports to Russia and local production in Russia
Ford Motor Company suspends operations in Russia
GM stops exports to Russia
Harley-Davidson stops sales in Russia
Jaguar Land Rover stop exports to Russia
Volvo stops exports to Russia
MSC and Maerks suspends container shipping operations to Russia
Visa and Mastercard block multiple financial institutions
United States restricts exports of tech hardware to Russia
US and allies to release 60 million barrels of oil from reserves
Energy masochism Wall Street Journal
Ukraine's National Agency for the Protection against Corruption: Captured tanks and other Russian armor are not subject to declaration of income
[MORE NEWS BELOW] | ⓘ LOOKUPS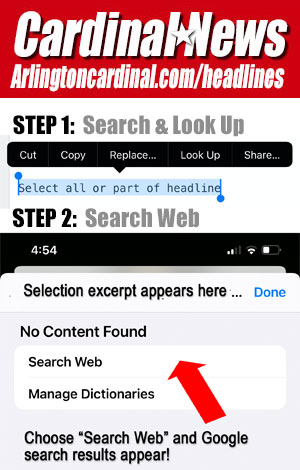 MORE NEWS …
President Joe Biden's State of the Union Address Tuesday, March 1, 2022 | virginia.arlingtoncardinal.com
37M watch State of the Union
Worst State of the Union TV ratins in three decades
Biden vows to stop Russian aggression
Biden sound MAGA; we're going
Speaker Nancy Pelosi show strange gestures behind Biden; rubs knuckles together, facial grimaces
Rep. Lauren Boebert (R-Colo.) heckles at State of the Union, "You put them there. Thirteen of them!"
Sen. Josh Hawley: Dumpster fire presidency
Beto O'Rourke wins Texas primary
DIY NEWS REVIEW
🗞 📺
Shooting in West Englewood neighborhood Chicago critically injures girl riding in car with her family
Armed 12 year-old, Thomas Siderio Jr., shot and killed by Philadelphia police officers after police came under fire in South Philadelphia Tuesday night, March 1, 2022
Study shows Pfizer's COVID-19 vaccine may not be as effective in 5- to 11-year-olds as in older kids
PEOPLE
Juli Boeheim — wife of legendary college basketball coach Jim Boeheim — robbed at gunpoint in Syracuse
Hulk Hogan announces divorce from second wife Jennifer
Derek Jeter steps down as Marlins CEO
Ukrainian boxers Vasyl Lomachenko and Oleksandr Usyk have joined the fight in Ukraine.
Rust crew member Jason Miller shows gruesome venomous spider bite wound suffered on set
Australian Prime Minister Scott Morrison tests positive for COVID-19.
COVID-19
How many people died from COVID-19 in the World?
How many people died from COVID-19 in the United States?
NEWS WATCH
HEALTH ALERTS!
Arlingtoncardinal.com/health
(includes Food Safety Alerts)
HOT TOPICS!
Rising violent crime rate by country
Rising violent crime rate by state
Supply chain crisis
Inflation news
Southern Border crisis
Vaccine mandate
Mandatory Masks
Biden poll numbers
Disintegration of Society news
MORE HEADLINES …
HEADLINES List (reverse chronological order)
Arlingtoncardinal.com/360MediaX
Arlingtoncardinal.com/SmartNews
YOUTUBE NEWS CHANNELS