Thursday, November 11, 2021 is the 315th day of the year. The top story remains the Rittenhouse case with the defense team resting their case on the eighth day of trial. Use-of-force expert John Black testified that less than three seconds elapsed from the time a protester fired a shot in the background and Rittenhouse opened fire on Joseph Rosenbaum.
Kenosha police officer Brittni Bray testified about collecting shell casings the night of the deadly shooting in Kenosha. Videographer Drew Hernandez working the night of the shooting testified that Rittenhouse tried to deescalate tensions at times during night of the shooting. Hernandez also testified that Joseph Rosenbaum was physically aggressive before he was shot and killed, while Assistant District Attorney Thomas Binger tried to impeach Hernandez's credibility.
Judge Bruce E. Schroeder told jurors that closing arguments and jury instructions are likely on Monday, November 15, 2021. Prosecutors and the defense team will each have 2.5 hours for their closing arguments. Left leaning pundits have begun
For HEADLINE Google Search lookups:
[Apple iPhone: Press and hold to select text]
[Mac/Windows: Triple click to select text]
ⓘ How Lookup/Search Google works ⓘ

Note: Reports are not verified; check Google search results as part of your own verification. Headlines in italics added after CARDINAL article's publish date/time.
*****************
Virginia pharmacy Ted Pharmacy may have administered lower COVID-19 vaccine dose than recommended to 112 kids
Israel conducts 'War Games' to prepare for more lethal COVID-19 strain
Germany reports record 50,196 new COVID cases in 24 hours
[MORE NEWS BELOW] | ⓘ LOOKUPS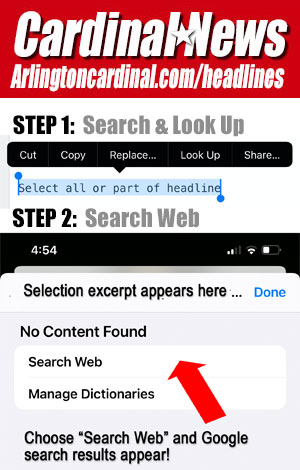 Kyle Rittenhouse defense team rests their case
Ninth victim has died from AstroWorld event in Houston; Bharti Shahani separated from family in crowd surge
Daily Caller | Astroworld Fallout: Exorcists And Demonologists Break Down The Satanic Influence At Travis Scott's Deadly Concert "(W)hen you make a pact with the Devil, it ends up with your downfall, that's ultimately what the demon does."
US government urges US citizens to leave Haiti because of lack of security, and lack of fuel that has affected hospitals, schools and banks
China's elite approve Xi Jinping doctrine with expectation of indefinite rule of China
Belarusian President Alexander Lukashenko threatens to cut gas supply to Europe
Russian nuclear-capable bombers patrol Belarus border with Poland amid migration dispute
Blinken says US concerned Russia may be 'attempting to rehash' 2014 invasion of Ukraine, says US commitment to Ukraine's sovereignty and independence is ironclad
Militant Houthi rebels storm US Embassy in Yemen, take large amount of equipment
New York BLM co-founder Hawk Newsome threatens riots, fire, bloodshed in NYC if Eric Adams gets tough on crime
Zoological Society of London says venomous sharks found in London's Thames River
Arvada Colorado police officer will not face criminal charges for fatally shooting a man he perceived as a threat who was actually a hero preventing a mass shooting by killing a shooter who targeted police and killed an officer in June
Apartment rentals rising in November 2021
Disney's magical pricing power can't outpace inflation right now with fewer new streaming subscribers and increased prices at parks
Kellogg sues striking cereal workers
Real Christmas trees in short supply
Odell Beckham Jr. joins Los Angeles Rams after release from Cleveland Browns
Kevin Kostner's TV series Yellowstone on Paramount most watched on TV the first week in November 2021
Paris Saint-Germain soccer player Aminata Diallo released from custody as police investigate a Tonya Harding-style attack on teammate Kheira Hamraoui
COVID-19
How many people died from COVID-19 in the World?
How many people died from COVID-19 in the United States?
NEWS WATCH
HEALTH ALERTS!
Arlingtoncardinal.com/health
Food Safety Alerts
HOT TOPICS!
Supply chain crisis
Inflation news
Southern Border crisis
Vaccine mandate
Mandatory Masks
Biden poll numbers
Disintegration of Society news
MORE HEADLINES …
HEADLINES List (reverse chronological order)
Arlingtoncardinal.com/360MediaX