In the upcoming election for Arlington Heights Village President, one of the most dramatic issues of immediate concern for residents is the issue of flooding in Arlington Heights. In a recent forum/debate hosted by the League of Women Voters, candidates were asked about flooding. As can be expected, the incumbent trustee candidate answered that progress is underway. Incumbent trustee and Village President candidate Tom Hayes answered that a measured response is desirable over a quick fix. Candidate Mark Hellner replied that too little is being done and that the response is too slow. Candidate Ron Drake chose two simplified solutions — one which was a bizarre plan — that caused rolling of eyes in the audience — involving razing foreclosed homes, and another plan of using underground water vaults, which is already being done in a better measure than the measure that was suggested by Drake. Drake suggested putting the vaults in parks and covering the vaults with artificial turf. In Arlington Heights, underground vault reservoirs have already been installed in late 2012. The vaults were placed under an existing parking lot at the northwest corner of Kensington Road and Dryden.
Drake's suggestion, placing the underground vaults in parks and then covering the vaults with artificial turf, could have a negative effect — causing excess runoff and local flooding in rainy weather, and causing excess heat and dryness and magnifying the "urban heat effect" in hot weather. The lack of natural turf in parks could magnify the negative effects of drought conditions, if another drought hits Arlington Heights and the Midwest as occurred last year.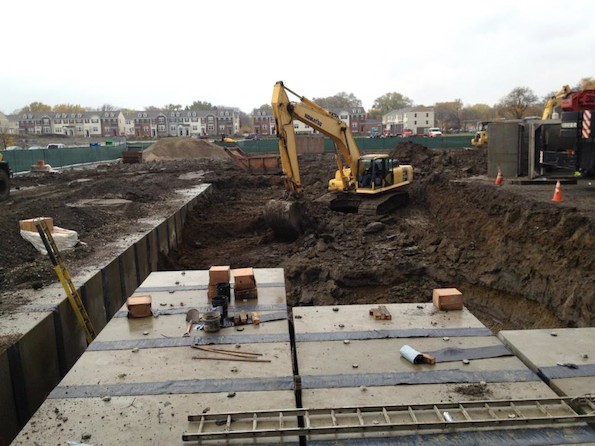 Construction project involving installation of underground water reservoir vaults under a parking lot at the northwest corner of Kensington Road and Dryden already underway in late 2012 (See an additional 46 pictures of the construction project).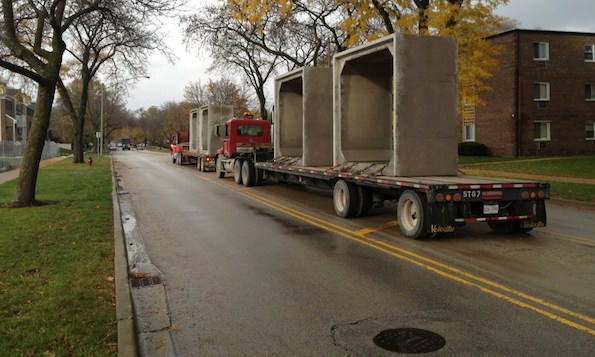 Water vaults lined up on Dryden in preparation for a construction project involving the installation of underground water reservoir vaults under a parking lot at the northwest corner of Kensington Road and Dryden already underway in 2012 (See an additional 46 pictures of the construction project).
Although artificial turf vendors claim that small holes drilled into the turf material provide drainage, some experts believe artificial turf has a greater potential to increase water runoff than natural grass, due to inadequate filtration from the synthetic turf surface to the underlying ground. The increased runoff could actually increase the chance of local flooding. If you think about it, there is no way some holes in the base of the artificial turf could keep up with completely porous natural turf and soil.
A study published in a 1994 Journal of Environmental Quality paper by James B. Beard and Robert L. Green explained that one of the key mechanisms by which natural turfgrasses preserve water is its superior capability to trap and hold runoff, which results in more water infiltrating and filtering through the soil-turfgrass ecosystem.
Urban Heat Island
The study also found that dry synthetic sports turf reached temperatures of 158 degrees Fahrenheit, while natural grass reached temperatures of 88 degrees Fahrenheit during a sunny August day. At night, the synthetic turf lowered to 84 degrees Fahrenheit, compared to 75 degrees Fahrenheit for the natural grass.
Natural evaporation and transpiration of water from the grass surface has a cooling effect, but dark, non-living surfaces tend to contribute to the "urban heat island" effect. The paper also mentioned that watered and irrigated natural turf also helps to water and irrigate adjacent trees and shrubs. Increasing the installation of artificial turf in parks could increase the chance of stress and death of foliage, plants and trees in the case of a drought.
Here is the flooding issue question directed at Arlington Heights candidates for Village President — with their responses:
How do you see Arlington Heights working to help homeowners minimize and/or end flooding in their personal homes?
Candidate Ron Drake answered the question with two solutions. To answer the question, 'how do we foresee fixing the problems there's two solutions that come to mind immediately. One in the area — there's seven areas that were identified in the study … the study was proposed for $144,000 — and we chose the highest bidder. The lowest bid was $117 (K). Seven areas have already been identified. We have an antiquated system between Palatine Road and Central Road — it's a one-pipe system, that's an issue. To remedy it, about $200 million. We can buy homes that are in foreclosure in areas where there's flooding, raise those homes, and build a retention area in those neighborhoods. Second thing we can do … we can build vaults in the ground … 14-high foot vaults as far as … you can make'em as big as a football field. you bury'em in the parks. You move that flood water and rain water into those areas, and then the parks will be very happy with it. Then we can put in an artificial field for the youth to use as part of that completion in that project. Those are two ways that we could fix this (Ron Drake response at the forum …).
Candidate Tom Hayes supported a measured approach, not a short-term fix. He explained that we experienced a 100-year rainfall in July 2011 that was unprecedented in the amount of rain that was seen in a short amount of time. He explained that the village is making progress toward a solution (Tom Hayes response at the forum …).
Candidate Mark Hellner believes the Village of Arlington Heights has done way too litte and is responding way to slowly. Hellner believes the village has been extremely unresponsive. Hellner said, "it saddens me that often times these things take way too long." He believes flood prone areas are easily identifiable. He also said that he has "met homeowners that have had to remodel their basements a couple of times, have inadequate insurance, and are in the process of losing their homes to foreclosure. And that's just unacceptable." (Mark Hellner response on flooding question at forum …).
Record rainfall in 2011 was experienced with flooding in all of Chicagoland in July 2011. Roads and homes were flooded. The roof at Evergreen Plaza shopping center was inspected for structural integrity after a risk of collapse from standing water on the roof was feared. A Palatine fire engine was stranded in deep water. A fire engine in Elk Grove Village was blocked in a fire station by flooding on Greenleaf Road. An apartment fire destroyed an apartment building in Mount Prospect — possibly due to the delayed response of firefighters being re-routed because of flooded roads.
Scenes from Arlington Heights and Mount Prospect during heavy rainfall on July 23, 2011. Roads were flooded to an extent in the northwest suburbs that fire engines were delayed when impassable roads were discovered on the routes to the Mount Prospect apartment fire shown in the video. Notice the time stamps documenting the persistent heavy rain.
As of 1 a.m., July 29, 2011 the monthly rainfall total recorded at O'Hare International Airport stood at 10.45 inches — already the wettest July on record. Before July 2011, the previous July rainfall record was 9.56 inches, set in 1889. The overnight rainfall also ranked July 2011 the eighth wettest month ever in Chicago.
The all-time wettest month in Chicago was reported in August 1987, when 17.1 inches of rain fell. During that month on August 14, 1987, a day's record 6.49 inches of rain was reported. That day's record was broken on September 13, 2008 (6.64 inches) and July 23, 2011 (6.91 inches).
The Metropolitan Water Reclamation District of Greater Chicago continues to work with communities to create Watershed Planning Councils. Currently there are six watershed planning councils: Lower Des Plaines, Poplar Creek, Upper Salt Creek, Little Calumet River, Cal-Sag Channel, and the North Branch of the Chicago River.
Arlington Heights is included in the Upper Salt Creek watershed along with Barrington, Deer Park, Elk Grove Village, Hoffman Estates, Inverness, Palatine, Rolling Meadows, Schaumburg, Roselle, unincorporated Cook County, Elk Grove Township, Palatine Township, Schaumburg, and Wheeling Township.
Arlington Heights is also included in the Lower Des Plaines River Watershed, which includes an additional 76 communities.
Any improvements in flood protection involve careful planning in conjunction with other communities and the Metropolitan Water Reclamation District of Greater Chicago. The Deep Tunnel Project, built to reduce flooding in the Chicago metropolitan area, is one of the largest civil engineering projects known and is not anticipated to be complete until 2029.
The Metropolitan Water Reclamation District of Greater Chicago also works on a "Green Infrastructure Program" that includes using native prairie landscaping, rain gardens, rain barrels, and permeable paver parking lots.
See also …
The Role of Turfgrasses in Environmental Protection
and Their Benefits to Humans by James B. Beard and Robert L. Green [PDF]
Metropolitan Water Reclamation District of Greater Chicago — www.mwrd.org
The Cardinal About 2.2″ of Rain in Light Thunderstorms Overnight
The Cardinal Storm Report: Flooding, Downed Power Lines
The Cardinal Mount Prospect Extra Alarm Fire: Colonial Greens Apartment Building on Algonquin Rd, Top Floor and Roof Destroyed
Get updates from The Cardinal ALL NEWS FEEDS on Facebook. Just 'LIKE' the 'Arlington Cardinal Page (become a fan of our page). The updates cover all posts and sub-category posts from The Cardinal — Arlingtoncardinal.com. You can also limit feeds to specific categories. See all of The Cardinal Facebook fan pages at Arlingtoncardinal.com/about/facebook …