The new Myspace from Myspace on Vimeo.
Video from Myspace.com. This is Myspace. This is the new Myspace.
The social media website Myspace that dwindled after the skyrocketing popularity of Facebook, is hoping to make a comeback.
Myspace was founded in 2003 and was acquired by News Corporation in July 2005 for $580 million. Myspace was the most visited social website from 2005 through 2008 — surpassing Google in June 2006. Myspace was overtaken by Facebook in the number of unique worldwide visitors in April 2008. The U.S. takeover of unique U.S. visitors occurred in May 2009. In June 2009, MySpace laid off 30 percent of its U.S. workforce. An exodus of users had trouble with phishing and other security issues, and privacy issues.
Alexa Stats (live links)
Myspace.com (Sept. 27, 2012: 186 Worldwide, 119 U.S.)
Facebook.com (Sept. 27, 2012: 1 Worldwide, 2 U.S.)
Google.com (Sept. 27, 2012: 2 Worldwide, 1 U.S.)
In June 2011, Specific Media Group and Justin Timberlake jointly purchased the company for approximately $35 million from News Corp. According to Chris and Tim Vanderhook, major players in the purchase, MySpace's new design now focuses on emerging artists who hope to be discovered. Exact details of the redesign and functionality have not been revealed, but the new MySpace is rumored to be more tablet friendly.
Welcome. This is Myspace.

We're hard at work building the new Myspace, entirely from scratch. But we're staying true to our roots in one important way—empowering people to express themselves however they want. So whether you're a musician, photographer, filmmaker, designer or just a dedicated fan, we'd love for you to be a part of our brand new community.
Myspace has had a few makeovers since its decline, but not have sparked a significant interest.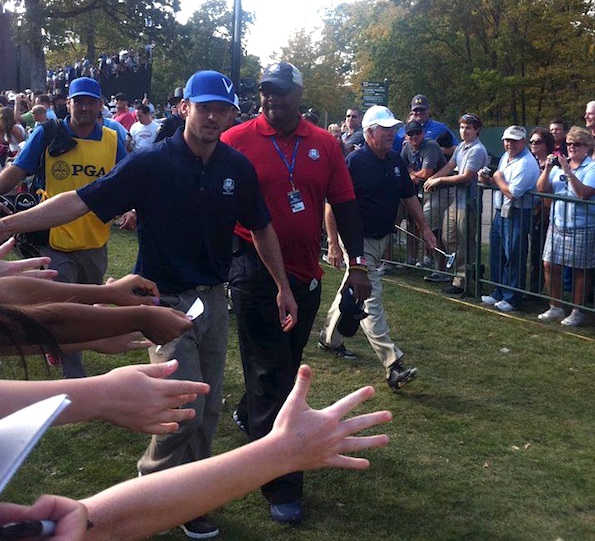 Justin Timberlake, who starred as Sean Parker (entrepreneur and first president of Facebook) in "The Social Network" film has some fun with the crowd during celebrity practice rounds at the 39th Ryder Cup on Tuesday, September 24, 2012 (PHOTO CREDIT: Scott Tracy).
Justin Timberlake's true-life character Sean Parker in "The Social Network" film about the development of Facebook may have been 'life imitates art' inspiration for Timberlake. Sean Parker has also launched Napster (music sharing), Plaxo (online address book), Spotify (music sharing), and Votizen (an online network of voters in the United States).
See also …
new.myspace.com