SEVERE THUNDERSTORM WATCH OUTLINE UPDATE FOR WS 719
NWS STORM PREDICTION CENTER NORMAN OK
525 PM CDT TUE AUG 2 2011

SEVERE THUNDERSTORM WATCH 719 IS IN EFFECT UNTIL 100 AM CDT
FOR THE FOLLOWING LOCATIONS

IL
.    ILLINOIS COUNTIES INCLUDED ARE

BOONE                COOK                DE KALB
DUPAGE               FORD                GRUNDY
IROQUOIS             KANE                KANKAKEE
KENDALL              LAKE                LA SALLE
LEE                  LIVINGSTON          MCHENRY
OGLE                 WILL                WINNEBAGO
Storms detected on radar near Rockford approaching as fast as 38 miles per hour in a direction from northwest to southeast. Expected arrival in northwest suburbs by 7:10 p.m. Tuesday.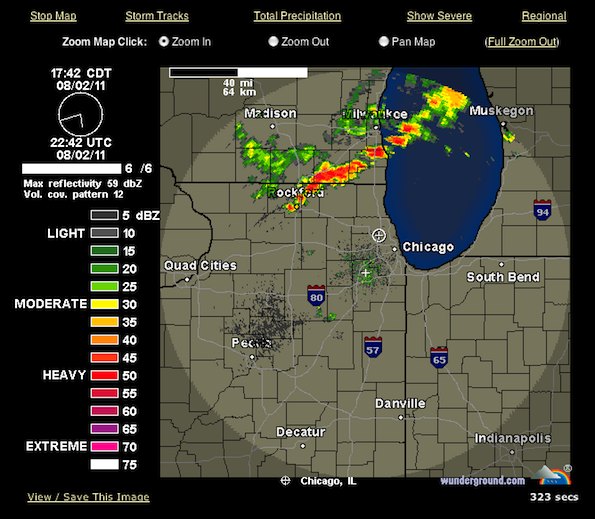 See live radar from Weather Underground …
Severe Thunderstorm Warning issued for Lake Geneva area, Williams Bay, Fontana at 5:47 p.m. Storms expected to hit Williams Bay about 5:55 p.m. Tuesday.