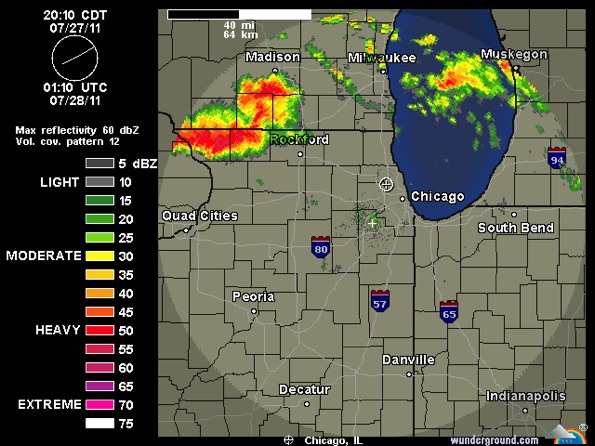 Severe thunderstorms approaching Rockford, Illinois at 8:10 p.m.
Radar showed intense thunderstorms (red) over northeast Iowa and northwest Illinois with backend development from Freeport, Illinois and Stockton, Illinois back to Galena, Illinois and Dubuque.
A record 10.96 inches of rain fell in Dubuque, Iowa between 7:00 p.m. Wednesday and 7:00 a.m. Thursday. Roads were closed and people were rescued from their vehicles in northeast Iowa and northwest Illinois. Serious flooding reported in Dubuque at Elm Street near 22nd and 24th, 14th Street and parts of 32nd Street.

Highways closed with status expected to change rapidly (openings and additional closures) …
US 52 was reported closed in both directions north of Dubuque, Iowa between Dubuque County Roads D-10 (near Sageville) and Y-21 (near Rickardsville).
Eastbound US 20 was also closed in Dubuque from exit 313 to the Illinois state line, eastbound at Dodge Street in Dubuque, and at the 308 mile marker — near Peosta in Dubuque County.
U.S. 151 was closed near Fillmore in Dubuque County.
In East Dubuque, the Julien Dubuque Bridge was closed due to flooding.
RAINFALL AMOUNTS REPORTED NE IOWA & NW ILLINOIS
14.50″ Dubuque, IA (4 miles south of downtown)

13.45″ Galena, IL

13.10″ Peosta, IA

10.31″ Dubuque, IA (official location)
A tornado was indicated by radar and reported by at least one trained spotter spotted west of Lena, Illinois near Tiger Whip Road about 7:45 p.m. Wednesday. Freeport public safety workers were managing reports of downed wires with arcing, downed trees and branches, and fires. Flooded basements are also reported in the area.
A house fire was also reported in Dubuque, Iowa.
VIDEO: The storms were tamer by the time they reached the northwest suburbs of Chicago, but the Chicago area still experience "training thunderstorm" (storms that keep coming like train cars) with severe lightning that started started to house fires in Schaumburg.
A FLOOD WARNING is in effect Thursday, July 28 in Galena Jo Daviess County. Blackjack Road was closed and Illinois 35 in East Dubuque was closed.
FLOOD WARNING in Galena issued 4:10 a.m.
FLOOD WARNING
NATIONAL WEATHER SERVICE QUAD CITIES IA IL
410 AM CDT THU JUL 28 2011
IAC055-061-097-105-ILC015-085-177-282100-
/O.NEW.KDVN.FA.W.0008.110728T0910Z-110728T2100Z/
/00000.0.ER.000000T0000Z.000000T0000Z.000000T0000Z.OO/
JACKSON IA-DUBUQUE IA-DELAWARE IA-JONES IA-JO DAVIESS IL-
STEPHENSON IL-CARROLL IL-
410 AM CDT THU JUL 28 2011
THE NATIONAL WEATHER SERVICE IN THE QUAD CITIES HAS ISSUED A
* FLOOD WARNING FOR URBAN AREAS AND SMALL STREAMS IN…
NORTHERN JACKSON COUNTY IN EAST CENTRAL IOWA…
NORTHEASTERN JONES COUNTY IN EAST CENTRAL IOWA…
EASTERN DELAWARE COUNTY IN NORTHEAST IOWA…
DUBUQUE COUNTY IN NORTHEAST IOWA…
THIS INCLUDES THE CITY OF DUBUQUE…
NORTHERN CARROLL COUNTY IN NORTHWEST ILLINOIS…
JO DAVIESS COUNTY IN NORTHWEST ILLINOIS…
THIS INCLUDES THE CITY OF GALENA…
STEPHENSON COUNTY IN NORTHWEST ILLINOIS…
THIS INCLUDES THE CITY OF FREEPORT…
* UNTIL 400 PM CDT THURSDAY
* AT 405 AM CDT…4 TO 12 INCHES OF RAIN HAS OCCURRED OVER THE
WARNED AREA IN THE PAST 10 HOURS. THIS IS RESULTING IN NEAR
HISTORIC FLOODING AROUND THE GREATER DUBUQUE AREA. WIDESPREAD ROAD CLOSURES CONTINUE WITH NUMEROUS WASHED OUT BRIDGES. LARGE AREAS OF LOW LYING LAND ARE COVERED IN WATER. INDIVIDUALS ARE URGED NOT TO TRAVEL AND TO GO TO HIGH GROUND FOR THE NEXT SEVERAL HOURS UNTIL THE WATER RECEDES. THE RAIN IS EASING AND SHOULD END ENTIRELY OVER THE NEXT COUPLE OF HOURS.
THIS AREAL FLOOD WARNING REPLACES THE EXISTING FLASH FLOOD WARNINGS THAT ARE CURRENTLY IN EFFECT.
A FLOOD WARNING MEANS THAT FLOODING IS IMMINENT OR HAS BEEN REPORTED. STREAM RISES WILL BE SLOW AND FLASH FLOODING IS NOT EXPECTED. HOWEVER…ALL INTERESTED PARTIES SHOULD TAKE NECESSARY PRECAUTIONS IMMEDIATELY.
PRECAUTIONARY/PREPAREDNESS ACTIONS…
ADDITIONAL RAINFALL OF UP TO 1 INCH MAY OCCUR IN PARTS OF THE WARNED AREA OVER THE NEXT COUPLE OF HOURS.
FLOODING OF SMALL STREAMS AND CREEKS…HIGHWAYS AND STREETS…UNDERPASSES AND LOW LYING URBAN AND RURAL AREAS IS VERY
LIKELY.
See also ..
Iowa Department of Transportation — www.iowadot.gov