URGENT – WEATHER MESSAGE
NATIONAL WEATHER SERVICE CHICAGO IL
404 AM CDT THU JUL 28 2011
OGLE-LEE-DE KALB-KANE-DUPAGE-COOK-LA SALLE-KENDALL-GRUNDY-WILL-
KANKAKEE-LIVINGSTON-IROQUOIS-FORD-LAKE IN-PORTER-NEWTON-JASPER-
BENTON-
INCLUDING THE CITIES OF…OREGON…DIXON…DEKALB…AURORA…
WHEATON…CHICAGO…OTTAWA…OSWEGO…MORRIS…JOLIET…
KANKAKEE…PONTIAC…WATSEKA…PAXTON…GARY…VALPARAISO…
MOROCCO…RENSSELAER…FOWLER
404 AM CDT THU JUL 28 2011 /504 AM EDT THU JUL 28 2011/
…HEAT ADVISORY IN EFFECT FROM 10 AM CDT /11 AM EDT/ THIS
MORNING TO 9 PM CDT /10 PM EDT/ THIS EVENING…
THE NATIONAL WEATHER SERVICE IN CHICAGO HAS ISSUED A HEAT
ADVISORY…WHICH IS IN EFFECT FROM 10 AM CDT THIS MORNING TO 9 PM
CDT THIS EVENING.
* TEMPS/HEAT INDEX…AFTERNOON TEMPERATURES ARE EXPECTED TO CLIMB
INTO THE LOWER TO MIDDLE 90S…WITH HIGH HUMIDITY LEADING TO
PEAK AFTERNOON HEAT INDICES AROUND 105 DEGREES.
PRECAUTIONARY/PREPAREDNESS ACTIONS…
TAKE EXTRA PRECAUTIONS…IF YOU WORK OR SPEND TIME OUTSIDE. WHEN
POSSIBLE…RESCHEDULE STRENUOUS ACTIVITIES TO EARLY MORNING OR
EVENING. KNOW THE SIGNS AND SYMPTOMS OF HEAT EXHAUSTION AND HEAT
STROKE. WEAR LIGHT WEIGHT AND LOOSE FITTING CLOTHING WHEN
POSSIBLE AND DRINK PLENTY OF WATER.

TO REDUCE RISK DURING OUTDOOR WORK…THE OCCUPATIONAL SAFETY AND
HEALTH ADMINISTRATION RECOMMENDS SCHEDULING FREQUENT REST BREAKS
IN SHADED OR AIR CONDITIONED ENVIRONMENTS. ANYONE OVERCOME BY
HEAT SHOULD BE MOVED TO A COOL AND SHADED LOCATION. HEAT STROKE
IS AN EMERGENCY…CALL 9 1 1.
A HEAT ADVISORY MEANS THAT A PERIOD OF HOT WEATHER IS EXPECTED.
HIGH TEMPERATURES AND HIGH HUMIDITY WILL COMBINE TO CREATE A
SITUATION IN WHICH HEAT ILLNESSES ARE POSSIBLE. DRINK PLENTY OF
WATER…STAY IN AN AIR-CONDITIONED ROOM…STAY OUT OF THE SUN…
AND CHECK UP ON RELATIVES AND NEIGHBORS.
CHILDREN AND PETS SHOULD NEVER BE LEFT UNATTENDED IN VEHICLES
UNDER ANY CIRCUMSTANCES. THIS IS ESPECIALLY TRUE DURING HOT
WEATHER WHEN THE CAR INTERIOR CAN REACH LETHAL TEMPERATURES IN A
MATTER OF MINUTES!
SEVERE WEATHER …
Severe weather with severe lightning could fire up later today, especially tonight, with chances for storms increasing about 8:00 p.m. …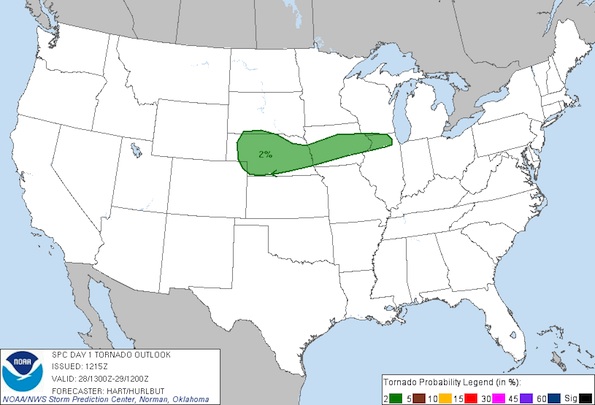 The convective outlook indicates the severe weather for July 28, 2011 is likely just west of the northwest suburbs.
FLASH FLOOD WATCH
NATIONAL WEATHER SERVICE CHICAGO/ROMEOVILLE IL
416 AM CDT THU JUL 28 2011
…HEAVY RAINFALL EXPECTED LATE THIS AFTERNOON AND TONIGHT…
.AFTER A LULL IN THE THUNDERSTORM ACTIVITY LATE THIS MORNING AND
EARLY AFTERNOON…STRONG THUNDERSTORMS ARE EXPECTED TO DEVELOP
LATE THIS AFTERNOON OVER EASTERN IOWA AND NORTHWEST ILLINOIS.
THESE THUNDERSTORMS WILL THEN SLIDE EAST ALONG A NEARLY STATIONARY
FRONTAL BOUNDARY THIS EVENING AND OVERNIGHT. VERY MOIST AND
UNSTABLE AIR FEEDING INTO THESE STORMS FROM THE SOUTH WILL LIKELY
RESULT IN EXCESSIVE RAINFALL. THIS COULD RESULT IN RAINFALL RATES
FROM 1 TO 3 INCHES PER HOUR IN THE HEAVIER STORMS. THE WATCH AREA
HAS ALREADY EXPERIENCED VERY HEAVY RAINFALL IN RECENT DAYS AND ANY
ADDITIONAL HEAVY RAIN COULD LEAD TO RAPID FLOODING. AREAS ALONG
AND NORTH OF INTERSTATE 88 AND INTERSTATE 290 APPEAR TO HAVE THE
GREATEST THREAT FOR RECEIVING THE HEAVIEST RAINFALL. AREAS TO THE
SOUTH OF THESE HIGHWAYS DOWN TO THE INTERSTATE 80 CORRIDOR DO HAVE
SOME RISK FOR HEAVY RAINFALL AND FLASH FLOODING AS WELL.
WINNEBAGO-BOONE-MCHENRY-LAKE IL-OGLE-LEE-DE KALB-KANE-DUPAGE-COOK-
KENDALL-WILL-LAKE IN-PORTER-
INCLUDING THE CITIES OF…ROCKFORD…BELVIDERE…WOODSTOCK…
WAUKEGAN…OREGON…DIXON…DEKALB…AURORA…WHEATON…CHICAGO…
OSWEGO…JOLIET…GARY…VALPARAISO
416 AM CDT THU JUL 28 2011
…FLASH FLOOD WATCH NOW IN EFFECT THROUGH FRIDAY MORNING…
THE FLASH FLOOD WATCH IS NOW IN EFFECT FOR
* PORTIONS OF ILLINOIS AND NORTHWEST INDIANA…INCLUDING THE
FOLLOWING AREAS…IN ILLINOIS…BOONE…COOK…DE KALB…
DUPAGE…KANE…KENDALL…LAKE IL…LEE…MCHENRY…OGLE…
WILL AND WINNEBAGO. IN NORTHWEST INDIANA…LAKE IN AND PORTER.
* THROUGH FRIDAY MORNING.
* AREAS OF THUNDERSTORMS WITH VERY HEAVY RAINFALL ARE LIKELY.
* RAINFALL RATES OF 1 TO 3 INCHES PER HOUR ARE POSSIBLE WITH
THESE STORMS.
PRECAUTIONARY/PREPAREDNESS ACTIONS…
A FLASH FLOOD WATCH MEANS THAT CONDITIONS MAY DEVELOP THAT LEAD
TO FLASH FLOODING. FLASH FLOODING IS A VERY DANGEROUS SITUATION.
YOU SHOULD MONITOR LATER FORECASTS AND BE PREPARED TO TAKE ACTION
SHOULD FLASH FLOOD WARNINGS BE ISSUED.