The Arlington Heights Police Department, Arlington Heights Park District and Target-sponsored National Night Out 2011 is scheduled to take place Tuesday, August 2nd, 2011 at North School Park 410 N. Arlington Heights Road [MAP/SAT] from 5:30pm-8:30pm. The National Association of Town Watch and Target Stores sponsor this event nationally.
The Village of Arlington Heights event has received national recognition every year from 2005 to 2010. The event at North School Park is compared to other events in jurisdictions with populations between 50,000 and 99,000. The Arlington Heights National Night Out celebration has moved up the rankings each year.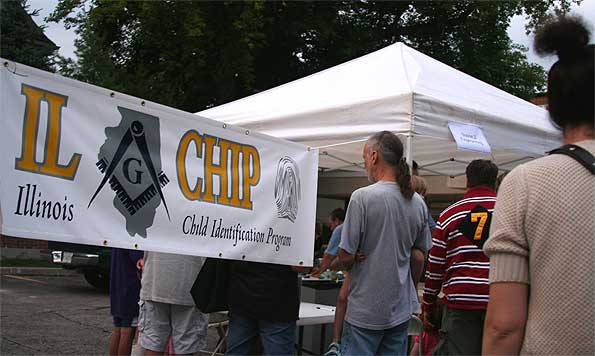 Illinois CHIP (Child Identification Program) station at the 2009 Arlington Heights National Night Out.
During the 2011 event we are attempting to fill the Arlington Heights Prisoner Transport with non-perishable food items for the Wheeling Township Food Pantry. We are partnering with the community and other Village of Arlington Heights Departments to reach our goal. We are encouraging those that attend to bring a non-perishable food item for donation.
National Night Out will be bigger and better in 2011. The following will be part of the event:
• Illinois CHIP Program sponsored by the Illinois Masons will provide parents with a free disc containing their child's fingerprints, photograph and voice sample. A DNA sample can also be requested.
• The Arlington Heights Police Department K-9 unit will conduct a full demonstration which includes bite and drug work.
• The Arlington Heights Fire Department will conduct a repelling victim rescue demonstration.
• The Cook County Sheriff's Bomb Squad will display their equipment which may include an isolation chamber and robot.
• The O'Hare Noise Compatibility Commission – Outreach Vehicle will be on display.
• Illinois State Police DUI golf cart course will one of the attractions.
• Village of Arlington Heights Engineering Department will be sponsoring a child fun photo booth.
• The Arlington Heights Police Department Traffic Unit will demonstrate their motorcycle skills.
• The American Red Cross is displaying their disaster command post vehicle.
• The United States Army will be bringing several vehicles and various simulators.
• The Arlington Heights Park District will provide free beverages and food items, children's games, business expo and other fun activities.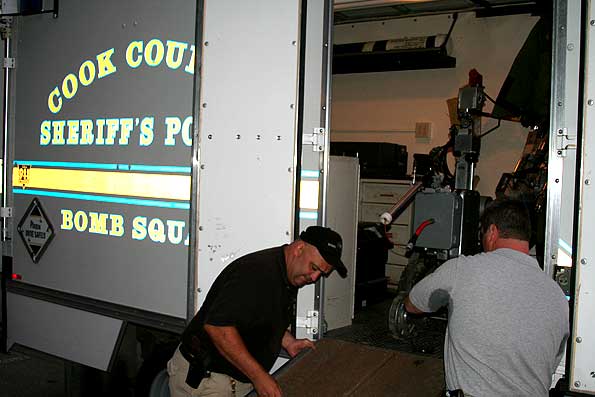 Cook County Sheriff's Police Bomb Squad with sheriff's experts and robot at the 2009 National Night Out event in North School Park at Arlington Heights Road and Eastman Street.