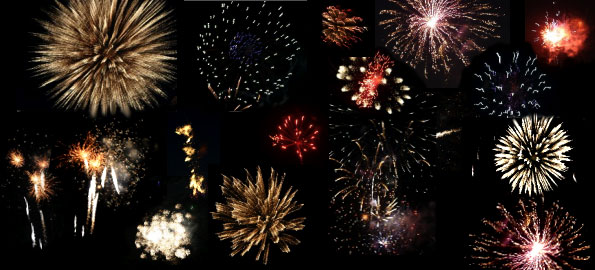 Biggest Chicagoland fireworks show in 2011 is at Arlington Park Racetrack in Arlington Heights.
SATURDAY Special July 2 Racing/Chicagoland's Largest Fireworks Display
Join Arlington Park for a fun filled July 2nd featuring racing, music and and fireworks. Live racing will begin later in the day than normal (4:00 p.m.) followed shortly thereafter by the Chicagoland's major fireworks display for an Independence Day Fireworks Celebration. Celebrate July 2nd Fireworks and Horse racing at Arlington. General Admission is $10 at the gate, but you can also purchase tickets online ahead of time and save money. Special seating is also available. See Arlingtonpark.com for latest details for the whole weekend.
Missing the fireworks at Arlington Park? Mount Prospect has fireworks at Melas Park [MAP/SAT] from 9:30 pm to 10:00 pm. on Thursday June 30 AND Monday July 4, 2011.
Fireworks in Chicagoland at dusk …
Antioch Monday July 4, 2011 at 930pm
Williams Park [Zip Code 60002]
847-385-7500
antiochchamber.org
Arlington Heights Fireworks — Saturday, July 2, 2011
Arlington Park Racetrack [Zip Code 60004, 60005]
arlingtonpark.com
Aurora and North Aurora Fireworks — Monday July 4, 2011 at 930 pm
Illinois Math & Science Academy [Zip Code 60504, 60505]
630-844-3640
aurora-il.org
Barrington fireworks Sunday July 3, 2011 at dusk
Barrington High School [Zip Code 60010]
847-381-2525
barrington4thofJuly.com
Bartlett Fireworks Monday July 4, 2011 at 9:30pm
Apple Orchard Park [Zip Code 60103]
630-200-0217
village.bartlett.il.us
Batavia Fireworks — Monday July 4, 2011 at 9:30pm
Engstrom Park [Zip Code 60510]
630-879-7134
www.bataviafireworks.org
Bensenville Firworks
7/3 & 7/4 at 9:30pm
Redmond Park [Zip Code 60105, 60106, 60399]
630-594-1190
bensenvillechamber.com
MORE LISTINGS BELOW …
VIDEO: Fireworks at Arlington Park, July 2, 2011 … more listings below.
Berwyn
NO FIREWORKS
708-788-2660
Blue Island
NO FIREWORKS
708-597-8603
Buffalo Grove — Monday July 4, 2011 — as always!
Rotary Village Green, Lake Cook Road & Raupp Blvd [Zip Code 60089]
847-459-2500
vbg.org
Burbank Fireworks — Saturday, July 2, 2011 at 9:30pm
Michael Looney Park
77th & Naragansett [Zip Code 60459]
708-599-2070
burbankparkdistrict.org
Calumet City Fireworks — Sunday, July 3, 2011 at 915pm
TF North High School
755 Pulaski Road, Calumet City [Zip Code 60409]
708-862-6443
burbankparkdistrict.org
Carol Stream Fireworks — Monday July 4, 2011 at 9:30pm
Carol Stream Town Center
Gary Ave & Lies Road [Zip Code 60188]
630-665-7050
carolstream.org
Cary Fireworks — Friday, July 1, 2011
Lions Park, 1200 Silver Lake Road, Cary [Zip Code 60013]
carypark.com
Chicago at Navy Pier Fireworks —
10 p.m. Saturday July 2, 2011 (15-minute show)
9 p.m. Monday July 4, 2011 (15-minute show)
Crown Point, Indiana Fireworks — Monday, July 4, 2011 at 9:30pm
Lake County Fairgrounds [Zip Code 46307]
219-662-3290
cpjuly4.com
Crystal Lake Fireworks — Sunday, July 3, 2011
Over the lake at Crystal Lake [Zip Code 60014]
crystallake.org
Des Plaines — no fireworks
Dolton — no fireworks
Elgin — no fireworks
Elk Grove Village fireworks — Monday July 4, 2011
Lions Park, Lions Drive & Elk Grove Boulevard
200 Rev Morrison Blvd [Zip Codes 60007, 60009, 60143]
847-439-3900
elkgrove.com
Evanston Fireworks — Monday July 4, 2011
Clark Street Beach [Zip Codes 60201, 60202, 60203, 60204, 60208, 60209]
847-637-5236
evanston4th.org
Evergreeen Park Fireworks — Monday July 4, 2011
Duffy Park
92nd & Ridgeway [Zip Code 60805]
708-422-1551
evergreenpakr-ill.com
Fox Lake Fireworks Sunday July 3, 2011 at 9pm
On the Lake [Zip Code 60020]
847-587-2151
www.foxlake.org
Fox River Grove — Saturday, July 9, 2011 at dusk
Picnic Grove Park [Zip Code 60021]
847-649-3170
www.foxrivergrove.org
Frankfort Fireworks — Monday July 4, 2011 at 9pm
Main Park
400 N Nebraska Street [Zip Code 60423]
815-469-9400
frankfortdowntown.com
Gary, Indiana Fireworks — Monday, July 4, 2011 at 10pm
Genesis Center [Zip Codes 46401, 46402, 46403, 46404, 46405, 46406, 46407, 46408, 46409, 46410, 46411]
219-881-1314
www.gary.in.us
Glen Ellyn Fireworks — Monday, July 4, 2011
Lake Ellyn Park, Lenox Rd and Lindens St, Glen Ellyn [Zip Code 60137]
glenellyn4thofjuly.com
Glencoe Fireworks — Monday July 4, 2011 at 9pm
Perlman Boating Beach
Longwood Ave and Hazel Ave [Zip Code 60022, 60093]
847-835-3030
www.glencoeparkdistrict.com
Glenview Fireworks Twilight Show — Monday, July 4, 2011 at 7:30pm
Glenview Park Golf Club
800 Shermer Road [Zip Code 60025, 60026]
847-724-5670
www.glenviewparks.org
Great Lakes Naval Station fireworks — July 3 and July 4
Ross Field at the Great Lakes Naval Base Sheridan Rd
Great Lakes, IL [Zip Code 60088]
facebook.com/GreatLakes4thofJuly
Harvey — no fireworks
Hazel Crest Fireworks — Saturday, July 2, 2011 at dusk
Oak Hill West Park
171st and Calfornia [Zip Code 60429]
708-335-0355
www.hazelcrestpark.org
Highland Park Fireworks — Monday, July 4, 2011 at 9:15pm
Wolters Field
1080 Park Avenue West [Zip Code 60035, 60037]
847-432-0800
www.cityhpil.com
Hobart, Indiana Fireworks, Monday, July 4, 2011 at dusk
Festival Park [Zip Code 46342]
219-942-6112
www.city.hobart.in.us
Hoffman Estates Fireworks — Monday, July 4, 2011 at 9:30pm
Village Hall
1900 Hassell Road [Zip Code 60010, 60067, 60169, 60173, 60192, 60194, 60195]
847-882-9100
hoffmanestates.com
Huntley Fireworks — Monday, July 4, 2011 at dusk
Huntley Outlet Center [Zip Code 60142]
847-669-9600
www.huntley.il.us
Itasca fireworks — Monday July 4 — is it really second place to Arlington Park? Maybe not! Hamilton Lakes
Thorndale Ave and Rte 53 [Zip Code 60143]
630-773-2257
www.itasca.com
Joliet Fireworks —
Sunday, July 3, 2011 at dusk
Bicentennial Pak
Monday, July 4, 2011 at dusk
Memorial Stadium
815-724-3700 [Zip Codes 60431, 60432, 60433, 60434, 60435, 60436, 60586]
www.cityofjoliet.info
Johnsburg Fireworks
Pistakee Bay Fireworks
Oak Park Lounge, 801 W. Oak Grove Road, Johnsburg [Zip Codes 60050, 60051]
815-385-9872
Lake Forest Fireworks — Monday, July 4, 2011 at 9:30pm
Deerpath Park [Zip Code 60045]
847-234-2600
www.cityoflakeforest.com
Lake Geneva, Wisconsin Fireworks — July 3, 2011
Grand Geneva Resort & Spa, Highways 12 & 50, Lake Geneva [Zip Code 50012]
262-248-8811 or grandgeneva.com
Lake Station, Indiana Fireworks — Monday July 4, 2011 at dusk
Riverview Park [Zip Code 46405]
219-962-2081
www.lakestation.in.gov
Lake Zurich Fireworks — Sunday, July 3, 2011 at 9:15pm
Paulus Park [Zip Code 60047]
847-4368-5146
www.volz.org
Lansing Fireworks — Monday, July 4, 2011
Lan-Oak Park
180th & Arcadia St [Zip Code 60438]
708-474-8552
www.lanoakparkdistrict.com
Libertyville Fireworks — Monday, July 4, 2011 at dusk
Butler Lake park [Zip Code 60048]
847-362-2430
www.libertyville.com
Lisle Fireworks —
Friday, July 1, 2011 at 9:45pm
Saturday, July 2, 2011 at 9:45pm
Sunday, July 3, 2011 at 9:45pm (presented and timed with a musical score)
Lisle Community Park [Zip Code 60532]
630-769-1000
www.eyestotheskies.org
Lincolnshire Fireworks, Monday July 4, 2011 at dusk
Spring Lake Park [Zip Code 60069]
847-793-2409
www.village.lincolnshire.il.us
Lockport — Fireworks — Monday, July 4, 2011 at 8:45pm
Dellwood Park [Zip Code 60441]
815-838-0549
www.lockportpark.org
Lombard Fireworks — Monday, July 4, 2011
Taste of Lombard
Madison Meadow Park, 600 East Madison Street, Lombard, IL [Zip Code 60148]
McHenry Fireworks — Saturday, July 2, 2011
Petersen Park on McCullom Lake Road, McHenry [Zip Code 60050, 60051]
815-363-2100 or mchenryjaycees.org
THEN NEXT WEEKEND in McHenry Fiesta Day — mchenryfiestadays.com
Merrillville, Indiana Fireworks —
Sunday, July 3, 2011 at 9pm
Monday, July 4, 2011 at 9pm
Hidden Lake Park [Zip Code 46410, 46411, 46342]
219-980-8790
www.rosstownship.org
Mokena Fireworks — Monday, July 4, 2011 at 10pm
Main Park [Zip Code 60448]
708-479-1020
www.mokena.org
Mount Prospect fireworks at Melas Park Thursday June 30 and Monday July 4, 2011
Mount Prospect fireworks were canceled Thursday night … does that mean there will be double fireworks on Monday night? Rumor has … Yes! [Zip Codes 60056, 60057, 60058]
mplionsfest.com
Morton Grove Fireworks — Monday, July 4, 2011 at dusk
Harrer Park [Zip Code 60053, 60054, 60055]
847-965-7447
www.mortongroveil.org
Naperville Fireworks/Naperville Ribfest — Monday July 4, 2011
Knock Park 812 S West St, Naperville, IL [Zip Code 60563]
facebook.com/ribfestnaperville
Northbrook Fireworks — Monday, July 4, 2011 8:45PM
Velodrome (Maple Ave. just west of Waukeegan Rd.) [Zip Code 60062, 60065]
847-272-5050
www.northbrook.il.us
Oak Forest Fireworks — Monday, July 4, 2011 at Dusk
159th & Central Ave [Zip Code 60452]
708-687-4050
www.oakfest.com
Oak Lawn Fireworks — Monday, July 4, 2011 at dusk
Richard's High School (10601 S. Central Ave.)
[Zip Codes 60453, 60454, 60455, 60456,60457, 60458, 60459]
708-857-2200
www.oaklawn-il.gov
Orland Park Fireworks — Monday July 4, 2011 at 9:30PM
Main Centennial Park (15600 West Avenue) [Zip Code 60462, 60467]
708-403-7275
www.orland-park.il.us
Oswego Fireworks — Monday, July 4, 2011 at 9:30PM
Prairie Point Park [Zip Code 60543]
630-554-3618
www.oswegoil.org
Palatine fireworks — Sunday, July 3, 2011
Community Park Palatine Rd and Hicks Rd
[Zip Codes 60067, 60074, 60078, 60094, 60095, 60173, 60195]
palatinejaycees.org/fourthofjuly
Palos Heights Fireworks — Sunday, July 3, 2011 at 9PM
Lake Katherine [Zip Code 60463]
708-361-1807
www.palosheights.org
Park Forest Fireworks — Monday, July 4, 2011 at 9:15PM
Central Park [Zip Codes 60466, 60467]
708-748-2005
www.villageofparkforest.com
Park Ridge Fireworks — Sunday, July 3, 2011 at dusk
Maine East High School [Zip Codes 60068]
847-692-5127
www.parkridge.us
Rolling Meadows fireworks — Monday, July 4, 2011
SalkPark, Owl Drive, north of Central Road [Zip Codes 60008]
847-394-8500
www.ci.rolling-meadows.il.us
Round Lake Beach Fireworks — Monday, July 4, 2011 at 9:30PM
Cultural Center Outdoor Stage [Zip Code 60073]
847-546-2351
www.villageofroundlakebeach.com
Sandwich Fireworks — Sunday, July 3, 2011 at Dusk
Sandwich Fairgrounds [Zip Code 60548]
815-786-9321
www.sandwichparkdistrict.org
Schaumburg — no fireworks in July
[Zip Codes 60159, 60168, 60173, 60179, 60193. 60194, 60195, 60196]
Fireworks are Sunday, September 4, 2011 at Septemberfest 2011
ci.schaumburg.il.us
Skokie Fireworks — Monday, July 4, 2011 at dusk
Niles West High School, 5701 Oakton Street [Zip Codes 60076, 60077, 60203]
847-674-1500
www.skokie.org
Sleepy Hollow Fireworks — Monday, July 4, 2011 at 9PM
Sabatino Park [Zip Code 60118]
847-426-6700
www.sleepy-hollow.il.us
Spring Grove Fireworks — Monday, July 4, 2011
Horse Fair Park, 8105 Blivin, Spring Grove [Zip Code 60080, 60081]
815-675-2121 or www.springgrovevillage.com
815-678-7742 or www.rsgchamber.com
Waukegan Fireworks — Monday, July 4, 2011
Waukegan Harbor & Lakefront [Zip Code 60085, 60086, 60087, 60088]
facebook.com/waukegan
Wheaton Fireworks — Sunday July 3, 2011
DuPage County Fairground, 2015 Manchester Road, Wheaton, IL [Zip Code 60187, 60189]
wheatonparkdistrict.com …
Wheeling fireworks — Monday, July 4, 2011
Behind Village Hall [Zip Code 60089, 60090]
wheelingil.gov
Wonder Lake Fireworks — Sunday, July 3, 2011
Wonder Lake [Zip Code 60097]
815-728-0682 or wonderlake.org
Woodstock Fireworks
Emricson Park, near South and West Jackson streets [Zip Code 60098]
815-338-4300 or woodstockil.gov
Become a fan of The Cardinal Entertainment page. Submit your pictures or just stay up-to-date and share entertainment info — go direct to the Arlington Cardinal Entertainment photos. For a list of all of The Cardinal Facebook fan pages, go to Arlingtoncardinal.com/about/facebook …