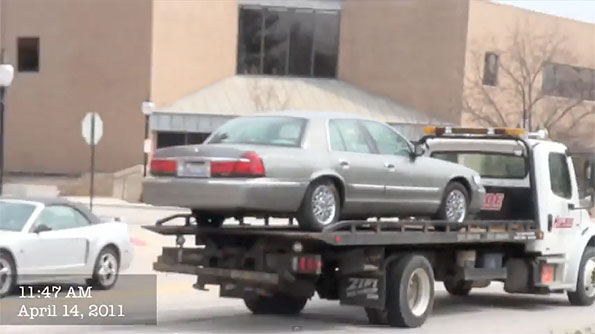 Mercury Marquis that was stopped in East Dundee Thursday morning is towed to Arlington Heights Police Department Headquarters.
A homicide suspect from a case Thursday morning (8:40 a.m.) in Arlington Heights near Oakton and Forrest, was discovered driving northbound on Roselle Road about 9:30 a.m. An officer in an unmarked Schaumburg police car discovered a suspect's vehicle — a Lincoln Mercury Marquis — and followed the vehicle northbound into the Harper College parking lots. Marked police squads from Schaumburg, Hoffman Estates and Palatine converged and began pursuit, which left the campus went south on Roselle Road, then westbound on Algonquin Road (Route 62).
Palatine police and Schaumburg police terminated the pursuit as the suspect's car left their jurisdictions.
The suspect rammed a Hoffman Estates police squad after traveling about 7 mph while westbound on Algonquin Road. The pursuit picked up to speeds of 45-55 mph while continuing westbound on Route 62.
The chase continued southbound on Route 25
Westbound Route 72 from Route 25
Westbound Route 72 approaching Fox River
Rear tire going flat and smoking
Southbound Van Buren
Eastbound Williams Place at 10:00 a.m.
Suspect in custody at 10:01 a.m.