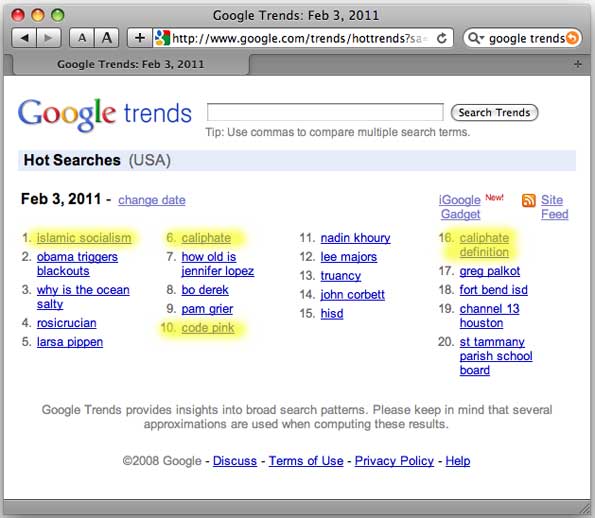 Islamic Socialism, Caliphate, and Code Pink (all highlighted in yellow) were discussed on the Glenn Beck show Wednesday. Caliphate Definition (#16) was also searched.
Glenn Beck is proposing that recent incidents in Yemen, Egypt and other areas of the Mideast are significant signs of Islamic radical efforts toward a Caliphate — from North Africa across the latitude to Afghanistan.
Beck is also proposing that what main stream media is describing as a friendly democratic revolution associated with the Muslim Brotherhood, is actually an effort of planned revolution toward a Caliphate — with revolutionaries waiting for people to be hungry and unemployed, are ready to fuel the populous anger, and use them like useful idiots.
Beck also showed clips from a Code Pink demonstration captured by Breitbart.com where an apparently angry man from Chicago said it was time for an Egypt-like revolution here in America. The video also showed a comment by a leftist demonstrator that recommended Supreme Court Justice Clarence Thomas be impeached and sent 'back to the fields.' He also pointed out that Code Pink had a banner ad on the Muslim Brotherhood which made reference to the protest giving opportunity to 'cleaning' Egypt. Beck thought the word 'cleansing' was a bad choice of words, considering nearby neighbors in Israel have seen their share of ethnic cleansing.
Later that night MSNBC's Rachel Maddow dedicated a segment to mocking Glenn Beck's explanation of the Egyptian crisis. Maddow views Beck as an opportunist responding to the events in Egypt … "Political opportunism, hysteria distort discourse.'
Visit msnbc.com for breaking news, world news, and news about the economy
At Business Insider, Glynnis MacNicol says, "One of the reasons Beck is so popular is not because half the country is crazy, it's because half the country is bored and he gives them something to chew on (cf. his Amazon success)." MacNicol hopes Maddow will start episodes dedicated to Glenn Beck fact-checking.