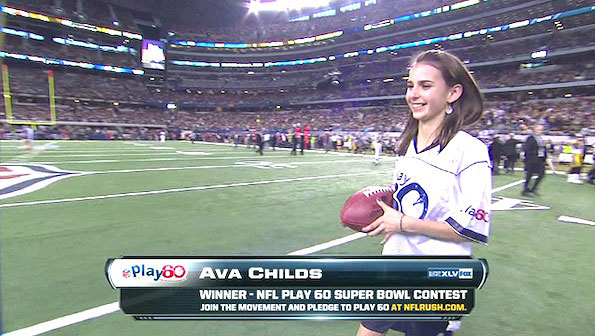 Ava Childs handing out the game ball February 6, 2011 during Super Bowl XLV at Arlington Texas Cowboys Stadium (Television coverage on FOX Sports — foxsports.com).
More than 17,000 young active football fans entered the Play 60 Super Kid contest, and Ava Childs, 10, of Briar Glen Elementary School in Glen Ellyn won the contest — earning a chance to present game officials with the game ball at Super Bowl XLV tonight.
Ava got the news with a surprise visit to her fifth grade class by Chicago Bears kicker Robbie Gould. To participate in the Play 60 Super Kid contest, Ava had to pledge to be active for 60 minutes a day and answer questions about the importance of health and fitness. She wrote an essay about how Robbie Gould inspired her to have an active lifestyle and follow her dreams to be the first female kicker in the NFL.
Ava Childs was chosen as the winner of the Play 60 Super Kid contest by a panel that included last year's Super Bowl MVP, New Orleans Saints quarterback Drew Brees.
See also …
Ava's Official Blog on NFLrush.com — nflrush.com/buzz/ava