VIDEO: Arlington Heights firefighter/paramedics rescue two people from cars with one passenger requiring extrication from a Toyota Camry.
Arlington Heights police and firefighter/paramedics responded just before 8:15 PM Friday to an auto accident with injuries at the intersection of Rand Road and Stratford Road. Police arrived first to find a Toyota Camry and a Ford Taurus crashed, just south of the intersection of Rand Road and Stratford Road.
As police and firefighters arrived they learned that one person was trapped in the Toyota Camry.
The passenger side of a Toyota Camry was severely damaged with the passenger injured in the vehicle stopped in the southbound lanes of Rand Road.
Apparently, the injured person in the Ford Taurus was the driver. The victim in the Ford Taurus was rescued out of the passenger side by firefighter/paramedics. The Ford Taurus was stopped off the roadway at the southwest corner of the intersection.
Firefighter/paramedics worked about 25 minutes to free the passenger in the Toyota Camry. Hinges on the doors were cut by a Hurst Tool 'Jaws of Life', so that the doors of the 4-door Toyota Camry could be moved out of the way. Two Hurst Tool cutters were used simultaneously during extrication and rescue.
Rolling Meadows police responded to the scene with a Korean translator/police officer.
Prospect Heights police also responded as it was learned that the intersection was in the jurisdiction of Prospect Heights.
Police from Arlington Heights and Prospect Heights managed the scene.
Arlington Heights Fire Department responded to the scene with two rescue ambulances. Prospect Heights police are investigating. Both victims were transported to Northwest Community Hospital.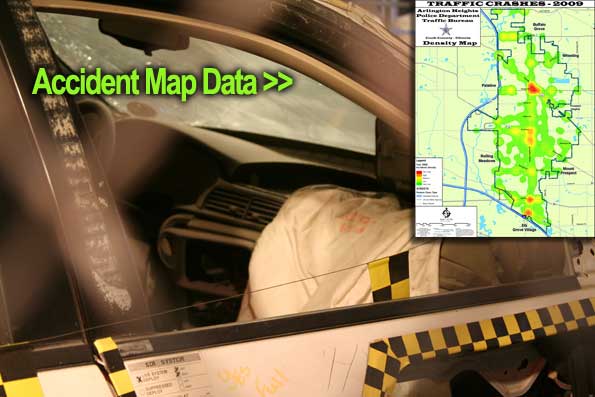 Click the graphic to access the accident map data for the Village of Arlington Heights.