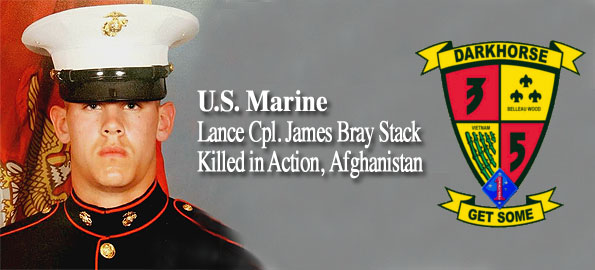 U.S. Marine LCPL James Bray Stack
MEMORY GARDENS BURIAL SERVICE VIDEO …
The public is invited to join in lining the motorcade route to carry LCPL James Bray Stack from Chicago Executive Airport to Glueckert Funeral Home, Ltd. Thursday, November 18, 2010.
RETURN HOME — MOTORCADE VIDEO …
Nov. 18, 2010 — Escort from Chicago Executive Airport, 11:15 AM …
Nov. 19, 2010 — Visitation Glueckert Funeral Home, 2 PM to 9 PM
Nov. 20, 2010 — Funeral Prospect HS, 11 AM with burial service following immediately …
Nov. 20 2010 — Burial Service Committal and Military Honors at Memory Gardens Cemetery
The escort plane lands at Chicago Executive Airport. The body of Lance Corporal James Bray Stack will be escorted westbound Hintz Road in Wheeling from Chicago Executive Airport — formerly known as Palwaukee Airport.
Estimated Time of Arrival — 11:15 am, enter Arlington Heights westbound Hintz Road to Windsor Drive. South on Windsor to Dryden Avenue. Continue south on Dryden to Miner Street. West on Miner past American Legion Post #208 and Recreation Park to Arlington Heights Road. North on Arlington Heights Road to Euclid Avenue. West on Euclid Avenue past Christian Liberty Academy to Ridge Avenue. North on Ridge Avenue to Oakton Street. East on Oakton Street to Arlington Heights Road. North on Arlington Heights Road to Glueckert Funeral Home.
Parking near the escort route is available at:
Lake Arlington, Dryden and Valley Lane
St. Peter Lutheran Church, 111 W. Olive Street, Arlington Heights, West Lot Only
Our Saviour's Lutheran Church, 1234 N. Arlington Heights Rd.
Visitation, Funeral and Military Honor Burial Service Detailed Below (for more complete details, including parking and updates, see Glueckert Funeral Home — glueckertfh.com)
Visitation will be from 2-9 p.m. Friday, November 19, at Glueckert Funeral Home, 1520 North Arlington Heights Road, in Arlington Heights.
The funeral service for Marine Lance Cpl. James Bray Stack, who was killed last Wednesday in Afghanistan, will be held at 11 a.m. Saturday, November 20, 2010 in the Field House at Prospect High School, 801 W. Kensington Road, Mount Prospect.
Following the service, Marine Lance Corporal James Bray Stack, of Arlington Heights, will be buried with full military honors in Memory Gardens Cemetery in Arlington Heights.
James Stack leaves his wife, Katelyn Landeweer Stack, also of Arlington Heights and a graduate of Prospect High School; their 1-year-old daughter, Mikayla; his parents, Linda and Robert Stack; and a 16-year-old sister, Megan.

View US Marine LCPL James Bray Stack Escort in a larger map
See also …
marineparents.com/Stack