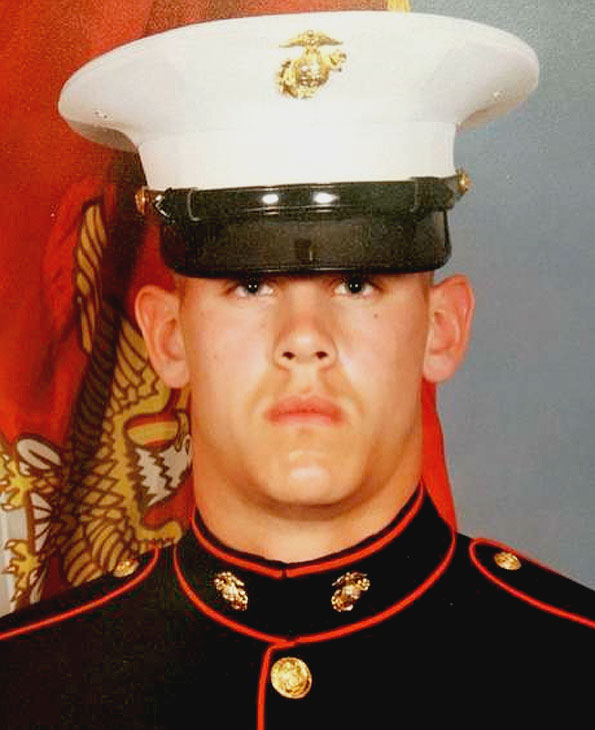 U.S. Marines Lance Corporal James Bray Stack.
MEMORY GARDENS BURIAL SERVICE VIDEO …
AIRPORT -GLUECKERT FUNERAL HOME MOTORCADE VIDEO …
UPDATE — ESCORT ROUTE: US Marine Lance Corporal James Bray Stack Escort from Airport Announced, Public Encouraged to Line Route
UPDATE FUNERAL SERVICES: The Cardinal — U.S. Marine Lance Corporal James Bray Stack of Arlington Heights: Funeral Services, Burial Services; Prospect High School, Memory Gardens …
Lance Corporal James Bray Stack, 20, was reported killed during combat operations in Helmand province, Afghanistan after only one month of his first tour of duty overseas. Lance Cpl. Stack was a rifleman in India Company Third Battalion of the Fifth Marines in the First Division. Helmand is the world's largest opium-producing region, responsible for 42% of the world's total production.
The 3rd Battalion 5th Marines (3/5) is an infantry battalion in the United States Marine Corps. The battalion, nicknamed "Dark Horse", is based out of Marine Corps Base Camp Pendleton, California and consists of approximately 1000 Marines and Sailors. They fall under the command of the 5th Marine Regiment and the 1st Marine Division.
Members of 3rd Battalion are currently conducting operations in the Sangin District of Helmand Province, Afghanistan in support of Operation Enduring Freedom. As of November 2010, 15 of the battalion's Marines have been killed in action. Battalions from the 1st Marine Division have been deploying to Afghanistan regularly since 2008 as part of Operation Enduring Freedom – Afghanistan (OEF-A).
The Department of Defense announced today the death of a Marine who was supporting Operation Enduring Freedom.

Lance Cpl. James B. Stack, 20, of Arlington Heights, Ill., died Nov. 10 while conducting combat operations in Helmand province, Afghanistan. He was assigned to the 3rd Battalion, 5th Marine Regiment, 1st Marine Division, I Marine Expeditionary Force, Camp Pendleton, Calif.

— U.S. Department of Defense
Lance Corporal Stack was a national champion air pistol shooter in the 2008 Junior Olympics and a member of the Arlington International Airgun Club, based at Christian Liberty Academy. One of the firing ranges is located in the upper deck of Grace Gymnasium.
James Stack also played soccer with Christian Liberty and was named Most Valuable Player on the school's track team. He was homeschooled with the Christian Liberty Academy curriculum while residing in Arlington Heights.
Lance Corporal James Bray Stack leaves a wife, Katelyn Landeweer Stack, also from Arlington Heights; their 1-year-old daughter, Mikayla; and his mother and father, Linda and Robert Stack.
See also …
iCasualties.org Operation Enduring Freedom Fatalities — icasualties.org/OEF/Fatalities.aspx
3rd Battalion, 5th Marines (Official Website)