A few video scenes from Drury Lane Cemetery Halloween display in the 600 block of North Drury Lane in Arlington Heights.
It's not often that you walk by a Halloween yard display and discuss with your friends and family what your favorite character in the yard, but that's what happens when you view the Halloween display known as Drury Lane Cemetery in the 600 block of North Drury Lane in Arlington Heights. A big favorite might be 'The Groundbreaker' who writhes near the sidewalk as he tries to break free from being half underground. Or the witch who is the tour guide for the display. Both characters, by the way are products of homemade animatronics built by homeowner Jason Tatum. There area still more characters, such as ghosts, a scary clown, a spider or two or more, skeletons, a decapitated woman, weird zombie-like silhouettes with weird gates inside the house, and a skeleton playing the organ. These are all non-living characters. On Halloween, real live actors are added to the display. Props and characters have been added every year, and include tombstones, fences, a mausoleum, a witch shack and more.
Check it out. The Cardinal visited Friday night under a bright moon. The thunder and lightning effects were awesome — lighting up some of the characters, especially a tall crucifix-like skeletonoid scarecrow complete with barbed wire, twigs, and snarled vines.
The display usually runs from mid-October through Halloween.
The display even has an official website to check for more details …
hauntsoft.com
For more scary locations in Chicagoland …
HauntedIllinois.com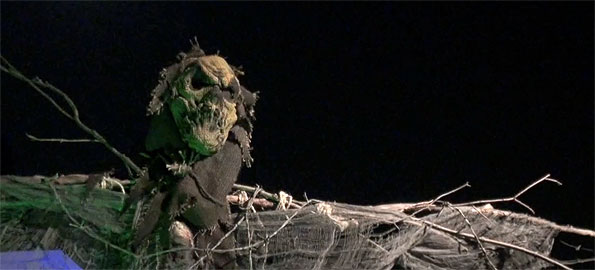 The Cardinal calls him Skelecrow.
Check out this Halloween house decoration from RIverside, California

2010 Halloween Light Show in HD – Thriller by Michael Jackson ( MJ )
4 singing pumpkin faces, tombstones, hand carved and blow mold pumpkins, strobes, floods and thousands of lights. Light-O-Rama 140 channels. Riverside, CA Enjoy!