Lee DeWyze, on American Idol Wednesday, learned he is moving on through to next week's round.
All four judges praised Mount Prospect native Lee DeWyze's rendition of "Treat Her Like a Lady" Tuesday. Simon Cowell told him, " I want you tonight to go home, watch the show back and understand this was the night your life may have changed forever." Cowell has seemed to have a lot of faith in DeWyze from the beginning of the program.
Lee DeWyze stays cool, calm and collected throughout the show and interviews. Even while Star Magazine this month broke a story about a night that already changed Lee DeWyze's life forever. It's the tragic story of Lee's beloved 80-year-old grandmother Eileen's murder by his 43 year-old uncle, John. Eileen was stabbed and killed on Wednesday October 27, 2004, by her son.

Lee's Uncle John was having a mental breakdown outside the family home on an eerie night just before Halloween that happened to be the night of a blood red moon — a total lunar eclipse. Arlington Heights police were called to the home at 508 East Oakton Street for a disturbance. During attempts to calm down John DeWyze in the kitchen of the home, Lee's Uncle John suddenly grabbed a kitchen knife and lunged at a police officer. John then turned the knife on his mother. Eileen died a short time later.
John DeWyze was arrested, and in November 2006, was found not guilty by reason of insanity for fatally stabbing his mother.
Star Magazine thinks Lee has a Guardian Angel. "He worshipped his grandma, and she adored him. Her death was traumatic for the entire family." A lot of fans hope Lee DeWyze's life IS changed forever, for the better this time.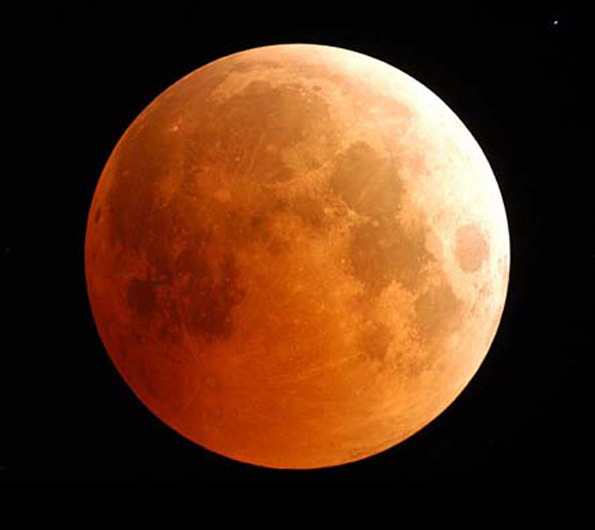 Total Lunar Eclipse, Wednesday October 27, 2004 to Thursday October 28, 2004.
[CREDIT: ©2004 Fred Espenak, NASA]