Vernon Hills police responded about 5:00 a.m. Thursday to the report of a vehicle on a front lawn and porch of a home on Olympic Drive in Vernon Hills. A neighbor heard a noise about 3:30 a.m. but went back to sleep. Initially police were investigating a possible home invasion-related homicide that was thought to have occurred sometime before 5:00 a.m. Thursday at 1848 Olympic Drive in Vernon Hills. Two vehicles were missing from the scene: a 2004 Acura 4-door and a silver 2009 Nissan Rogue. Now police suspect that two 'persons of interest' are traveling in the Nissan Rogue — Illinois license plate 421 9607. The Nissan is registered to Marina Aksman and her husband.
Police found the body of Marina Aksman, 50, on a bed in a first-floor bedroom of her home. Vernon Hills police have found what they believe to be the murder weapon inside the home. The victim apparently died of blunt trauma to the head. At the back of the home, a glass panel on a door was found shattered. Marina Aksman's husband, Robert, was at work as a delivery truck driver and is fully cooperating with police. The 'persons of interest' are Marina's daughter, Kristina, 20, and her boyfriend Daniel Baker, 21. Police believe the two are still in the Lake County area. Kristina has been listed by police as missing and endangered.

Arlington Heights Police Department K-9 Unit assisted Vernon Hills Police Department in tracking in a neighborhood of single-family homes just west of Lake Charles in the Greggs Landing subdivision in Vernon Hills.
The Lake County Major Crime Task Force is investigating with Vernon Hills Police Department.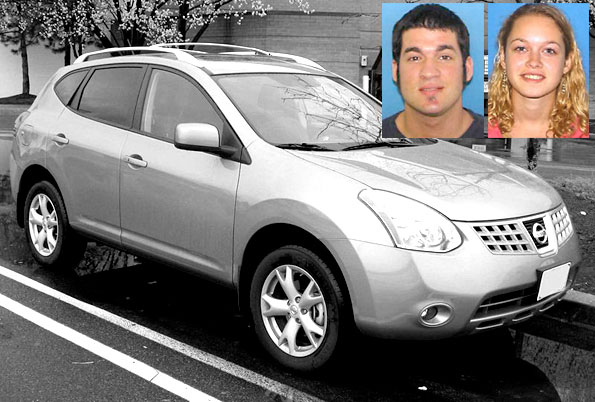 File photo of 2008 Nissan Rogue that looks basically the same as a 2009 model with inset of 'persons of interest' Daniel Baker (left) and Kristina Aksman.
Developing …

View Vernon Hills Crime 2010 in a larger map

View Vernon Hills Crime 2010 in a larger map