Update: Worst of last night's storm is over. There were two Severe Thunderstorm Warnings associated with two storms overnight. Some hail about 10:40 p.m. Monday in Arlington Heights. Heaviest parts of the storm were on the south side of Arlington Heights, and crossing through Schaumburg and Elk Grove. Chicagobreakingnews.com is reporting Des Plaines experienced baseball-sized hail that broke windows in homes. Elk Grove Village responded to lines down across all lanes of Nicholas Boulevard near Landmeier Road. Westbound Landmeier was shut down from Higgins Road. Roofs damaged on two commercial buildings and an uprooted tree in Bensenville. Arlington Heights Fire Department responded to an orange glow in the vicinity of Tanglewood Apartments in the 2200 block of South Goebbert. Nothing was found … 10:47 PM CDT NATIONAL WEATHER SERVICE ESTIMATED WIND GUST TO 60 MPH. ACCOMPANIED BY HAIL AT O'HARE.
A second Severe Thunderstorm Warning was issued just before 12:44 a.m. and was extended until 2:00 a.m. The warning area affected northwest Cook County and western Lake County. Buffalo Grove fire and police officers responded to multiple alarms related to electric power service interruptions. … 1:15 AM CDT NATIONAL WEATHER SERVICE REPORT … ONE PERSON INJURED IN CRYSTAL LAKE WIDESPREAD DAMAGE REPORTED IN CRYSTAL LAKE…TREES DOWNED…TRAFFIC LIGHT POLES BLOWN DOWN…ENTIRE FIRE DEPT DISPATCHED HANDLING REPORTS OF DAMAGE. In Marengo, 70-mph winds flipped over a tractor-trailer on westbound Interstate Highway 90 just west of Illinois Highway 47.

RAINFALL: Between one-half inch and an inch overnight in northwest suburbs.
More thunderstorms are expected today.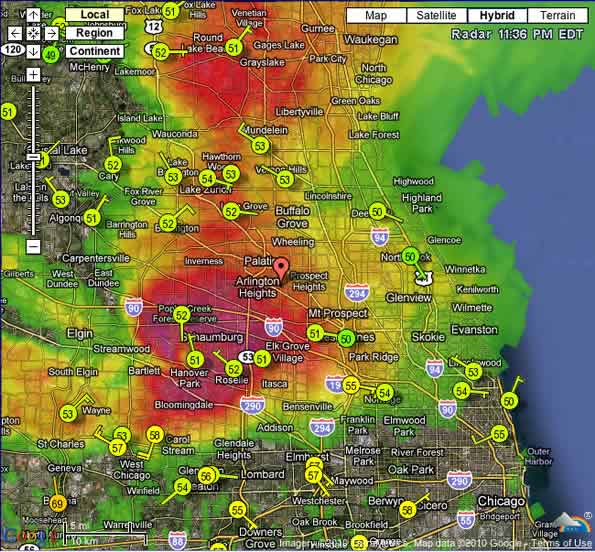 Radar image just before first storm hit Arlington Heights about 10:36 p.m. CDT — showing purple shades zeroed in on Schaumburg, Elk Grove, Bensenville, Des Plaines, and Skokie. [Arlingtoncards.com/weather has multiple views of current radar available every day from the RADAR/SATELLITE dropdown menu in the header.]
Original warning at 10:02 PM …
* SEVERE THUNDERSTORM WARNING FOR…
NORTHERN COOK COUNTY…
NORTHERN DUPAGE COUNTY…
NORTHEASTERN KANE COUNTY…
LAKE COUNTY…
EASTERN MCHENRY COUNTY…
* UNTIL 1100 PM CDT
* AT 1002 PM…NATIONAL WEATHER SERVICE DOPPLER RADAR INDICATED A
LINE OF SEVERE THUNDERSTORMS CAPABLE OF PRODUCING WALNUT SIZE
HAIL…AND DESTRUCTIVE WINDS IN EXCESS OF 70 MPH. THESE STORMS
WERE LOCATED ALONG A LINE EXTENDING FROM 5 MILES EAST OF HARVARD TO
ELBURN…AND MOVING EAST AT 45 MPH.

* LOCATIONS IMPACTED INCLUDE…
GENEVA…BATAVIA…ST. CHARLES…WONDER LAKE…SLEEPY HOLLOW…
ELGIN…ALGONQUIN…DUPAGE AIRPORT…CARPENTERSVILLE…WEST
CHICAGO…MCHENRY…EAST DUNDEE…ISLAND LAKE…PISTAKEE
HIGHLANDS…CAROL STREAM…WHEATON…HOFFMAN ESTATES…FOX LAKE…
BARRINGTON AND WAUCONDA.
* THIS WARNING INCLUDES THE NORTH SIDE OF THE CITY OF CHICAGO.
PRECAUTIONARY/PREPAREDNESS ACTIONS…
THESE STORMS HAVE A HISTORY OF PRODUCING DESTRUCTIVE WINDS AND LARGE
HAIL. SEEK SHELTER NOW INSIDE A STURDY STRUCTURE AND STAY AWAY FROM
WINDOWS!
TO REPORT SEVERE WEATHER…CONTACT YOUR NEAREST LAW ENFORCEMENT
AGENCY. THEY WILL RELAY YOUR REPORT TO THE NATIONAL WEATHER SERVICE
IN CHICAGO.
See also …
Arlingtoncards.com/weather
See also Storm Prediction Center Storm Reports
http://www.spc.noaa.gov/climo/reports/last3hours.html
http://www.spc.noaa.gov/climo/reports/today.html