Video of fireball/meteor caught by a Howard County Iowa Sheriff's Deputy. Illumination starts at about 00:27
National Weather Service — Quad Cities Report … Just after 10 pm CDT Wednesday evening April 14th, a fireball or very bright meteor was observed streaking across the Midwest sky. The fireball was seen over the northern sky, moving from west to east. Well before it reached the horizon, it broke up into smaller pieces and was lost from sight. The fireball was seen across Northern Missouri, Illinois, Indiana, and Southern Wisconsin. Several reports of a prolonged sonic boom were received from areas north of Highway 20, along with shaking of homes, trees and various other objects including wind chimes. As of late Wednesday evening, it is unknown whether any portion of this meteorite hit the ground.
The flash was visible from Arlington Heights Road, just south of Sigwalt Street as a quick but intense flash — similar to a transformer explosion between 10:02 p.m. and 10:04 p.m CDT. The flash filled the western sky — slightly west-northwest.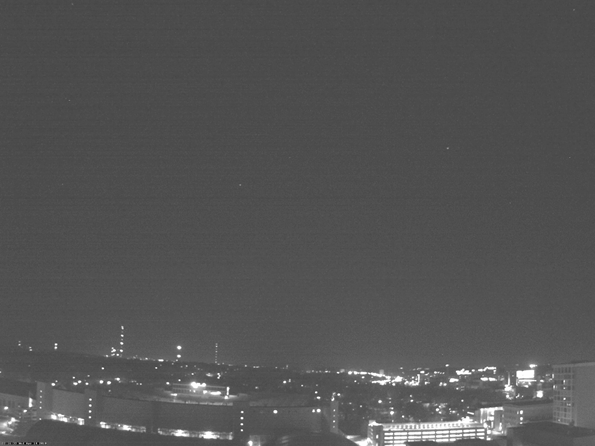 VIDEO: The fireball was caught on a webcam from UW-Madison AOS/SSEC.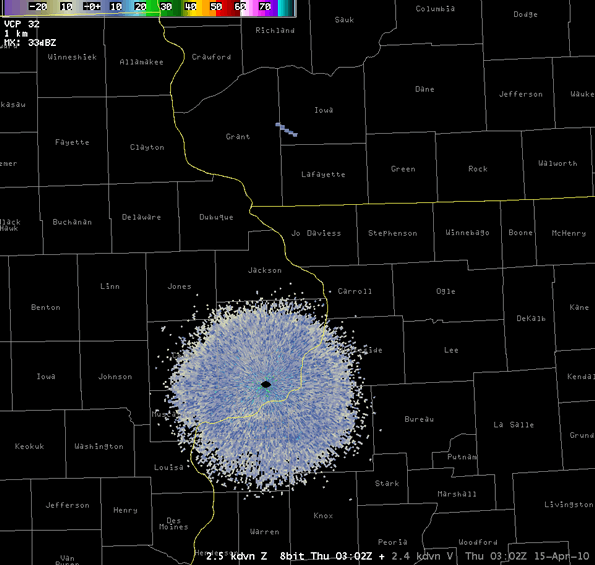 Radar image showing smoke trail from National Weather Service in the Quad Cities. The big circle is ground clutter. The small diagonal line located over the border of Grant County and Iowa County in western Wisconsin is the suspected smoke trail of the meteor.
The Doppler Radar from the National Weather Service in the Quad Cities appeared to capture a portion of the smoke trail from the fireball at 0302z (1002 PM CDT), as seen in the image below. It appears as a thin line extending across portions of Grant and Iowa Counties in Wisconsin. This trail is positioned nearly 88 miles north-northeast of Davenport, Iowa at an elevation of just over 24,000 ft AGL.
Most meteoroids disintegrate when entering Earth's atmosphere. However, an estimated 500 meteorites ranging in size from marbles to basketballs or larger do reach the surface each year; only 5 or 6 of these are typically recovered and made known to scientists. Few meteorites are large enough to create large impact craters. Instead, they typically arrive at the surface at their terminal velocity and, at most, create a small pit. Even so, falling meteorites have reportedly caused damage to property, livestock and people.
We are approaching the period of the Lyrids Meteor Shower (April 16-24), so there is speculation that the meteor could be an early "shooting star" from the meteor shower. The Lyrids have been known to cause bright meteors known as 'Lyrid fireballs' that leave behind smokey debris trails.
See also …
National Weather Service Weather Forecast Office Quad Cities, IA/IL