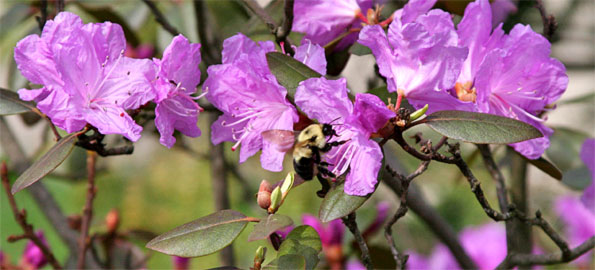 Bumble Bees, like their relatives the honey bees, feed on nectar and gather pollen to feed their young.
Bumblebees are social insects that are characterized by black and yellow body hairs, often in bands. However, some species have orange or red on their bodies, or may be entirely black. Another obvious (but not unique) characteristic is the soft nature of the hair (long, branched setae), called pile, that covers their entire body, making them appear and feel fuzzy. They are best distinguished from similarly large, fuzzy bees by the form of the female hind leg, which is modified to form a corbicula; a shiny concave surface that is bare, but surrounded by a fringe of hairs used to transport pollen (in similar bees, the hind leg is completely hairy, and pollen grains are wedged into the hairs for transport).
Like their relatives the honey bees, bumblebees feed on nectar and gather pollen to feed their young.
Queen and worker bumblebees can sting, but unlike a honey bee's, a bumblebee's stinger lacks barbs, so they can sting more than once. The honey bee fatally injures itself when it commits to using its stinger. Bumblebee species are normally non-aggressive, but will sting in defense of their nest, or if harmed. Female cuckoo bumblebees will aggressively attack host colony members, and sting the host queen, but will ignore other animals (including humans) unless disturbed.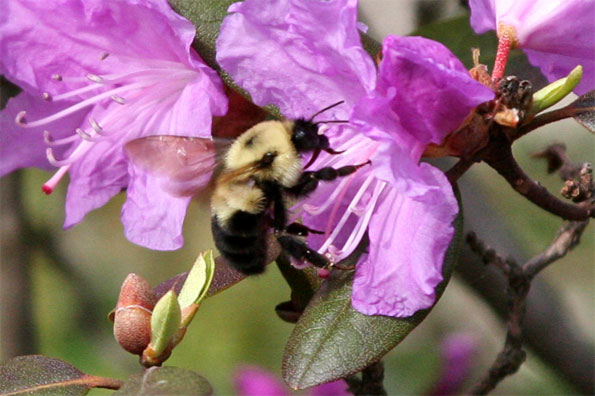 Become a fan of the Arlington Cardinal Garden Facebook page, including favorites garden centers like Knupper's and more. Submit your pictures or just stay up-to-date on garden tips and seasonal outdoor and indoor plant-growing topics. Please add your favorite garden photo to the wall album — go direct to the Arlington Cardinal Garden photos. For a list of all of The Cardinal Facebook fan pages, go to Arlingtoncardinal.com/about/facebook …