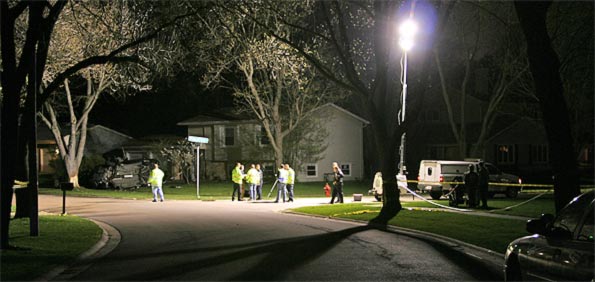 Major Case Assistance Team (MCAT) and Buffalo Grove police officers investigate a crash with the help of a police light truck.
Buffalo Grove police and firefighter/paramedics received a report about 6:30 p.m. Monday of a car crashed into a tree in the 300 block of Hawthorne Road. Police arrived on the scene first to find a woman trapped inside the car with the car on fire. Firefighters arrived immediately after the police and were working to extinguish the fire while paramedics treated the female victim. Firefighters worked a second hose line to keep flames away from the victim, while firefighters on the first hose line worked to put out the fire. The vehicle was rolled on its side from the crash, so firefighters stabilized the vehicle and began extrication operations while paramedics treated the woman, and other firefighters kept the fire suppressed. The female victim was extricated from the car just before 6:55 p.m. Monday and was transported to Level I Trauma Center Advocate Lutheran General Hospital.
Arlington Heights Fire Department rescue-ambulance was the first due ambulance at the crash because Buffalo Grove's ambulance was out on another call. An Arlington Heights fire engine was called to the scene as the second fire engine to the scene to assist Buffalo Grove firefighters, and to bring firefighting foam to the fire. Buffalo Grove's rescue-ambulance was at Northwest Community Hospital from a previous pin-in crash that occurred at Buffalo Grove Road and McHenry Road about 5:00 p.m.