Video of extrication operations by Schaumburg Fire Department for a truck driver that was trapped in his truck after it rolled on its side on the Route 53 northbound ramp to eastbound Interstate 90.
Schaumburg Fire Department, Illinois State Police and IDOT responded to a semi-trailer truck rollover about 12:25 p.m. Monday. The driver was trapped inside the tractor or cab for about 20 minutes. Firefighter/paramedics in an extrication operation had to cut part of the roof of the truck while working in extremely muddy and slippery conditions off the inside should of the ramp from northbound Route 53 to eastbound Interstate 90.
Schaumburg firefighter/paramedics transported the driver to Northwest Community Hospital about 12:55 p.m. Monday. The truck was laying on its driver's side. LIN-MAR towing was working to tow the semi-trailer truck away after 1:00 p.m.
There was some lane blockage during the towing and recovery mode of the vehicle. Lanes were kept open during the extrication and rescue of the victim.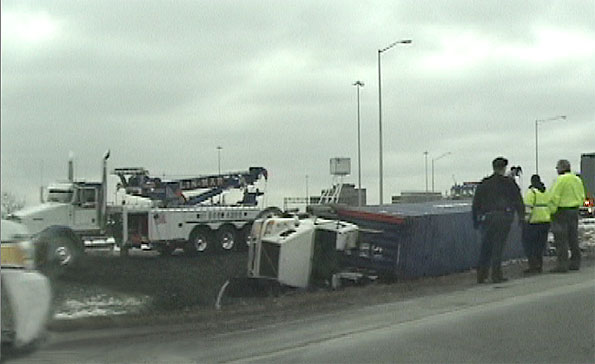 Semi-trailer truck on its side minutes after the driver was rescued from the driver's seat … with LIN-MAR Towing preparing to recover the vehicle and tow it away.