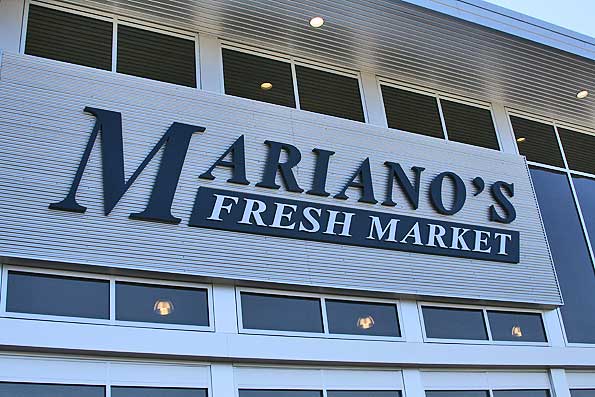 Updated photo (May 19, 2010): Front entrance sign to Mariano's Fresh Market.
UPDATES …
See grand opening updates from The Cardinal …
Mike Ditka & Chicago Blackhawk 2010 Champion Players Dave Boland, Adam Burish to Highlight Grand Opening Events for Mariano's Fresh Market
Mariano's Opens: Huge Crowd is Happy with New Area Grocer; Hours, Images and Details …
Roundy's Supermarkets, Inc. has announced the name for its new Chicagoland stores, "Mariano's Fresh Market." The name is a nod to the Italian culinary heritage of Roundy's CEO Bob Mariano. The new stores will reflect old-world adherence to quality and personal service, blended with Mariano's signature approach to supermarket innovation.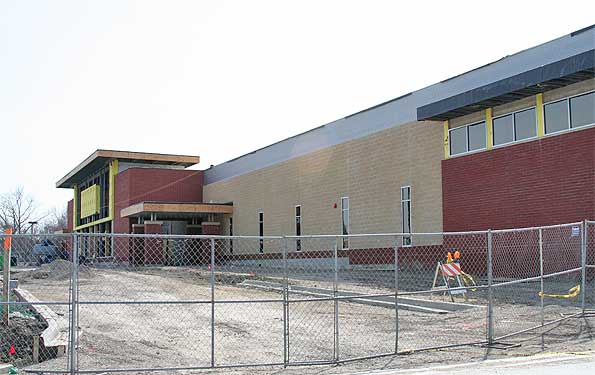 A look at the front of Mariano's Fresh Market from Kensington Road looking south toward Northwest Highway.
Mariano is thrilled to be back in Chicago and proud to once again provide the community with what he calls "the aisle by aisle selection and the value every shopper deserves." Mariano's Fresh Market will epitomize their brand promise: Shop Well. Eat Well. Live Well. The emphasis of the new stores will be on fresh offerings in produce, meat, seafood, bakery and deli, with prepared foods available for breakfast, lunch and dinner. The full-service shopping experience will include natural and organic products, and a wide selection of homeopathic remedies.

The wine and spirits department, sushi bar, and Italian themed cafe featuring espresso, gelato, and panini are attractions that are sure to elevate the shopping experience to a new level.
"We want our customers to know that Mariano's Fresh Market intends to be fully immersed in the fabric of our communities. We take this responsibility very seriously and are already developing plans to activate our long term dedication to the neighborhoods we will serve," said Mariano.

View Arlington Heights Restaurants ~ Taste-of-Arlington.comshowing Mariano's Fresh Market new location in a larger map
Blue shape approximate size and location of Mariano's Fresh Market — the new location in Arlington Heights coming this summer 2010 (overlayed on the former Lattof Chevrolet site).
Mariano's Fresh Market at Site of Former Lattof Chevrolet
Mariano's Fresh Market in Arlington Heights will be located at 802 East Northwest Highway, at Kensington Road, and will open in Summer 2010. The Chicago East Loop location will be the first full-service grocery store to open downtown in many years and is designed to be part of the new condo development at 340 East Randolph Street, slated for completion in 2011.
About Roundy's Supermarkets, Inc.
Roundy's Supermarkets, Inc. is a leading grocer in the Midwest with nearly $4 billion in sales and more than 18,000 employees. Founded in Milwaukee in 1872, it operates 154 retail grocery stores and 88 pharmacies under the Pick 'n Save, Copps, Rainbow and Metro Market banners in Wisconsin and Minnesota. In recent years, Roundy's has ranked on Fortune's list of America's Most Admired Companies.
Robert Mariano is chairman and chief executive officer. Senior leadership is comprised of eight group vice presidents and an executive vice president.
For more information about Roundy's, visit the company website at www.roundys.com.