View Larger Google Street View …
Intersection of Elmhurst Road and Hintz Road in Wheeling — site of a two-vehicle accident that killed Kyle Kelly of Arlington Heights just after 3:30 a.m. Thursday.
Wheeling police and firefighter/paramedics responded to a fatal crash at Elmhurst and Hintz Road just after 3:30 a.m. Thursday. Kyle Kelly of the 900 block of North Beverly Lane in Arlington Heights, was pronounced dead at Glenbrook Hospital in Glenview about 4:30 a.m. Thursday.
Kelly's 2006 Mercury Zephyr was apparently westbound on Hintz Road and may have been driven through a red light at high speed when it struck the rear driver's side of a 2005 Lincoln Navigator heading south on Elmhurst Road near Wheeling High School. The Navigator rolled over and landed upright with heavy damage. A male driver was able to get out of the Navigator on his own.

An accident investigation, which closed Hintz Road in both directions for six hours, so far has placed the blame for the accident on the driver of the Mercury Zephyr — Kyle Kelly.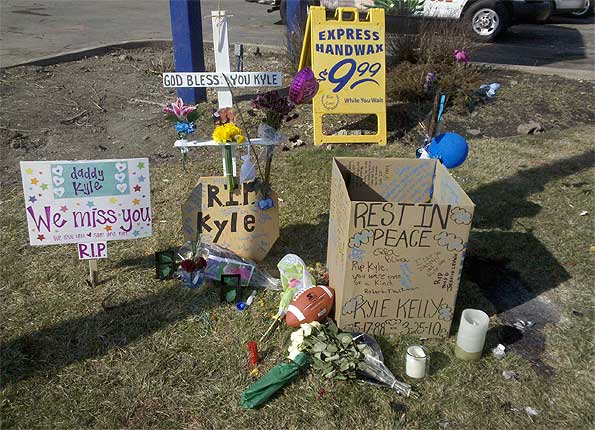 Family and friends have set up a roadside memorial at the southeast corner of Hintz Road and Elmhurst Road in honor of Kyle Kelly.
In February 2008, Kyle Kelly pleaded guilty to charges of arson and delivery of cocaine after prosecutors alleged that Kyle Kelly, then 19 and residing in the 900 block of North Beverly Lane, solicited Alan Villagrana, then 20 and residing in 1600 block of North Windsor Drive, to set fire to Kelly's father's home with the intent that Kelly's father would collect an insurance payout. Villagrana was accused of entering Kelly's father's home on the 1800 block of North Forrest Avenue in Arlington Heights on October 1, 2007 and dousing it with gasoline supplied by Kyle Kelly. Villagrana also spray-painted gang symbols on the home to mislead investigators. The home, which was vacant, sustained about $150,000 in damages from a fire with multiple sources of origin.
Kelly and Villagrana were arrested in the Arlington Heights/Prospect Heights area, after police, acting on submitted information, caught them in an operation selling cocaine to an undercover officer. Police revealed that Kelly and Villagrana arrived together Monday, November 19, 2007 at a Rand Road parking lot, where an undercover officer paid Kelly $260 for about 5.1 grams of cocaine. Police charged Kelly and Villagrana with delivery of a controlled substance. The suspects gave written statements admitting their involvement in the arson.