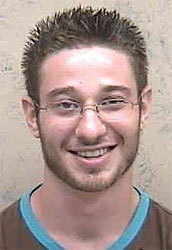 Zachary Isaacman
Alleged NIU shooter.
NIU shooting victim Brian Mulder was sitting outside his campus dorm at Stevenson North Residence Hall about 3:30 a.m. Friday when he saw a man that appeared to be stalking a woman was following her. After the woman entered the Stevenson North building, the man that was following the woman began to pound on windows and doors, trying to get access to the dorm. Mulder told the man to go home, when the man, who was later identified as Zach Isaacman displayed a gun. Mulder asked Isaacman what he planned to do with the gun, and Isaacman replied with gunshot to Mulder's thigh.

Isaacman fled toward a nearby lagoon, and an NIU police officer stationed at Stevenson Residence Hall responded immediately. Zachary Isaacman was apprehended within about 5 minutes.
A Facebook account exists for a 'Zach Isaacman' with the following basic information:
Networks N. Illinois '13
Male/Single
Colleges: Northern Illinois University '13
Liberal Arts, Anthropology
High School: Buffalo Grove High School '06
The 'About me' category displays …
"I am a friendly person, who likes to mellow out and be chill, but likes to party at the same time."
The 'write something about yourself' category displays …
sometimes you have to burn the village to win the war
The facebook profile photo appears to be a match to the mug shot photo made available from police.
The identity of the facebook account holder has not been confirmed to be the same as Friday's NIU shooter suspect.