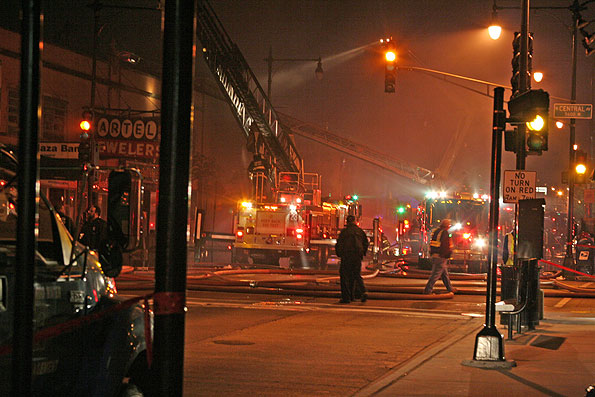 Chicago Fire Department responded to a fully-involved fire at 5617 West Belmont Avenue about 8:45 p.m. Sunday night. Firefighters carefully entered the building immediately after arrival, but at about 9:15 p.m., firefighters were ordered out of the building on radio and with the blast of fire engine air horns, which signals firefighters to evacuate a building.
With the firefighting operation switched to defensive mode, crews began a 'surround and drown' plan of attack, which worked well considering the size of the fire and the fact that a water main broke about 9:25 p.m. Ladder trucks and snorkels provided seven master streams of water overhead, and other firefighters used handlines from ground level and from a parking garage directly south of the building. The heavy amount of water used created a lot of standing water, especially on Parkside Avenue just west of the fire building. Residents were out trying to clear the drainage receptacles of leaves and twigs until they got help from Streets and Sanitation, who worked on the water main break and sewer drainage. The Belmont and Central Avenue intersection, and one block in all directions were closed during firefighting. Extra ladder trucks and snorkels lined up along Central Avenue on the northbound side of Central Avenue in front of Martini Club Central. Except for traffic problems, Martini Club Central was not affected by the fire.
Electricity was cut in the area because feeder lines running parallel to Belmont Avenue directly behind the fire building were in line with streaming water from overhead ladder-tower streams and water streams coming from the parking garage directly south of the fire. Power outages were experienced at least two blocks east of Central Avenue and at least one block west of the fire. Power along Central Avenue at Martini Club was still functioning.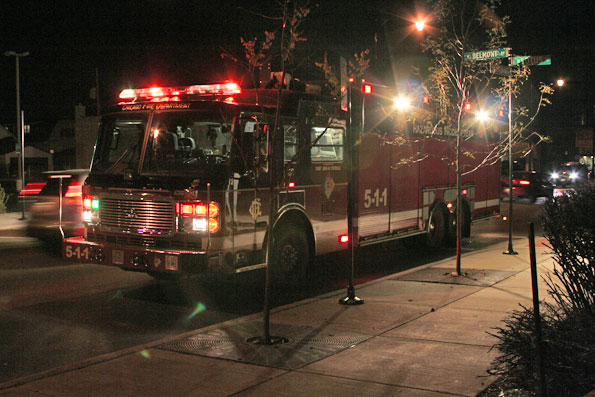 HazMat unit 5-1-1 stands by east of Central on Belmont Avenue.
About 200 firefighters and 40 pieces of equipment, including HazMat 1 (5-1-1) and a foam expansion unit. The foam expansion unit carries enough foam to fill large voids and suffocate fires.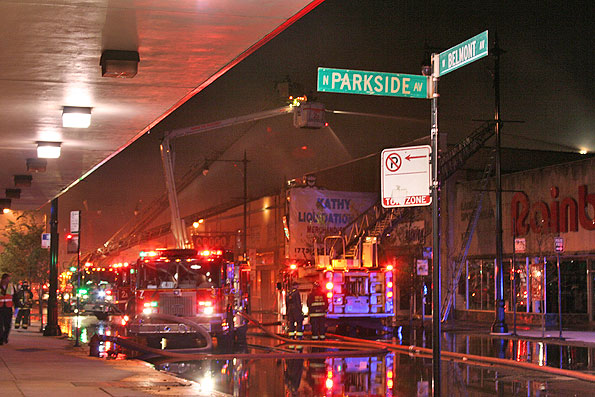 Viewing the fire building looking east down Belmont Avenue.
The fire was declared struck out about 10:30 p.m., but firefighters continued with heavy streams of water to fully extinguish hot spots. Firefighters with handlines also looked for hotspots.
The business mostly affected appeared to be Kathy Liquidators with flames showing about 20 feet over the roof, but Amber Photo Video Production, Dollar Tree, Artel Jewelers and Rainbow Apparel were also affected. Early reports are that fire damage was limited to Kathy Liquidators, thanks to quick action to get extra fire companies to put extra water on the fire quickly. The wind was south-southwest about 7 to 12 miles per hour for the duration of firefighting operations, which upped the risk for extension to other businesses on the block.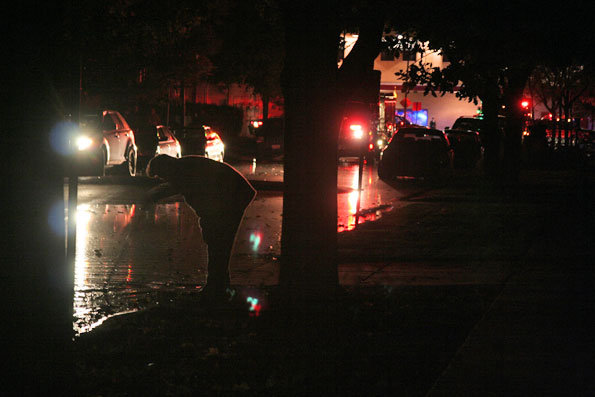 A citizen works to clear a drain receptacle on Parkside.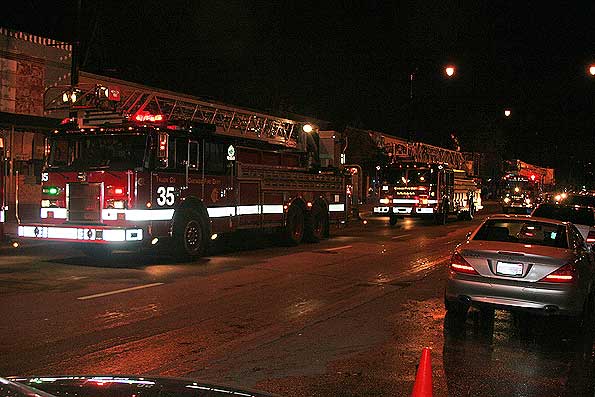 Three ladder trucks (first not shown) and a snorkel truck staged along Central in front of Martini Club.