Video of firefighters with a quick knockdown of a fire at Peep's Hot Dogs Saturday night.
Prospect Heights Fire Protection District firefighters responded to a fire at Peep's Hot Dogs about 8:50 p.m. Saturday night. An Arlington Heights police officer on patrol noticed flames shooting through the exhaust and called in to report the fire. Peep's is located in Prospect Heights on the northwest corner of Rand Road and Thomas Avenue, so Prospect Heights Fire Department was command for the fire. Prospect Heights Fire Department got assistance from Arlington Heights, Lincolnshire-Riverwoods Fire Protection District, Mount Prospect, Northbrook, Palatine, and Wheeling.
Flames were shooting through the exhaust over the roof at least three feet into the air as firefighters arrived. The fire was possibly caused by grease in the exhaust, but an investigation will determine the actual cause. Prospect Heights firefighter/paramedics quickly knocked down the fire, vented the roof and cleared smoke from the building. Firefighters used a power saw to cut away some of the roof to look for extension of fire in any direction in the roof.
Firefighters had to exercise extra caution on the roof because several utility lines were connected in the area of the roof where the fire was coming through the exhaust. Firefighters brought a hose line into a rear door on the west side of the building, while the truck company firefighters raised the tower ladder on the northeast side of the building.
No injuries reported. Peep's staff and customers were in the building when the fire occurred. All citizens were safely evacuated.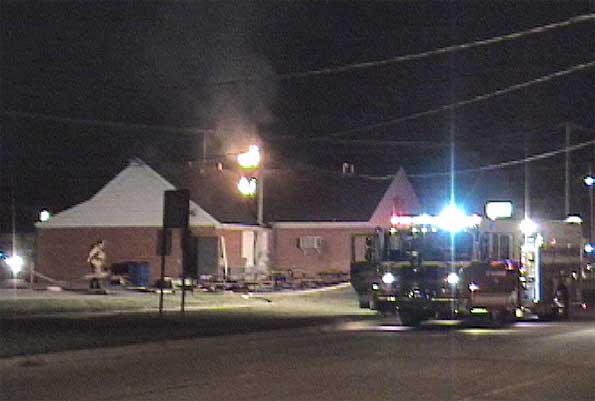 Peep's Hot Dogs with fire showing out through the exhaust on the roof as first Prospect Heights Engine arrived on the scene.