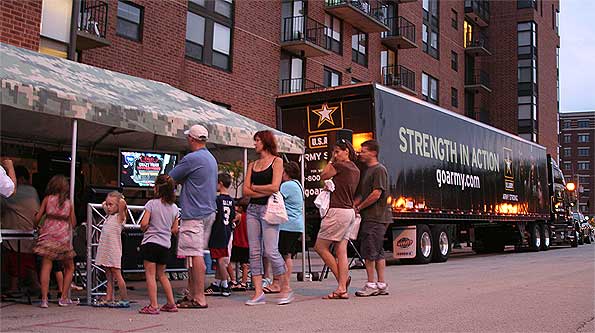 U.S. Army Guitar Hero station and semi-trailer truck for their traveling demonstration — set up at National Night Out in Arlington Heights.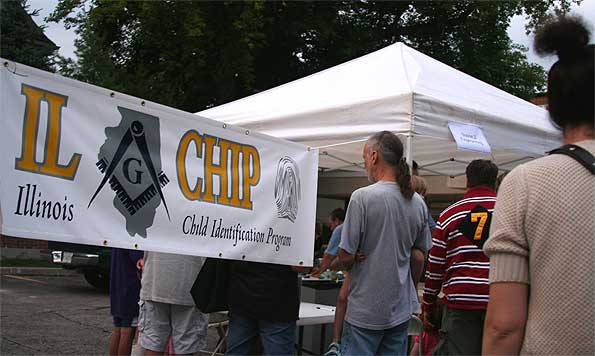 Illinois CHIP (Child Identification Program) station at Arlington Heights National Night Out.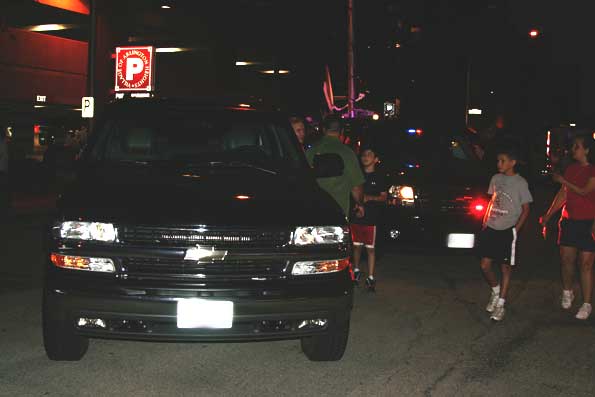 Two United States Department of Homeland Security Secret Service vehicles.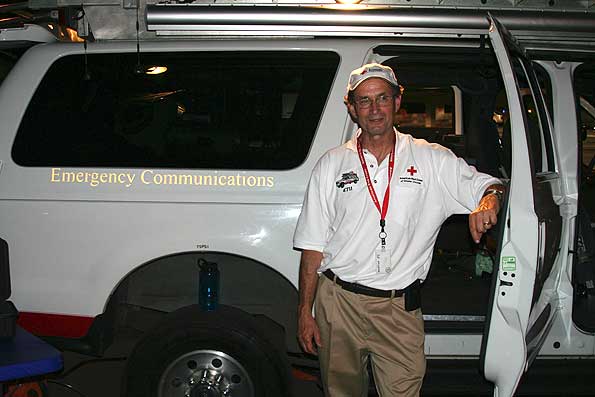 American Red Cross communications truck — always an impressive unit at National Night Out.
Kids and parents and grandparents all enjoyed a great night out at the Arlington Heights National Night Out at North School Park Tuesday night. Arlington Heights Police Department Crime Prevention Officer Doug Hajek reported that a crowd estimate count was figured to be about 4,500 — more than any other year for National Night Out. Officer Hajek attributed the National Night Out's growing reputation as a worthy event, the participation of quality demonstration units, and comfortable weather for the record crowd.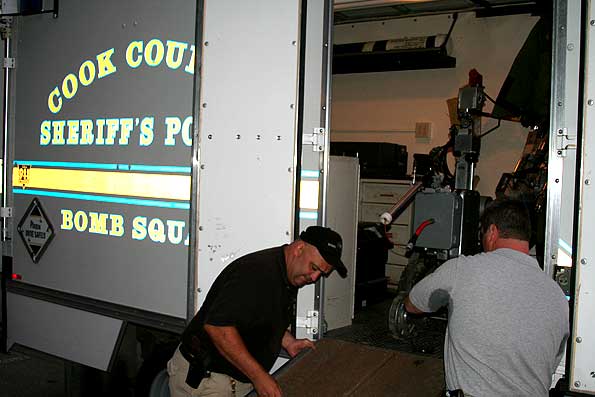 Cook County Sheriff's Police Bomb Squad with sheriff's experts and robot.
National Night Out in the Village of Arlington Heights has received national recognition for the past four years. The Arlington Heights Police Department, Fire Department and participating agencies support anti-crime and safety efforts.
The following agencies, departments and units were present at the event:
Illinois CHIP Program sponsored by the Illinois Masons provided parents with a free disc containing their child's fingerprints, photograph and voice sample. A DNA sample could also be requested. Many kids could be seen having their mouths (inside cheek) swiped for a DNA sample.
The Arlington Heights Police Department K-9 unit conducted a full demonstration which included bite and drug work.
The Arlington Heights Fire Department conducted a rappelling rescue demonstration from a Ladder Tower 1 (Reserve).
The Cook County Sheriff's Bomb Squad displayed their equipment complete with an isolation chamber and robot.
The Arlington Heights Police Department Traffic Unit demonstrated their motorcycle skills in St. John's parking lot.
The American Red Cross displayed their disaster command post vehicle, complete with a satellite dish and raised microwave tower boom.
Northwest Central Dispatch was on hand to answer questions about 9-1-1.
Union Pacific Railroad was also present with a display.
The United States Army was out with a large semi-trailer truck and four demonstration units where people played Guitar Hero against Army personnel, shot a simulated anti-tank missile, and operated a specialized robot, and stopped by to get a dog tag with their information on it. The demos were a big hit with kids.
The Arlington Heights Park District provided free beverages and food items, children's games, business expo and other fun activities, including live music by 7th Heaven. The crowd loved the performance by 7th Heaven.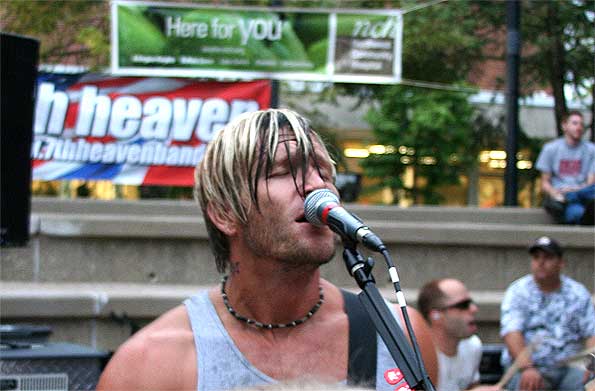 Vocalist and bass guitarist Mark Kennetz for 7th Heaven during a live performance at National Night Out.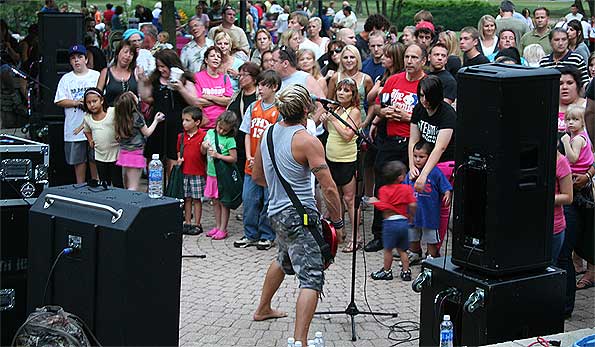 7th Heaven 'backstage' at North School Park Tuesday night at National Night Out.
More info …
National Night Out — nationalnightout.org/nno
goarmy.com
United States Secret Service — secretservice.gov
American Red Cross — redcross.org
Cook County Sheriff — cookcountysheriff.org
Northwest Central Dispatch System — nwcds.org
Union Pacific Railroad — www.up.com
Illinois Child Identification Program — ilchip.org