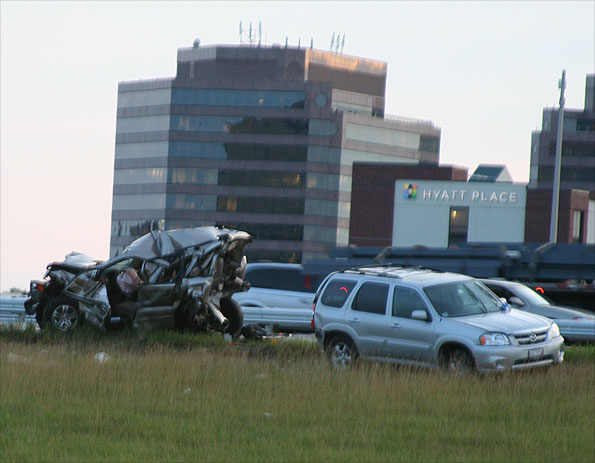 Large SUV (left), facing southbound on northbound local lanes shoulder and smaller SUV (right), involved in crash with a semi-trailer truck.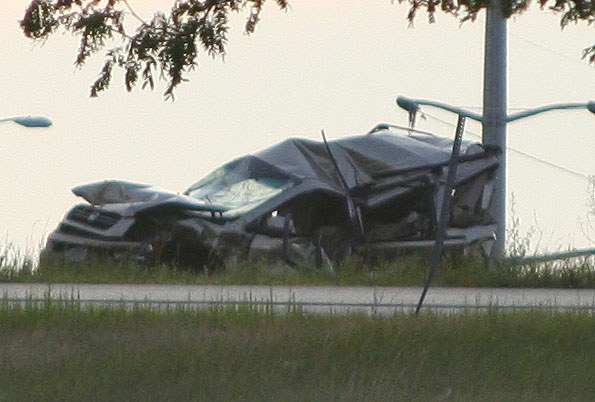 Apparently, the first vehicle hit by the semi-trailer truck, which was covered with fire suppressant foam, showing heavy damage.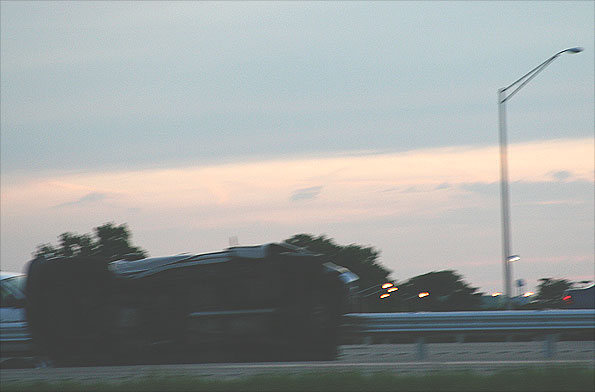 A pickup truck on its side facing south against the guardrail of the northbound local lanes of Illinois Route 53 — the third vehicle in crash with a semi-trailer truck on Route 53, just south of Interstate 90.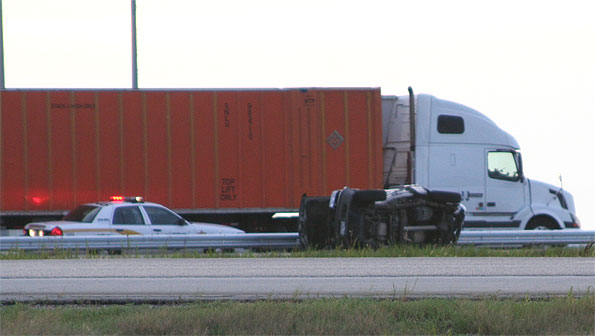 Semi-trailer truck (not involved) passes northbound in the express lanes of Illinois Route 53
An accident on northbound Illinois Route 53 after 4 p.m. involved a semi-trailer truck, two SUVs, and one pickup truck in the northbound lanes of Route 53 near Schaumburg/Woodfield. The accident occurred in the northbound local lanes, near the eastbound exit to Interstate 90. The semi-trailer truck, which apparently did not stop immediately, was closer to the entrance ramp from eastbound Interstate 90 to northbound IL-53.
One woman was critically injured and transported to Advocate Lutheran General Hospital by Schaumburg Fire Department paramedics. At least two other victims with minor injuries were transported to Northwest Community Hospital. The woman's SUV was rear-ended by the semi-trailer at the start of the chain-reaction accident. She was rescued after about a 10-minute extrication operation while fire suppressing foam was applied to the area due to a gasoline leak.
View
Arlingtoncardinal.net/fireblog
in a larger map. Red marker shows approximate position of Vehicle #1 and Vehicle #2 from photo below.
Cook County Sheriff's deputies and Illinois State Police are investigating the accident. Entrance ramps are blocked to northbound IL-53 at Woodfied Road frontage and Route 72 frontage. Northbound 53 at Interstate 90 was open. Northbound IL-53 is backed up more than two miles.


Wide view photo of accident at northbound IL-53 shows three vehicles and truck involved in accident Monday afternoon. Large SUV (#1), small SUV minor damage (#2), large pickup truck (#3) and semi-trailer truck (far right).
Presumably the semi-trailer truck was going a high rate of speed and hit northbound vehicles that were backed up to exit to eastbound and westbound Interstate 90. Note from the wide angle photo that the truck is about 250 to 300 feet beyond vehicle #1.