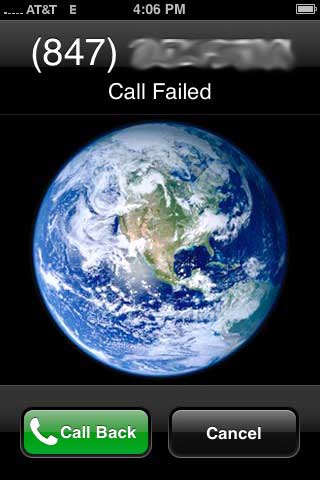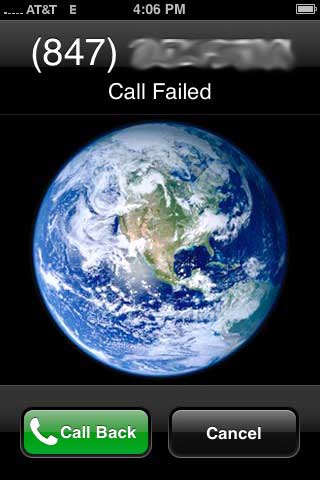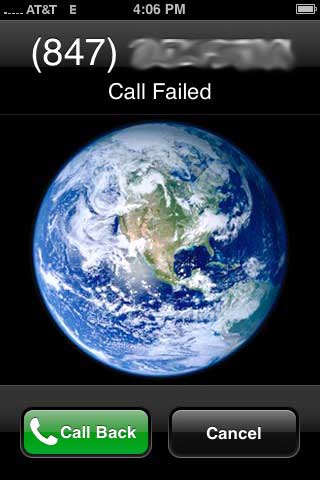 An Apple iPhone "call failed" message from AT&T.
Apple has a new iPhone available through AT&T that is faster, includes video, upgrades the camera resolution, and includes voice dialing. MMS service (the pictures in "text message" service that should have been available from rollout of the original iPhone — other phones have had it for years) won't be available until later this summer. Older iPhone users can upgrade their software to version 3.0, and get copy and paste, a voice memo app and many other improved features, but they can't get the better camera, video and voice dialing unless they get the upgraded hardware phone. To get the new iPhone they may have to pay a heavy price for being a loyal customer. Many customers are angered because they have already paid a premium for existing iPhone cost, and have already paid a premium for monthly charges with AT&T wireless coverage, which is not the most reliable of cell networks.
Most businesses have rewards certificates for being loyal customers. So many customers got online anticipating a good deal to upgrade their iPhone hardware. They found out different. AT&T actually charges loyal customers more to get the latest upgraded iPhone — more than an existing customer who has never had an iPhone. To be fair, AT&T took some heat and changed their upgrade policy to includes some customers in special upgrade pricing if they spend more money with AT&T on their monthly charges. But the whole fiasco is confusing. Here's an excerpt from AT&T's iPhone 3G S Pricing and Upgrading plan.
"We value the business of all our customers. The majority of iPhone 3G customers received a significant discount on their device in return for a two-year service commitment during which time we recoup the device subsidy. Getting a new subsidized device is based on several factors including monthly recurring charges and having an account in good financial standing. In general, the more you spend with us, the less time you have to wait to get another device. This is a very fair system. That said, we do offer early upgrade pricing only for iPhone for those customers who don't want to wait."
See more on this pdf file from AT&T …
Many customers don't like the crass language that AT&T uses to justify their policy … namely, "In general, the more you spend with us, the less time you have to wait to get another device. This is a very fair system." Sort of, "thanks for the lecture, AT&T.
Here is the pricing …
iPhone 3G S
New and Qualified Customers $199 (16GB) $299 (32GB)
Early Upgrade $399 (16GB) $499 (32GB) plus an $18 upgrade charge.
No Commitment $599 (16GB) $699 (32GB)
That means existing customers must pay $218 more than a new customer for the latest iPhone in either 16GB or 32GB configuration. This steep upgrade pricing is leading to a similar outcry to the "Price Drop Outcry" of 2007.
On September 5, 2007 (about 2.5 months after the original iPhone was rolled out), the original 4 GB model was discontinued, and the 8 GB model price was cut by a third. Customers who had purchased an iPhone in the 14-day period before the September 5, 2007 announcement were eligible for a $200 "price protection" rebate from Apple or AT&T. However, it was widely reported that some who bought between the June 29, 2007 launch and the August 22, 2007 price protection kick-in date complained that the larger-than-normal price drop in such a short time constituted unfair pricing.
In response to customer complaints, on September 6, 2007, Apple CEO Steve Jobs wrote an open letter to iPhone customers announcing that everyone who purchased an iPhone at the higher price who did not qualify for rebates or other special pricing, would receive a US $100 credit to be redeemed towards the purchase of any product sold in Apple's retail or online stores.
Unfortunately for Apple, which has designed an awesome phone, AT&T is a less than stellar partner. Their network is considerably less reliable than Verizon Wireless, Sprint and T-Mobile. That means more dropped calls and less chance you can even use the phone in the first place. In some areas of Chicagoland — not some far-off rural land — iPhones don't work inside homes, because the cell tower signal is so weak it cannot penetrate wood and drywall. Imagine in the year 2009 having to go outside your house in Chicago to use a phone that cost $200 to $400. Monthly cell charges aren't cheap either. An iPhone with unlimited text messaging and the minimum minutes plan still costs over $100 dollar per month to use. Forget using e-mail or the Internet in weak coverage areas, or any of the cool Apps that connect to the Internet, as well.
Customers of the iPhone are also upset with AT&T's delay of the ability to tether the iPhone to a laptop, so that a laptop or notebook computer can be used at wireless broadband speed on AT&T's 3G network. Other services overseas are taking advantage of the ability to tether and offer tethering in their agreements with customers.
So why are Apple customers stuck with AT&T? Apple first approached Verizon Wireless with the iPhone, but Verizon (VZ) wouldn't agree to Apple's terms, which called for Apple receiving a share of monthly revenue from iPhone plans, and exerting control over the locations where iPhones were sold. AT&T, really Cingular during 2007 and prior years, was willing to meet Apple's demands. Apple closed off negotiations with highly reliable Verizon Wireless and its highly satisfied customers. So in 2009 the best phone works or doesn't work on one of the worst cell phone networks available.
In Washington, four senators are looking into the exclusivity deals, such as the AT&T-Apple iPhone arrangment. Byron Dorgan (D – N.D.), John Kerry (D – Mass.), Amy Klobuchar (D – Minn.) and Roger Wicker (R – Miss.) — have formally asked the FCC to look into whether exclusivity deals such as AT&T's for the iPhone or Sprint's for the Palm Pre are limiting or hurting consumers. The advocacy group Free Press launched a new campaign Wednesday, FreeMyPhone, aimed at curbing deals that tie handsets to carriers.
Will twitter at twititions get AT&T to yield to fair upgrade pricing? Developing …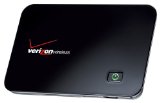 ADVERTISEMENT ++++++++++++
Novatel MiFi 2200 Mobile Wi-Fi Hotspot Modem (Verizon Wireless)

Use MiFi (Mi-Fi) from Verizon Wireless as wireless router to use your iPhone's Internet capability. Carry your own wireless hot spot with you and use your iPhone Internet services through the reliable Verizon Wireless network.
Also available from 3GSTORE.COM