When: July 14, 2009 … Starting at 10:30 a.m. Highlight race starts at 6:00 p.m.
Where: Downtown Arlington Heights …
UPDATE: RACE RESULTS for Men's Pro & Cat 1/2 (Provisional) …
The Point Premium Root Beer International Cycling Classic presented by Time Warner Cable is the world's largest multi-category cycling event. The 41st annual event will take place from July 10 – 26, 2009. The highlight events of each day's racing will be the men's and women's Superweek Pro Tour races, featuring top professional and elite amateur cyclists and teams from across the U.S. and more than 20 foreign countries. The 2009 event series will feature races in twelve city centers throughout Eastern Wisconsin and Northern Illinois, including Arlington Heights and many locations throughout the Greater Milwaukee and Chicago area. Nowhere else in America can cycling fans see 17 consecutive days of the highest-caliber bicycle racing. The Arlington Criterium will present on July 14, 2009 as a part of those exciting bicycle racing days. Organizers tout that spectators will witness the fusion of the best athletes in the world and today's high-tech bicycles in an explosion of speed, power and excitement.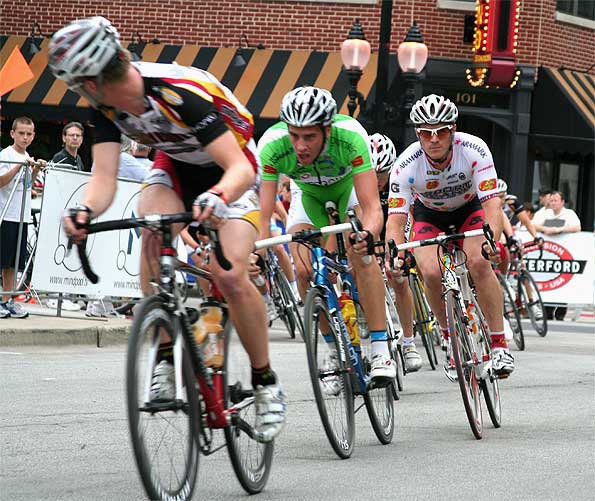 According to Michael Garrison, marketing director for Breakaway Event Productions and race organizer, there will be 500 to 700 riders participating, including 150 to 200 pros.

View Arlington Criterium 2009 in a larger map
More mapping information from STREETSOFARLINGTON.COM at streetsofarlington.com/bikerace2009
The race route is expected to run a 1 mile circuit as follows …
Bicycle Race Route
Starts at Vail Avenue and Campbell Street
East on Campbell Street
South on Dunton Avenue
West on South Street
South on Vail Avenue
West on George Street
North on Highland Avenue
East on South Street
North on Vail Avenue
Return to Vail Avenue and Campbell Street
Race and route subject to change by race organizer.
More info …
internationalcycling.com