Carriageway Fire on Memorial Day,
see Extra Alarm Apartment Fire, Carriageway Court Condominiums Rolling Meadows …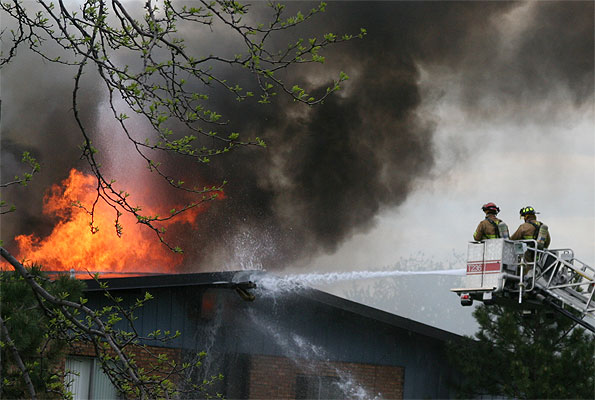 BGFD Tower 25 fighting fire at 12 Oaks at Woodfield — 4708 Arbor Drive in Rolling Meadows.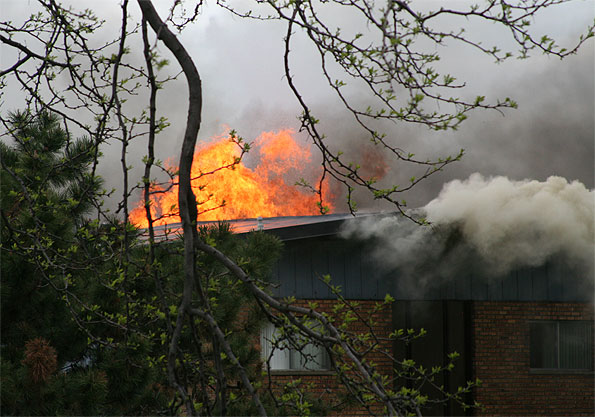 Fire showing through the roof at apartment fire in Rolling Meadows (video below).

Video of firefighting operations at 12 Oaks at Woodfield Thursday afternoon.
A major fire broke out at a building in the Twelve Oaks at Woodfield apartment complex, 4708 Arbor Drive in Rolling Meadows about 3:30 p.m. Strong northwest winds at about 17 to 20 mph fanned the fire especially toward a southerly direction along the roof of the 30-unit apartment building. Gusts were reported as high as 24 mph and 27.6 mph immediately before the fire was reported [WEATHER DATA for May 7, 2009]. Just before 6:00 p.m. winds shifted — coming from the southwest.
The fire may have started in a second floor vacant unit that was undergoing remodeling. One injury was reported at the fire scene and many residents lost possessions from their apartment units that were destroyed. Residents could be seen collecting some possessions onto a grassy area away from the fire area. Later, a blue tarp covered computer monitors, televisions, and other possessions that were retrieved from the fire building.
Firefighters were able to contain the fire to one building, but a building directly east of the fire building may have to remain evacuated temporarily due to smoke and smoke damage.
At least seventeen departments responded to the three-alarm fire that spread from north to south along the roof of the building and collapsed part of that roof of the Rolling Meadows apartment building, formerly known as the Woodfield Garden Apartments,. Heavy, black smoke from the apartment fire near Algonquin Road and Route 53 could be seen for about three miles in either direction along Route 53 and along the Jane Addams Tollway — Interstate 90.
Fire departments from Arlington Heights, Barrington, Bloomingdale, Buffalo Grove, Des Plaines, Elk Grove Village, Hoffman Estates, Long Grove, Mount Prospect, Palatine, Palatine Rural/Inverness, Roselle, Schaumburg, Wheeling and more assisted Rolling Meadows Fire Department.
The Salvation Army also sent two trucks to assist firefighters with on-scene rehabilitation.

View Arlingtoncardinal.net/fireblog in a larger map