Video of ILEAS/NIPAS Emergency Services Team activity near the command post for the standoff with a man on a roof near the corner of Wille and Gregory in Mount Prospect.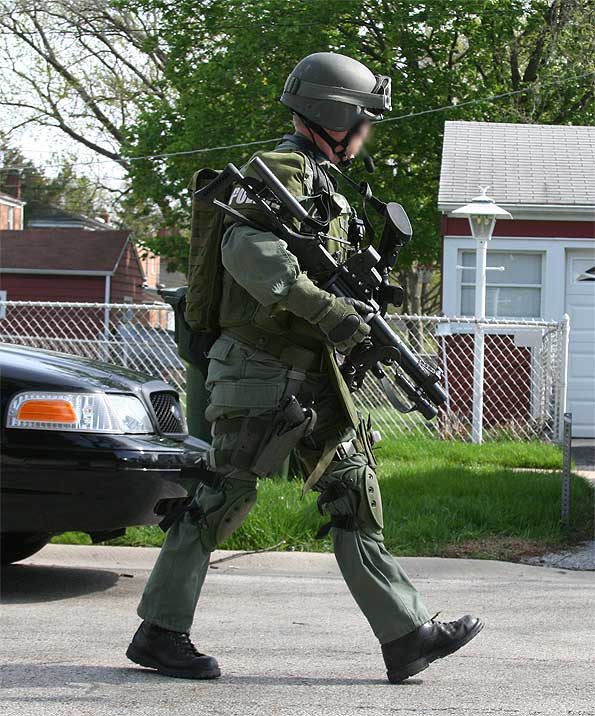 ILEAS Emergency Services Team officer en route to the scene of the standoff on Wille Street.
UPDATED: 9:00 AM MONDAY, MAY 4 2009
Mount Prospect Police Department called for the Emergency Services Team from ILEAS just after 3:00 p.m. for a SWAT response at a home near the corner of Wille and Gregory. A man in a standoff situation was reported to be on the roof of a home in the 400 block of North Wille. Other details were not available at the time of the incident.

At least 50 police cars were lined up along streets near the scene at Wille and Gregory in Mount Prospect. Police blocked the intersections of Main Street and Memory Lane, Highland and Wille, Pine and Highland, Main Street and Gregory, and Pine and Gregory. Many neighbors were outside watching the scene and many were preparing barbecues or mowing their lawns while police converged on the scene with AR-15 rifles.

A command post for the emergency services team was also set up near the scene. At least three armored personnel carriers, five K-9 units and about 70 NIPAS/ILEAS Emergency Service Team officers were positioned near the scene. A large command van and a large equipment van were also positioned near the command post.

The man was placed in custody at 5:20 p.m. and was taken to a Mount Prospect Fire Department ambulance waiting at the scene. He was transported to a local hospital.

Immediately after the standoff ended, word spread on the street in the neighborhood that the police had arrived to serve an arrest warrant for a man who was associated with the delivery of heroin to a girl that was killed by an overdose of heroin last summer.
FLASHBACK …
Last summer, on June 29, 2008, Gina Dominick was found dead in a parked car at the Prospect Heights Public Library. Two suspects were eventually named in connection with the homicide investigation. Prospect Heights police arrested Thomas Young of 103 Prospect Court, Prospect Heights and charged him with concealing a homicide in connection with the June 29 heroin overdose and death of Gina Dominick. Thomas Young turned himself in Monday, September 8, 2008 at 10 a.m. and appeared in bond court later during the day. The second man associated with the death of Gina Dominick was Andrew Hall, who was arrested Tuesday September 9, 2008 in Chandler, Arizona on a warrant charging him with drug-induced homicide of Gina Dominick.
YESTERDAY …
A person who identified herself as a friend of the family was asked if the situation was related to a heroin arrest. She replied that the information about the heroin arrest at the home on Wille Street is totally false. She also said that the man on the roof did not have any knives with him. She said that "this is what she hates about the media" and that people's lives are ruined by false lies that hurt reputations and make mothers cry. She also said that nobody was arrested.
The Daily Herald and ChicagoBreakingNews.com is reporting that police spokesman Bill Roscop stated that the situation began about 1:45 p.m. when Mount Prospect police arrived to serve an arrest warrant. When the suspect saw the police arriving on his street, he shut the front door to his home and while police were ringing the doorbell, he headed out a window on to the roof carrying two large kitchen knives.
Whitepages.com lists a household with the last name of "Hall" on the 400 block of North Wille Street in Mount Prospect. Andrew Hall is known to be a former resident of Mount Prospect before he lived in Chandler, Arizona.
FLASHBACK:
See THE CARDINAL Andrew Hall: Second Man Charged in Heroin-Related Homicide of Gina Dominick

Developing …
Shop Now and Save at Amazon.com!