South Jordan, Utah audience; Chuck and Gena Norris in Texas; soldiers in Camp Al Taqaddum, Iraq.
We Surround Them-The Unveiling
March 13th on FOX News 5pm ET
If you are looking for the report on the search of the suspect on the run for the death of Marcus Luttrell's dog, see APB: Who Killed Navy SEAL Marcus Luttrell's Dog?
A Glenn Beck 'You Are Not Alone' special brought people together from across the country to discuss the importance of people not being isolated and the importance of the founding principles of the United States of America. The idea that started with a single phone call on his radio show "has grown into something that millions are participating in." The show included satellite remotes from the Chuck Norris Ranch in Texas, Melbourne, Florida; Columbus, Ohio; South Jordan, Utah; Camp Al Taqaddum, Iraq; and Times Square.
Beck describes that the show is about proving that the real power to change America's course still resides with individuals.
Beck also introduced a new website for his 912 Project principle: the912project.com. The server, according to Beck was "one of the biggest available" but was overwhelmed and was down at about 4:30 p.m. CDT.
Beck had been asking viewers to e-mail pictures of their faces. Artists put together a 'We Surround Them' mosaic which shows a flag and the words 'We the People' but via web technology, viewers can zoom in on the image and see the faces that make up the mosaic.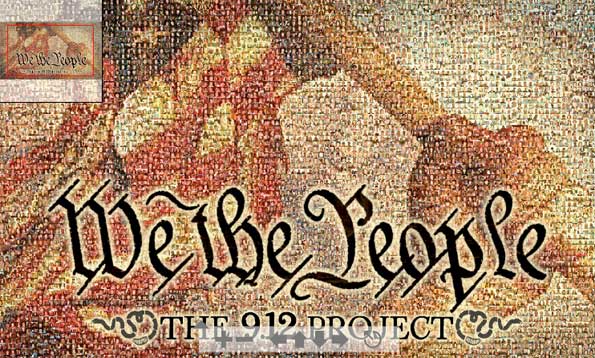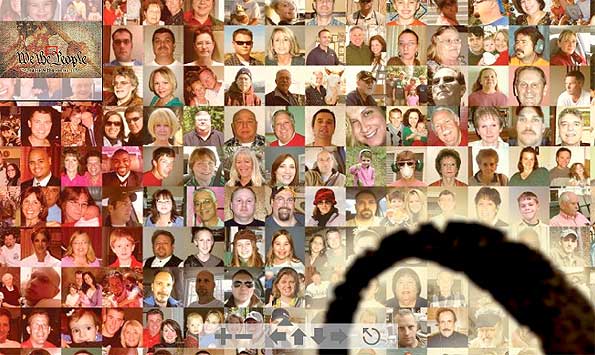 We the People — The 912 Project mosaic.
Glenn Beck also recommended two books for study:
The Five Thousand Year Leap by W. Cleon Skousen — Buy it on Amazon …
The Real George Washington by Jay A. Parry — Buy it on Amazon …
Earlier in the broadcast, the books Lone Survivor by retired Navy SEAL Marcus Lutrell (Buy it on Amazon …
), The Survivors Club: The Secrets and Science that Could Save Your Life by best-selling author Ben Sherwood (Buy it on Amazon …
), were also given kudos.
Beck stated, "We don't have a liquidity problem in this country. We have a problem of trust."
Here are the NINE PRINCIPLES and the TWELVE VALUES:
The Nine Principles
1. America is good.
2. I believe in God and He is the Center of my Life.
3. I must always try to be a more honest person than I was yesterday.
4. The family is sacred. My spouse and I are the ultimate authority, not the government.
5. If you break the law you pay the penalty. Justice is blind and no one is above it.
6. I have a right to life, liberty and pursuit of happiness, but there is no guarantee of equal results.
7. I work hard for what I have and I will share it with who I want to. Government cannot force me to be charitable.
8. It is not un-American for me to disagree with authority or to share my personal opinion.
9. The government works for me. I do not answer to them, they answer to me.
12 Values
Honesty
Reverence
Hope
Thrift
Humility
Charity
Sincerity
Moderation
Hard Work
Courage
Personal Responsibility
Gratitude
The 912Project is also a play on words that represents the feeling of community and survivorship for the important values that people felt the day after 9-11-2001. The people we were the day after 9-11-2001.
To reinforce the premise of the show, Beck included the following guests: retired Green Beret (Afghanistan veteran) Sgt. Greg Stube, Navy SEAL Marcus Lutrell (Afghanistan veteran), Ben Sherwood (former executive producer of ABC's Good Morning America, journalist, best-selling author … including Survivors Club Buy Ben Sherwood books on Amazon …
), Dave Checketts (SCP International founder, president of numerous sports teams), Chris Gardner (Buy related products on Amazon …
subject, on-and-off-homeless salesman-turned-stockbroker in Pursuit of Happyness), Chuck Norris (author, actor, martial artist) and Gena Norris.
Buy Chuck Norris books, videos and more on Amazon …
"There's strength in numbers … we're ready to storm Washington."
— Gena Norris


Glenn Beck, an amicable and passionate man, was visibly choked up on at least two occasions — once explaining that he loves his country and that he "fears for it" — it's ability to maintain its founding principles; and another time joking that he was turning into Tammy Faye Bakker.
Glenn Beck calls on viewers to commit to something that will change their own lives and maybe the course of the country. The show is the beginning of an ongoing project that will have a monumental follow-up on 9-12-2009. Beck welcomed "9-12ers" to stay tuned.
Glenn Beck is the correct spelling of the popular talk show host's name.
See also …
GlennBeck.com
GlenBeck.com works, too.
What is the title of Glenn Beck's best-selling book?
Common Sense: The Case Against an Out-of-Control Government, Inspired by Thomas Paine
The book has been #1 and #2 on Amazon's best-sellers list since it was released June 16, 2009.
KINDLE EDITION BELOW …