View Larger Map of Conover, NC location in southeast United States.
View Larger Map of Conover, N.C. crime scene [LOCATION NOT PRECISE] …
North Carolina woman, Lisa Saephan, and three children murdered in their home on Gristmill Drive near Houston Mill Road in Conover, North Carolina.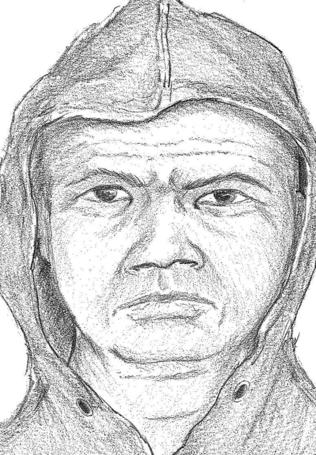 Catawba County Sheriff's Office composite sketch of quadruple homicide suspect.
Just after 7:00 a.m. March 12, 2009 daughter, Pauline, 18, left her home, but a friend mentioned that she saw a man lurking by the front porch when they left.
Pauline called back to her family to warn them of the stranger, when her older sister said someone was at the back door. Pauline rushed back to the house and heard screaming. The killer came out and pulled Pauline into the house where all of the murders took place.
Pauline's friend called 9-1-1, the police responded quickly, but not in time to prevent the killings. A neighbor also called 9-1-1 when she witnessed Pauline being attacked on the front porch.
Four-year-old Cody Sae-Chao was eating cereal at the breakfast table when he was killed — shot and stabbed.
Older daughters Pauline Chao and Melanie Saephan, ages 18 and 20, and their mother, Lisa, were also shot and stabbed to death on that Thursday morning, March 12, 2009.
A vehicle possibly involved with the murder suspect is described as a 4-door "very clean" blue sedan — possibly a Toyota Camry or a Honda Accord. An out of state license plate possibly started with P24.
A knife and gun were found about 300 yards from the home where the murders occurred.
Featured on John Walsh's America's Most Wanted …
AMW.COM

More resources …
Catawba County Sheriff's Office
City of Conover, NC Police Department