FRI MAR 20 2009 — An arrest Friday of brothers Sean K. Cerami, 45, and Seamus K. Cerami, 39, resulted in the recovery of six-thousand dollars in drugs including cocaine (41 grams), marijuana (55 grams), prescription anxiety drug Xanax (111 tablets), $600 cash, a scale, a glass pipe, and syringes.
Also recovered from the Schaumburg residence in the 200 block of Waterford Drive were two assault-style rifles, two rifles, two shotguns and three handguns.
Sean K. Cerami, 45, was charged with delivery of a controlled substance, delivery of a controlled substance within 1,000 feet of a park, possession of cannabis with intent to deliver and armed violence.
Seamus K. Cerami, 39, was charged with misdemeanor possession of drug paraphernalia and possession of hypodermic needles.

INMATE STATUS AS OF AUGUST 18, 2011 …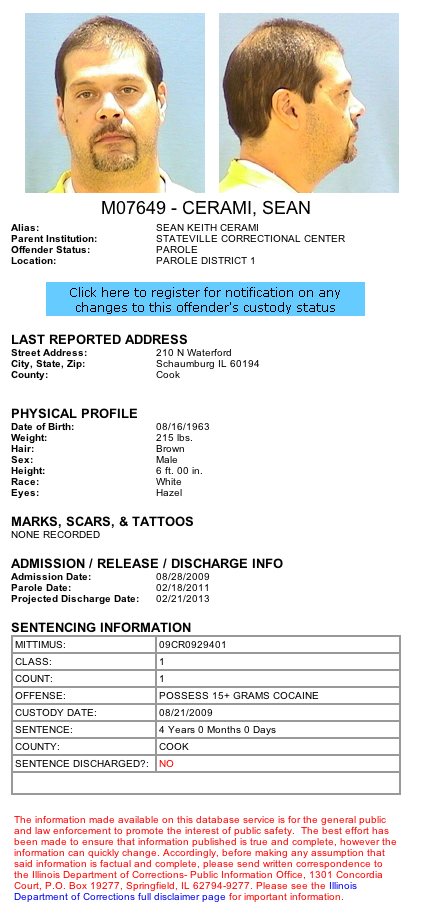 CERAMI, SEAN with only charges confirmed listed as possession of
15+ grams of cocaine (SOURCE: Illinois Department of Corrections).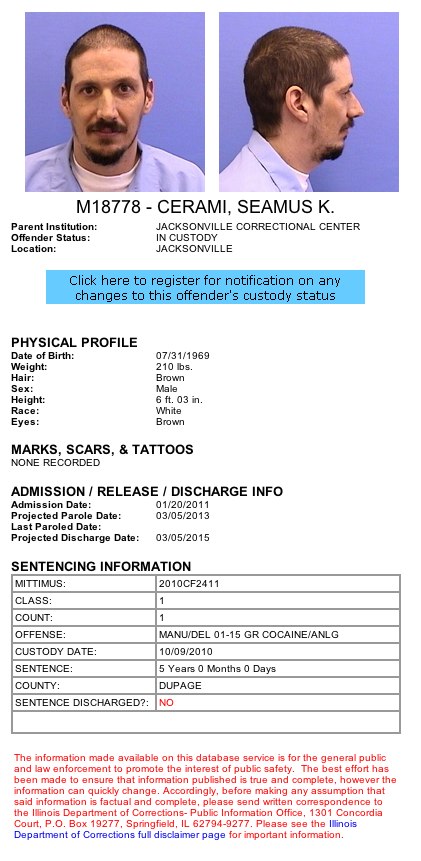 CERAMI, SEAMUS K. with only charges confirmed listed as possession of
1-15 grams of cocaine. Also note different custody date compared to
SEAN CERAMI (SOURCE: Illinois Department of Corrections).
Xanax, is a short-acting drug of the benzodiazepine class used to treat moderate to severe anxiety disorders, panic attacks, and as an adjunctive treatment for anxiety associated with moderate depression. Discontinuing Xanax can cause a long list of symptoms, including tachycardia, dysphoria, dry mouth, loss of appetite, insomnia, anxiety, dizziness, tremors, nausea, cramps, vomiting, diarrhea, panic attacks, mood swings, heart palpitations, memory loss. Less common and more severe reactions can occur, including hallucinations, seizures or fever, and rebound anxiety.
Xanax is known to be used with other recreational drugs to relieve the panic or distress of dysphoric reactions to psychedelics such as LSD and also to promote relaxation and sleep in the "come-down" period following use of recreational drugs with stimulant or insomniac properties (such as LSD; cocaine; amphetamines; Dextromethorphan or DXM, an over-the-counter cough medicine that in high doses is a dissociative hallucinogenic drug with symptoms that include distortions of the visual field, feelings of dissociation, perceived bodily distortion, and excitement; and Methylenedioxymethamphetamine or MDMA, the active ingredient in ecstasy. Xanax is also often used in conjunction with marijuana or heroin to potentiate a relaxing effect.
Note …
Monday, March 16, 2009 Bradley Kellett, 27, was arrested at the scene of a stabbing in the Meijer parking lot at Algonquin Road and Golf Road (see report). Kellet's address is listed in the 600 block of Waterford in Schaumburg, Illinois. The two roads (Waterford Drive and Waterford Road) are located about one mile apart.