Arlington Heights Fire Station 1 at 300 East Sigwalt Street [MAP] is usually the location of the front line tower ladder for Arlington Heights, including fire suppression, rescue and EMS companies of District 1.
Fire Station 1 is usually equipped and ready to respond for assignments with one ambulance (Ambulance 1), one rescue squad (Squad 1), and one tower ladder (Tower 1). Firefighter/paramedics from Station 1 are first due in District 1 in Arlington Heights, and are part of MABAS Division 1 mutual aid response system.
The fire station also houses the MABAS Division 1 decontamination unit De-Con 1, utility vehicles and reserve vehicles.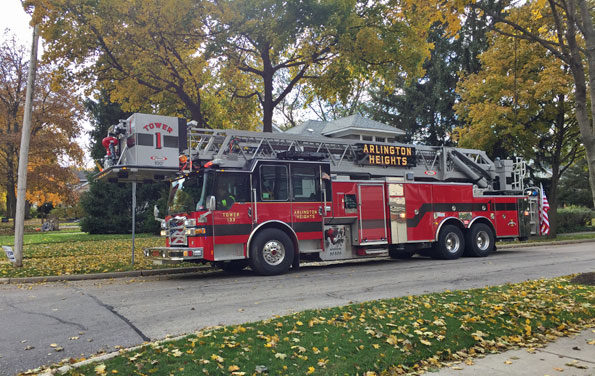 Arlington Heights Fire Department Tower Ladder 1 at Grove Street and Evergreen Avenue.
District 5 now covers District 2 west of Arlington Heights Road …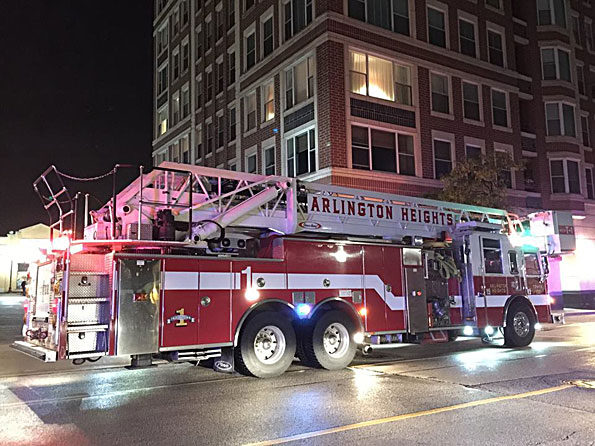 Arlington Heights Fire Department Tower 1 on a smoke investigation call in District 1.
See also …
www.mabas1.org
Arlingtoncardinal.com/Station1
Arlingtoncardinal.com/Station2
Arlingtoncardinal.com/Station3