Held on $2 Million Bond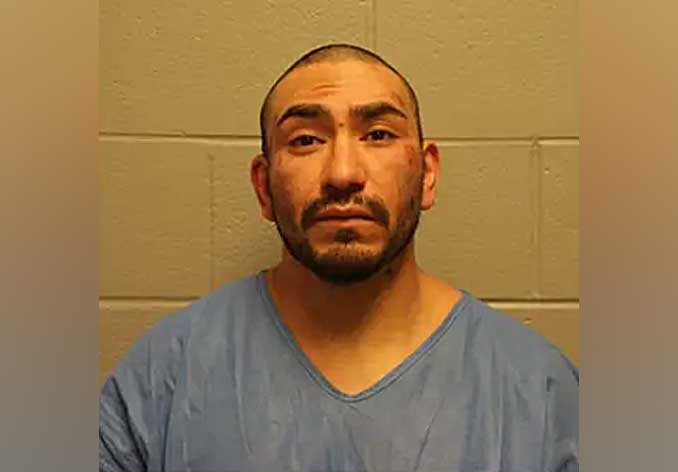 An Elgin resident, Deni Rubio, age 32, has been charged with two counts of aggravated DUI resulting in the death of another person, two counts of reckless homicide, and one count of attempting to disarm a peace officer. He is also charged with disobeying a traffic signal.
At a bond hearing Monday afternoon June 12, 2023 the Cook County State's Attorney's office described that Amelia Mazeikis, with passenger D'Shaun "DJ" Tudela, was driving a 2005 Honda Civic southbound on Barrington Road and traveling through the intersection with a green light. There was a red light for 30 seconds when Deni Rubio drove eastbound in a right lane of Higgins Road through the intersection in a 2000 dark gray Dodge Durango. While disobeying the red light, he struck the Honda Civic in a T-bone style crash. A third vehicle was then struck by the Honda.
Amelia Mazeikis and passenger D'Shaun "DJ" Tudela died in the Honda from multiple injuries caused by the crash.
After the crash, Deni Rubio continued driving southbound in the northbound lanes of Barrington Road, crossed the median, and drove across the southbound lanes and into a grassy, wooded area on the west side of Barrington Road.
Rubio exited the vehicle with no shirt. There were no other people near the crashed Dodge Durango. Witnesses approached police and confirmed that the Durango in the woods was the vehicle that crashed in the intersection of Higgins Road and Barrington Road.
A Hoffman Estates police officer attempted to apprehend Rubio by grabbing the suspect's right arm. The suspect pulled away his arm and returned toward his vehicle. Police ordered Rubio to stop, and the defendant refused to step away from his vehicle. The defendant grabbed a police officer's gun magazine and also attempted to disarm one of the police officers.
A police officer deployed a Drive Stun function of a Stun Gun, which means the Stun Gun was activated and then placed against the suspect's body without shooting/firing a projectile. Nine police officers were required to subdue Rubio, and he was taken into custody. Police officers allegedly found cocaine in Rubio's pants pocket.
Rubio admitted to striking the Honda in the intersection, and admitted to drinking and consuming cocaine. An initial test of the substance indicated the presence of cocaine and fentanyl. The substance was sent to the Illinois State Police laboratory for additional analysis.
Rubio's Blood Alcohol Content (BAC) was measured at 0.136mg/dL. According NIAAA/PUBCHEM, physiological effects in a range around this figure include "severe impairment of motor functions, speech, and judgment; and slurred speech".
According to information released at the bond hearing, Deni Rubio, of the block of 600 Linden Avenue in Elgin, has a criminal history of aggravated battery to an EMT, a previous DUI conviction (under supervision), and a charge of Aggravated Unlawful Use of a Weapon in Cook County District 4 jurisdiction (Maywood).
Bond was set at $2 million. Deni Rubio's next court date is scheduled for July 7, 2023 at 9:00 a.m. in Room 108 Cook Count Circuit Court Rolling Meadows. If Rubio pays bond, he will be subject to house arrest.
Fatal crash kills two teens at Barrington Road and Higgins Road, Hoffman Estates YouTube Tips ⓘ
Police, firefighters and paramedics from Hoffman Estates responded about 8:52 a.m. Saturday, June 10, 2023 to a report of a crash with injuries and entrapment in Hoffman Estates at the intersection of Higgins Road and Barrington Road. Hoffman Estates police — first on the scene by about 8:54 a.m. — reported two people unresponsive and entrapped in one of the vehicles.
Firefighters and paramedics with Hoffman Estates Truck 22 on arrival reported a vehicle with heavy damage at the intersection among two vehicles involved in the intersection. There was a silver Honda sedan with heavy damage and a white small SUV with moderate damage at the intersection. A second ambulance and an engine crew were dispatched by 8:54 a.m. — another Hoffman Estates ambulance was assigned in that dispatch. A third ambulance was requested by 8:55 a.m. — a Streamwood ambulance was assigned in that dispatch.
A fourth ambulance was requested by 8:58 a.m. — another Hoffman Estate ambulance was assigned.
At 9:03 a.m. the discovery of a "second crash" was reported near the scene, which was actually a vehicle possibly involved in the initial crash. A silver Dodge (possibly a Durango) was discovered in the woods on the west side of Barrington Road about 550 feet south of the intersection of Higgins Road and Barrington Road. An ambulance from Schaumburg, a rescue squad from Palatine, and a second engine from Hoffman Estates were assigned to the south scene at 9:03 a.m.
Fire command reported four patients at the north scene. No ambulance was needed at the south scene, according to command.
An Inverness ambulance was dispatched to the scene at 9:06 a.m. In total, six ambulances were assigned.
According to Hoffman Estates Police Department, two teens were killed in the crash — an 18 year-old female driver and an 18 year-old male passenger. The Cook County Medical Examiners Office released the identity of the two victims as Amelia Mazeikis and D'Shaun "DJ" Tudela. According to a family member, the couple had been in a relationship for three years, and were on their way to work when the crash occurred.
GOFUNDME …
Two beautiful souls lost today. My heart aches to no end. D'shaun Gentry Tudela and Amelia Simone Mazeikis.

I can't even express the sadness in my heart for my boy and his beautiful Amelia the only thing keeping me together is that they are together.

Amelia and D'Shaun have been together for 3 years and just graduated in May from Schaumburg High School. This morning they were on their way to work when another vehicle running a red light causing a 3 car collision.

The funds gathered here will be split between the two families to help with expenses.
Police have released information indicating alcohol may have been a factor in the crash. The silver Dodge that was discovered crashed in the woods over 500 feet south of the intersection was assessed by Major Case Assistance Team — Serious Traffic Accident Reconstruction investigators along with the north scene. Fresh tire impressions in the grass were visible from the southbound lanes of Barrington Road into the woods. Firefighters used saws to clear branches from trees around the Dodge so that investigators could properly assess this south scene.
The silver Honda in which Amelia Mazeikis and D'Shaun "DJ" Tudela were traveling was severely damaged in the rear and also on the right side of the vehicle. There was minor damage visible at the front-end of the Honda. The front-end of the Dodge Durango was not visible from Barrington Road, and no damage was visible at the rear or driver's side of the vehicle. From crash scene observations, it appeared possible that the Honda was hit in the rear at high speed, but this is not initially confirmed by authorities. There was a large traffic signal standard (pole) near the passenger side of the Honda, and the Honda also had severe damage on the passenger side. Police did not indicate whether the Honda hit the traffic signal standard. The traffic signals appeared to operating normally.
Barrington Road and Higgins Road is a red light photo-enforced intersection for westbound Higgins Road, eastbound Higgins Road, and southbound Barrington Road. Northbound Barrington Road did not appear to have red light cameras.
Police have not indicated which direction the three vehicles were traveling, or how they crashed. If the Dodge was involved in the original crash, the Dodge traveled an extraordinary distance following the initial crash. Police have not indicated whether the driver of the Dodge remained at the scene after the crash, and have not indicated whether the driver was attempting to flee the scene before crashing into the woods.
Initially, the Hoffman Estates Police Department did not indicate whether any charges or citations were issued. They also did not initially identify which driver may have been responsible for alcohol being a factor in the crash; however, it does not appear to be the driver of the silver Honda.
The Speed Limit on Barrington Road is 45 MPH north of Higgins Road and south of Higgins Road.
The Speed Limit on Higgins Road is 50 MPH west of Barrington Road and east of Barrington Road.
The information in this article is an early report published before any complete summary information was confirmed or released by police or fire authorities.
DEVELOPING IF CONTENT IS AVAILABLE …
Stay informed with news from The Cardinal's Emergencies Behind the Scenes Facebook page — Facebook.com/CardinalEmergencies. For a list of all of The Cardinal Facebook fan pages, go to Arlingtoncardinal.com/about/facebook …

Help fund The Cardinal

Arlingtoncardinal.com/sponsor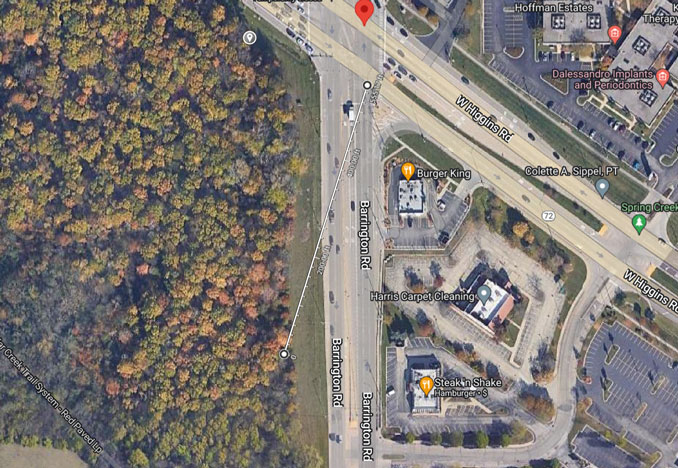 A Hoffman Estates crash near Higgins and Barrington roads killed Schaumburg High School sweethearts D'shaun Tudela and Amelia Mazeikis (ABC 7 Chicago). YouTube Tips ⓘ
Hoffman Estates police believe alcohol may be involved in a crash Saturday morning that left two people dead (WGN News). YouTube Tips ⓘ
In a post on GoFundMe, the man's mother said the two dated for three years and just graduated from Schaumburg High School (CBS Chicago). YouTube Tips ⓘ