Twitter now has an identity under X Corp. In a court filing April 4, 2023 [PDF], Twitter, Inc. disclosed that it no longer existed, and was consolidated into X Corp. The corporation was created on March 9, 2023. While the Twitter identity remains, the controversial platform is held now held by Elon Musk's company, X Corp. Back in October, Elon Musk tweeted that "(b)uying Twitter is an accelerant to creating X, the everything app — Musk's vision for creating an app that would create common functions for a multitude of tasks, such as grocery shopping, purchasing mass transit tickets, ride sharing and other mobile payments, instant messaging, etc.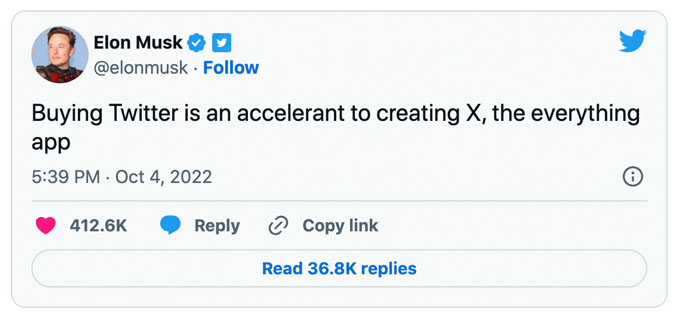 The x.com domain, which is registered on godaddy.com, was purchased by Elon Musk on July 5, 2017. The domain was created on April 4, 1993. X.com was an online bank co-founded by Elon Musk, Harris Fricker, Christopher Payne, and Ed Ho in 1999 in Palo Alto, California.
In 2000, X.com merged with competitor Confinity Inc., a software company also based in Palo Alto. After the merger the name was changed to PayPal, and then eBay bought PayPal for $1.5 billion in 2002. In 2015, PayPal was spun off and became an independent company.
Today, x.com refers to a blank white page except for a black letter 'x'.
In an interview in November 22, 2023 at the Ron Baron conference said he know how to make a "way better PayPal." Musk also described making Twitter a "way better system." Musk proposed, "how do we get 80 percent of the public to join a digital town square and voice their opinion and exchange ideas, and maybe once in a while change their minds?"
Musk explained an analogy whereby Twitter might work like a radio that tunes in music station preferences. There might be 'easy listening-like' Twitter conversations or 'heavy metal-like' Twitter conversations where you would be exposed to vigorous arguments where you don't mind what is being said to you. People would be able to tune in their Twitter experience. You would pick your preference for "full contact battle", or for just "looking at puppies and nice landscapes, etc."
Elon Musk interview at Ron Baron Conference November 2022. YouTube Tips ⓘ
Twitter's new arrangement was revealed in a corporate disclosure statement in a lawsuit involving Laura Loomer [PDF] versus Meta Platforms, Inc. d/b/a Meta f/k/a Facebook, Inc., Mark Zuckerberg, in his capacity as CEO of Facebook, Inc. and as an individual, Twitter, Inc. and Jack Dorsey, in his capacity as former CEO of Twitter, Inc. and as an individual, The Proctor & Gamble Company, Does 1-100, Individuals. In March 2023, Musk registered X Holdings Corp. and X Corp. in Nevada. On the same day, Musk registered the artificial intelligence (AI) company X.AI. Also in March, Musk applied to merge X Holdings I with X Holdings Corp. and Twitter, Inc. with X Corp. In the filing, Musk revealed that X Holdings Corp. has $2 million in capital; X Holdings Corp. will also serve as the parent company for X Corp. In a company-wide email in March 2023, Musk announced that Twitter employees will receive stock in X Corp.
In early May 2023, Twitter announced that Terms of Service will reflect that Twitter, Inc. is now X Corp. effective May 18, 2023.