Surface Transportation Board (STB) Chairman Martin J. Oberman leads press conference on the Canadian Pacific merger with Kansas City Southern (SOURCE: STB). YouTube Tips ⓘ
Federal regulators known as the U.S. Surface Transportation Board on Wednesday, March 15, 2023, approved Canadian Pacific's $31 billion acquisition of Kansas City Southern — CPKC.
The newly merged companies will create the only railroad freight line that links Canada, United States, and Mexico. The combined CPKC network would include approximately 20,350 miles of track in total, including approximately 8,600 miles in the U.S., and would extend from Canada, through the U.S., and into Mexico. Shipping of grain, automotive parts and vehicles, and intermodal goods will improve with new single-line options, and shippers will have opportunities to expand their market reach. Imposed conditions will ensure shippers' options are not reduced. The Surface Transportation Board also requires CPKC to adhere to the terms of the CPKC Service Promise to address any post-transaction service disruptions, including developing and reporting customized "Service Action Plans" to address specific issues when certain thresholds are triggered.
The Surface Transportation Board claims the decision includes going forward with an unprecedented seven-year oversight period, and contains many conditions designed to mitigate environmental impacts, preserve competition, protect railroad workers, and promote efficient passenger rail. The STB also anticipates the merger will result in improvements in safety and the reduction of carbon emissions.
The combined railroad will be pressed to find a way to eliminate past contentious feelings tied to last year's contract negotiations that included Kansas City Southern. Canadian Pacific, which negotiates separately with its unions, reports that agreements that have already been reached with some of the biggest rail unions will result in bigger raises than most rail workers received, and will address some of workers' quality-of-life concerns about demanding schedules.
The Surface Transportation Board said that the new direct service "will facilitate the flow of grain from the Midwest to the Gulf Coast and Mexico, the movement of intermodal goods between Dallas and Chicago and the trade in automotive parts, finished vehicles, and other containerized mixed goods between the United States and Mexico."
The combined company is expected to have little to no railroad track redundancies or overlapping routes, and is also expected to add more than 800 new union jobs in the U.S., according to the board. Conditions set by the STB will protect employees affected by the merger and will hold CPKC to labor protective agreements. The STB is imposing New York Dock labor protective conditions, which provide both substantive benefits for affected employees (up to six years of full wages, moving allowances, preferential hiring, and other benefits) and procedures for resolving disputes regarding implementation of the transaction (negotiation or, if necessary, arbitration). The Board also requires adherence to the "Cramdown Agreement" that was entered into by certain unions and carriers in 2001 primarily to address issues that may arise when work tasks that are subject to consolidation are covered by two or more collective bargaining agreements.
The new CPKC single-line service is anticipated to "foster the growth of rail traffic, shifting approximately 64,000 truckloads annually from North America's roads to rail, and will support investment in infrastructure, service quality, and safety," according to the STB.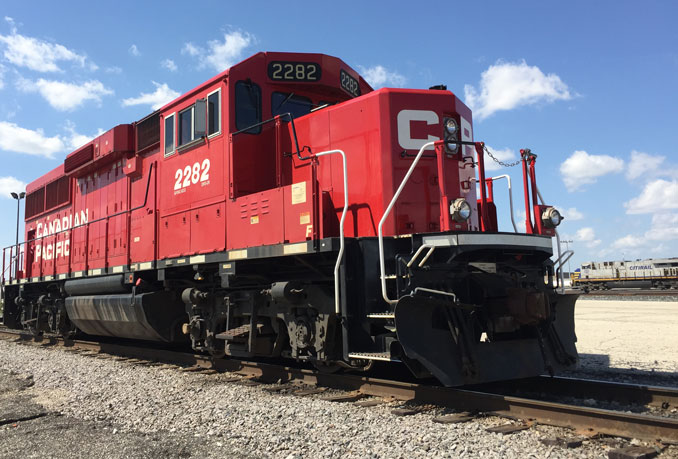 In 2021, Canadian Pacific beat Canadian National railroad in completing this merger deal with Kansas City Southern even though Canadian National offered $33.6 billion for Kansas City Southern. Canadian National was defeated because the Surface Transportation Board rejected part of CN's plan to acquire Kansas City Southern.
The STB approval Wednesday comes at the end of a two-year final review, even as increased concern occurred following the Norfolk Southern train disaster in East Palestine, Ohio. Officials from Coalition to Stop CPKC were outspoken opposing the STB decision, calling it a disastrous, rushed decision.
"Canadian Pacific was not running the train in East Palestine. If it were, maybe it would have been a reason to re-examine."

— STB Chairman Martin J. Oberman
STB Chairman Martin J. Oberman also downplayed safety concerns implying safety concerns were minimal for the merged railroad companies compared to Norfolk Southern. STB regulators said in a report earlier in 2023 that the major impact of the merger would be an increase in noise issues in places where train traffic is expected to increase significantly, but the STB rejected concerns that the deal would create extended traffic-blocking problems in municipalities near the tracks. The STB has also disagreed with concerns that new CPKC rail traffic would cause congestion in the busy Chicagoland rail network, and thereby negatively affect Metra commuter trains. Canadian Pacific (CP) contributes to the cost of capital projects that benefit the freight service that the company operates over the Metra-owned Milwaukee District lines, and controls train dispatch on the Milwaukee District-West line tracks that Metra owns and uses.
Transferring dispatching rights from CP back to Metra has been decided against, because data does not support the transfer of dispatching rights, according to STB Chairman Martin J. Oberman. If it turns out that there are meaningful problems with Metra, then the possibility of transferring dispatching rights would remain on the table, according to Oberman.
The Coalition to Stop CPKC is concerned that many Metra commuters will switch to driving personal vehicles rather than using the area's Metra rail network, if the network becomes congestion.
Village President Rodney Craig called the STB decision, "Disgusting."
Public safety issues are the greater concern of Coalition to Stop CPKC.
The Coalition to Stop CPKC includes DuPage County, the Village of Bartlett, the Village of Bensenville, the City of Elgin, the Village of Itasca, the Village of Hanover Park, the Village of Roselle, the City of Wood Dale, and the Village of Schaumburg.
Speaking at a Coalition to Stop CPKC press conference Wednesday in reaction to the STB decision were US Rep. Raja Krishnamoorthi (Illinois, 8th District-D), Itasca Mayor Jeff Pruyn, Village President of Bensenville Frank DeSimone, Village President of Hanover Park Rodney Craig, Village Manager of Bensenville Evan Summers, Bartlett Trustee Stephanie Gandsey, and State Senator Seth Lewis.
Itasca Fire Chief John Schneidwind represented all members of the local public safety community. Schneidwind said that response times could be doubled, tripled, and even quadrupled because of the increase in freight train traffic.
Krishnamoorthi stated the area of concern is going to go from three freight trains per day to at least eleven, and as many as 18 freight trains per day. According to the environmental impact statement, 11,000 additional carloads of hazardous materials will course through the Chicago suburbs — 50% of which are flammable.
"5,000 carloads, at least, of flammable hazardous materials will be added to the traffic running through the suburbs on the Milwaukee District West Line, and yet the STB said there is no increase in risk associated with this merger. I strongly disagree."

— US Rep. Raja Krishnamoorthi
Krishnamoorthi stated that the community will provide its own oversight of the merger changes to rail traffic.
The Coalition to Stop CPKC claims that there would be more trains and longer trains, which would increase the risk of hazardous materials accidents, and cause an increase in grade crossing accidents with motor vehicles. Itasca Fire Chief John Schneidwind said delayed emergency response will have detrimental effects because long trains will block all at-grade crossings. Chief Schneidwind said an emergency call response that would simply be one minute and seconds from a firehouse could be prolonged to 14 minutes a train is blocking crossings. Resuscitation would be near impossible or impossible, and house fires that double in size every minute, would cause a house to be completely consumed by fire in that time.
Officials in small towns along the railroad like Camanche, Iowa, on the upper Mississippi River also expect that trains will interfere with emergency services. Leaders small towns also told the STB that first responders could be delayed in getting to a fire or responding to a medical emergency when long trains block every crossing in town at once.
The Surface Transportations Board's position is that rail transportation of hazardous materials is safer over rail compared to highways and roadways. However, nationwide among the public and government leaders at all levels, the Norfolk Southern derailment in Ohio has brought rail safety to the forefront. The state of Ohio filed a lawsuit against Norfolk Southern this this week.
The biggest CPKC railroad freight traffic increases are expected between Chicago and Laredo, Texas, with some of the rail lines across Iowa predicted to see more than 14 additional trains a day. The rail line between Kansas City, Missouri, and Beaumont, Texas is likely to see about 12 more trains a day.
Before the merger there are seven major railroads in the United States: BNSF, Canadian National, Canadian Pacific, CSX, Kansas City Southern, Norfolk Southern, and Union Pacific. The two railroads merging (Canadian Pacific and Kansas City Southern) are the smallest of the seven major railroads. The Surface Transportation Board stated that even after the CPKC merger, the new Canadian Pacific Kansas City railroad will be the smallest of the major freight railroads with about 20,000 miles of track. There are two major railroads in the Western United States — Union Pacific and BNSF. There are two major railroads in the Eastern United States — CSX and Norfolk Southern. Also, Canadian National runs trains across Canada and parts of the United States, including north Chicagoland in Lake County and Cook County.
The CPKC merger is the first major railroad merger in more than two decades. A recent railroad deal involving a major railroad is the 2010 purchase of BNSF by Warren Buffett's Berkshire Hathaway, but the STB stated that the deal faced less scrutiny because it wasn't a merger of two rivals. Previously, Canadian Pacific (CP) attempted unsuccessfully to buy both Norfolk Southern and CSX.
The Surface Transportation Board declared that mergers would only be allowed if a merger would enhance competition and serve the public interest. Members of the Coalition to Stop CPKC reacted today saying that the Surface Transportation Board chose commerce over safety with the announcement of the merger decision.
Surface Transportation Board | STB Approves CP/KCS Merger With Conditions and Extended Oversight Period
Facebook | The Coalition to Stop CPKC
Instagram | The Coalition to Stop CPKC
MAP INFO BELOW ADS …


^^ MOBILE? USE VOICE MIC ^^
facebook …
Please 'LIKE' the 'Arlington Cardinal Page. See all of The Cardinal Facebook fan pages at Arlingtoncardinal.com/about/facebook …

Help fund The Cardinal

Arlingtoncardinal.com/sponsor
THANKS FOR READING CARDINAL NEWS