Former Navy SEAL Commander Dave Sears says the Chinese spy balloon is a threat and should be a 'significant concern' to U.S. officials on 'Cavuto: Coast to Coast. YouTube Tips ⓘ
United States defense officials revealed on Thursday, February 2, 2023 that defense assets detected what authorities suspected to be a surveillance balloon and tracked its path across the United States over the state of Montana. Canadian officials reported that they were monitoring a potential second incident. The United States government was likely aware of the balloon as soon as it was launched.
Early images of the balloon were from a citizen standing on his driveway in Billings, Montana …
Not gonna lie. First, I thought this was a #ufo. Then, I thought it was @elonmusk in a Wizard of Oz cosplay scenario. But it was just a run-of-the mill Chinese spy balloon! pic.twitter.com/cBV7goF6Sv

— Chase Doak (@ckdoak) February 2, 2023
The balloon is a suspected surveillance balloon approximately the size of three school buses with a technology bay that is flying at approximately 60,000 feet, which is well above cruising altitude of commercial aircraft. Top cruising altitude for commercial aircraft is about 35,000. Analysts professed on news programs that the balloon is not believed to be obtaining any intelligence that could not be gathered by spy satellites.
A China Foreign Ministry statement claimed the balloon was "a civilian airship used for research, mainly meteorological, purposes. Affected by the Westerlies and with limited self-steering capability, the airship deviated far from its planned course." The United States Department of State rejected this claim. The Chinese state-controlled China Daily expressed ridicule, "To spy on the US with a balloon, one must both fall far behind to use a 1940s technology and be advanced enough to control its flight across the ocean. Those fabricating the lie are only exposing their ignorance."
The balloon, spotted over Montana, has been far above sensitive sites, including a location where over as many as 400 intercontinental ballistic missiles are located in missile silos at Malmstrom Air Force Base. On Friday afternoon, February 3, 2023, the balloon was located over northeast Kansas. Several reconnaissance and sentry type aircraft have been flying in the area of Missouri and Kansas Friday afternoon, and then Tennessee Friday evening.
The Pentagon did not provide real-time locations of the balloon, but military spokesperson Brig. Gen. Patrick Ryder said citizens could look up in the sky and see where the balloon is located for themselves.
Over Missouri, the high altitude balloon passed Whiteman AFB, the home base of the B-2 bomber. According to the aircraft tracking website globe.adsbeexchange.com, one of the Air Force military aircraft assets that was tracked over Missouri today, Friday, February 3, 2023, was a Boeing RC-1235U Combat Sent, which took off from Offutt Air Force Base in Omaha, Nebraska. The Boeing RC-1235U Combat Sent was on a circuitous track today from Jefferson City, Missouri to Cape Girardeau, Missouri, and then a big circle back to Kansas City, Missouri, and then back to an area just west of Nashville, Tennessee.
According to the United States Air Force, the RC-135U Combat Sent provides strategic electronic reconnaissance information to the president, secretary of defense, Department of Defense leaders, and theater commanders. Locating and identifying foreign military land, naval and airborne radar signals, the Combat Sent collects and minutely examines each system, providing strategic analysis for warfighters. Collected data is also stored for further analysis by the joint warfighting and intelligence communities. The Combat Sent deploys worldwide and is employed in peacetime and contingency operations, and its primary function is electronic intelligence reconnaissance and surveillance.
All RC-135U aircraft are equipped with an aerial refueling system, giving it an unlimited flying range. Communication equipment includes high frequency, very high frequency, and ultra high frequency radios. The navigation equipment incorporates ground navigation radar, a solid state Doppler system, and an inertial navigation system that merges celestial observations and Global Positioning System data. Although the flight crew stations are similarly configured, the reconnaissance equipment is slightly unique within each airframe.
The aircraft are identified by their distinctive antennae arrays on the "chin" and wing tips, large cheek fairings, and extended tail.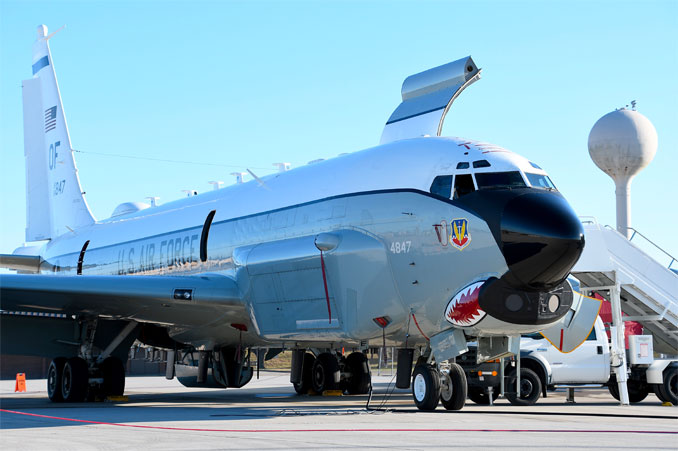 Crew composition includes two pilots, one navigator, two airborne systems engineers, and a minimum of 10 electronic warfare officers, or "Ravens," and six or more electronic, technical, and area specialists.
There are only two Combat Sent aircraft in the Air Force inventory and both are assigned to the 55th Wing at Offutt AFB, Neb. The RC-135U aircraft are manned by Air Combat Command crews from the 45th Reconnaissance Squadron and the 97th Intelligence Squadron (of the Air Force Intelligence, Surveillance and Reconnaissance Agency). The Combat Sent is composed of a wide variety of commercial off-the-shelf and proprietary hardware and software. Its current configuration allows for both manual and automatic analysis of electronic signals. By combining manual systems with the Automatic Electronic Emitter Locating System, Ravens and intelligence specialists can simultaneously locate, identify, and analyze multiple electronic signals.
While the balloon was long gone from the Montana skies, another strange incident occurred over Billings, Montana. On a Twitter account there was a tweet that reported a fast-moving jet, a smoke trail, and a flash and explosion on the horizon.
Ok, so here's what I just caught I few minutes ago out my window. I saw a jet go by so fast and then explosion in the sky. Holy crap! Billings MT. pic.twitter.com/swr8ERC6pf

— Dolly Moore (@MMtTreasures) February 4, 2023
U.S. Secretary of State Antony Blinken's scheduled diplomatic trip to China was postponed by President Joe Biden due to the incident.
Canadian officials summoned the Chinese ambassador to Ottawa, Canada and Canada's Department of National Defense announced publicly that they were monitoring the situation alongside the United States through NORAD.
The balloon operation could expose some of the electronic warfare capability of the United States military. Some analysts claimed that a slow-moving balloon could offer some imaging capability that a satellite could not provide, and that the balloon with a large payload could monitor United States communication systems. Analysts also advised the obvious intrusion to United States could be studying U.S. military response capabilities.
The whole incident is somewhat surreal, and might remind us of some movie scenes.
Mars Attacks martians easily manage a nuclear missile aimed at the their mother ship orbiting earth. YouTube Tips ⓘ
Confident of assured destruction of the orbiting Mars mothership, the United States launches a nuclear missile aimed at the martians, but they deploy a strange device that sucks in the energy of the nuclear explosion and uses the energy like we use helium to make funny voices.
Independence Day Movie CLIP – Time's Up (1996) HD YouTube Tips ⓘ
A crowd stands below a large spaceship hovering over a skyscraper, welcoming the extra-terrestrial visitors with friendly messages on posters while standing in crowds in the street. It doesn't end well after MIT-educated satellite engineer and technological expert (Jeff Goldblum) exclaims, "Time's up."
The Russians Are Coming! The Russians Are Coming! – Got to Organize: Norman (Jonathan Winters) pleads with the townspeople to bring more guns and get themselves organized. YouTube Tips ⓘ
When a Soviet submarine gets stuck on a sandbar off the coast of a New England island, its commander (Theodore Bikel) orders his second-in-command, Lieutenant Rozanov (Alan Arkin), to get them moving again before there is an international incident. Rozanov seeks assistance from the island locals, including the police chief (Brian Keith) and a vacationing television writer (Carl Reiner), while trying to allay their fears of a Communist invasion by claiming he and his crew are Norwegian sailors.
A group of teenagers look to save their town from an invasion of North Korean soldiers (Red Dawn 2012/MGM).
YouTube Tips ⓘ
Described as the dawn of World War III in the west mountains of America, a group of teenagers band together to defend their town, and their country, from invading Soviet forces.
YouTube Tips ⓘ
Get updates from The Cardinal ALL NEWS FEEDS on Facebook. Just 'LIKE' the 'Arlington Cardinal Page (become a fan of our page). The updates cover all posts and sub-category posts from The Cardinal — Arlingtoncardinal.com. You can also limit feeds to specific categories. See all of The Cardinal Facebook fan pages at Arlingtoncardinal.com/about/facebook …

Help fund The Cardinal

Arlingtoncardinal.com/sponsor
The 5th Dimension – Up, Up and Away (Official Audio) YouTube Tips ⓘ