Bryan Kohberger has landed in Idaho and is set to be served with an arrest warrant for the first-degree murders of four University of Idaho students. NBC's Gadi Schwartz reports for TODAY. YouTube Tips ⓘ
Bryan Christopher Kohberger of Albrightsville, Pennsylvania was taken into custody by an FBI SWAT team and Pennsylvania State Police tactical team on December 30, 2023 at the home of his parents in a gated community, Indian Mountain Lake, in the Pocono Mountains region of Pennsylvania between Scranton and Allentown. He was arrested on four counts of first-degree murder and one felony count of burglary, was appointed a public defender, and detained without bond at the Monroe County Correctional Facility in Stroudsburg. On his return to court January 3, 2023, he agreed to extradition. He was extradited on Wednesday, January 4, 2022, landing in the evening at the Pullman–Moscow Regional Airport. He was transferred wearing a helmet and bulletproof vest, and taken to the Latah County Jail, where he was booked at 6:44 p.m.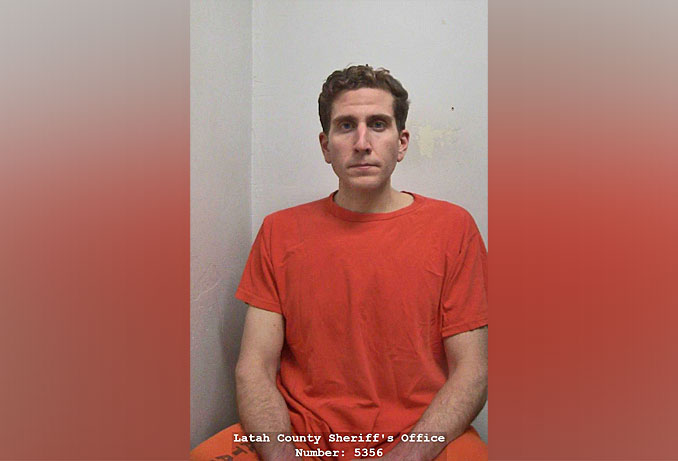 Kohberger, Bryan Christopher
Booked: 18:44:00 01/04/2023 (23-002)

Offense: 18-4001 – Murder
Counts: 4
Bond: $0.00
Court Case Number: CR29-22-2805

Offense: 18-1401 – Burglary
Counts: 1
Bond: $0.00
Court Case Number: CR29-22-2805
The stabbings on Nov. 13, 2022 killed four people likely between 4:00 a.m. and 4:25 a.m. …
Madison Mogen, age 21,
Kaylee Goncalves, age 21
Xana Kernodle, age 20, and
Ethan Chapin, age 20.
The four murder victims were friends, and were discovered in a rented house across the street from campus. The three female victims lived at the house; and Ethan Chapin, who was Xana Kernodle's boyfriend was sleeping over. Two other female roommates were initially reported to have slept through the attacks.
Autopsies results determined the four students were stabbed to death, and that the sharp force injury attack likely began while they were sleeping.
The first contact with police after the homicides was a 9-1-1 call at 11:58 a.m. reporting an unconscious person at the residence from a resident inside the rented house.
An affidavit requesting an arrest warrant which was submitted December 29, 2022, and was revealed Thursday, January 5, 2023, confirmed important information, and revealed new information.
Two Moscow Police Department police officers responded to 1122 King Road in Moscow, Idaho to assist with scene security and the processing of the crime scene associated with four homicides inside the residence.
A tan leather sheath was discovered where Goncalves and Mogen were found deceased on a single bed in a third floor bedroom on the west side of the residence. The tan leather sheath had "Ka-Bar" "USMC" and the United States Marine Corps eagle globe and anchor insignia stamped on the outside of the knife sheath. Later, the Idaho State Lab located a single source of male DNA, considered a suspect profile, on the button snap of the knife sheath.
Initially the weapon is unknown, and has not been found.
KA-BAR is the name for a combat knife that is known to be used by the United States Marine Corps, the United States Navy, and the United States Army. People may refer to the weapon as the "KA-BAR" regardless of the manufacturer. The blade length is 7 inches. The entire length is 11 7/8 inches.
Law enforcement agents in Pennsylvania on December 27, 2022 obtained a DNA profile from the trash at Bryan Kohberger's parents' house. Evidence was sent to the Idaho State Lab for testing. A DNA profile from the trash was discovered that indicated a male associated with the trash sample could not be excluded as being the biological father of the male associated with the DNA profile recovered from the knife sheath button snap — specifically 99.9998% of the male population would be expected to be excluded from the possibility of being the biological father of the male matching the DNA suspect profile (Google search: Y-STR DNA testing/short tandem repeat on the Y chromosome).
Early in the investigation, numerous interviews were conducted by Moscow Police Department officers, Idaho State Police detectives, and FBI agents. Two of the interviews, named only by initials B.F. and D.M., were inside the King Road residence at the time of the homicides.
New information released to the public indicated that D.M. stated she originally went to sleep in her bedroom on the southeast side of the second floor. D.M. stated she was awoken at approximately 4:00 a.m. by what she stated sounded like Goncalves playing with her dog in one of two upstairs third floor bedrooms. D.M. said that a short time later she heard who she thought was Goncalves say something to the effect, "there's someone here." Goncalves bedroom was on the west side on the third floor. A review of cellphone records obtained from a forensic download of Kernodles's phone showed this could also have been Kernodle, as her cellphone indicated she was likely awake and using the TikTok app at approximately 4:12 a.m.
D.M. stated she looked out of her bedroom, but did not see anything after hearing the comment about someone being in the house. D.M. said she opened her bedroom door a second time when she heard what she thought was crying in Kernodle's room. D.M. said she then heard a male voice say something to the effect of "it's OK, I'm going to help you."
At approximately 4:17 a.m. a security camera located at a separate residence immediately to the northwest of 1122 King Road, captured distorted audio of what sounded like voices or a whimper, followed by a loud thud. Audio captured with the video included a dog barking several times beginning at 4:17 a.m. The security camera next-door was positioned less than 50 feet from the west wall of Kernodle's second floor bedroom, where Kernodle and her boyfriend Ethan Chapin were later found dead.
D.M. stated she opened her door a third time after she heard the crying and then she saw a figure clad in black clothing and a mask that covered the person's mouth and nose walking towards her. D.M. described the figure as a male, 5'10" or taller, not very muscular, but athletically built with bushy eyebrows. The male walked past D.M. as she stood in a "frozen shock phase." The male walked towards the back sliding glass door. D.M. locked herself in her room after seeing the male.
Video canvassing discovered a white sedan, apparently missing a front license plate, traveling westbound in the block of 700 Indian Hills Drive at about 3:26 a.m. and westbound on Styner Avenue at Idaho State Highway 95 at approximately 3:28 a.m.
Multiple videos captured the white sedan several times between 3:29 a.m. and 4:20 a.m. There were three initial passes of the 1122 King Road residence, some turn arounds, and a three-point turn on streets nearby, followed by a departure via Walenta Drive at a high rate of speed at 4:20 a.m. FBI forensic examination of the video initially determined the vehicle was a 2011-2013 Hyundai Elantra, and an investigation began to review information of persons possessing 2011-2016 Hyundai Elantra.
Video cameras in the 2:00 a.m. hour also captured images of a white sedan near Washington State University (WSU) in Pullman, Washington, and along highways that connect Pullman, Washington to Moscow, Idaho. FBI examination of the these video images narrowed down the vehicle to a 2014-2016 Hyundai Elantra.
Video cameras in the 5:00 a.m. hour detected a white sedan again near the Washington State University campus in Pullman, Washington.
Moscow police then asked area law enforcement agencies to be on the lookout for a white Hyundai Elantra. On November 29, 2022, at approximately 12:28 a.m., a Washington State University police officer queried white 2015 Hyundai Elentras registered at WSU. He discovered a white Elantra with Pennsylvania license plates registered with an address at an apartment on Valley Road in Pullman. In the 30 minutes the physical location of the registered Hyundai Elantra was confirmed in a parking lot when a police officer drove by the parking lot. The license plate on the parked car registered to Bryan Kohberger at an apartment building that houses WSU students.
Further investigation of the vehicle connected to Kohberger discovered a traffic stop on August 21, 2022 by a Latah County Sheriff's Deputy, which was recorded on a law enforcement bodycam, and which resulted in Kohberger providing his cell phone number to the deputy. Following the traffic stop, the law enforcement investigation then proceeded with search warrants to discover cellular devices that utilized cell towers in close proximity to the King Road homicide address. A query did not show that Kohberger's phone utilized cellular tower resources in close proximity to the King Road crime scene between 3:00 a.m. and 5:00 a.m.
A query of Kohberger's cell phone using Cell Site Location Information (CSLI) showed that Kohberger's cell phone stopped reporting to the cellular network at 2:47 a.m. November 13, 2022. The phone had been located historically in use at the cellular resources that provide service to Kohberger's address on Northeast Valley Road in Pullman, Washington at 2:42 a.m. Cellular resources that were utilized around this time also indicated Kohberger's phone was traveling southeast from the area of his address toward Moscow, Idaho until the network connection with the cellphone stopped. Kohberger's phone connected with the network again at about 4:48 a.m. The cellular records showed an irregular route back to Pullman, Washington, and at about 5:30 a.m. Kohberger's phone was utilizing cell resources consistent with his address on Northeast Valley Road.
Prior to the homicides on November 13, 2022, a query of cell phone records discovered Kohberger's cell phone had utilized cellular resources that provide coverage to the area of 1122 King Road on at least 12 occasions. On one occasion, August 21, 2022, Kohberger's phone used resources near the future crime scene address from 10:34 p.m. to 11:35 p.m. This is the timeframe when Kohberger was stopped (at 11:37 p.m.) by a Latah County Sheriff's Deputy at Farm Road and Pullman Highway. Moscow, Idaho is located in Latah County.
Some cell phone location information was discovered to coincide with security images that captured the white sedan, and even coincided with security video that captured Kohberger walking through a store while shopping.
A license plate reader captured an image of the 2015 white Hyundai Elantra on December 13, 2022 in Loma, Colorado. Law enforcement in Indiana stopped the Elantra twice as part of a possible pretext traffic stop to get a closer look at the occupants of the vehicle. Bryan Kohberger and his father were in the Elantra, which was displaying recently acquired Washington license plates to replace the Pennsylvania plates that expired on November 30, 2022. Kohberger's Elantra was detected by surveillance video in Albrightsville, Pennsylvania on December 16, 2022 at 2:26 p.m.
Suspect in University of Idaho Murders Arrested in Pocono Mountain Region South of Scranton, Pennsylvania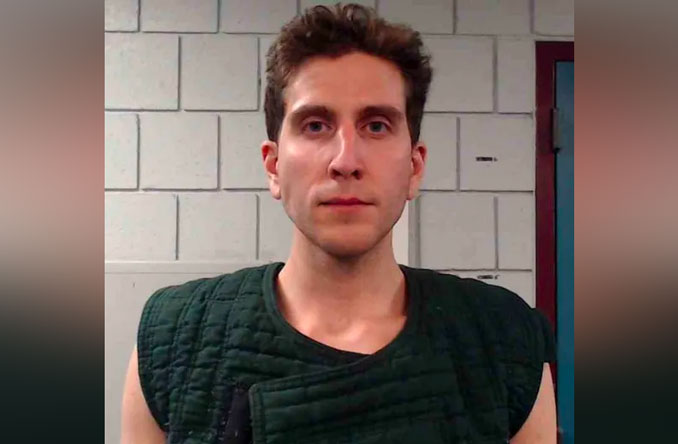 Bryan Kohberger, age 28, was arrested by Pennsylvania State Police (including tactical officers) with an FBI SWAT team on December 30, 2022 at the home of his parents in Albrightsville, Pennsylvania — 47 days after the stabbing deaths of the four University of Idaho students whose bodies were found in the rental home on King Road near campus on November 13, 2022. Multiple law enforcement sources initially revealed the information to media sources on the condition of anonymity that there had been an arrest.
The Moscow Police Department scheduled a press conference at 1:00 p.m. PST (3:00 p.m. CST).
Moscow Police Dept. – PRESS CONFERENCE – Dec. 30, 2022 YouTube Tips ⓘ
Bryan Kohberger was apprehended in a rural area south of the Scranton, Pennsylvania metropolitan area Friday morning in the Pocono Mountain region between Scranton and Allentown in Monroe County. The arrest occurred in a gated community in the block of 100 Lamsden Drive A white Elantra was transported away from the Pennsylvania home where the suspect was apprehended and arrested Friday, December 30, 2022. Police in Moscow, Idaho had revealed that they were looking for a white Hyundai Elantra spotted in the immediate area of the King Road residence homicides early on the morning around the time the crime occurred.
Suspect Bryan Kohberger appeared in front of a Monroe County judge around 8:30 a.m. Friday. Kohberger was initially scheduled for extradition on January 3, 2023. Bond/bail was denied, and Kohberger was held in the Monroe County Correctional Facility.
The Moscow Police Department reported earlier that investigators were checking nearly 12,000 tips while attempting to find a suspect or suspects. At the press conference on December 30, 2022, the police department reported 19,000 tips were received.
The Suspect's Home State
Albrightsville (suspect's residence before university life) is located about 14 miles northwest of Chestnuthill Township (where parents live and where he was arrest) and about 30 miles south of Scranton, Pennsylvania (the nearest large city). Coincidentally, there is a borough in Lackawana County named Moscow about 8 miles southeast of Scranton. The residence locations of the suspect and his parents are located between Scranton and Allentown in eastern Pennsylvania.
The killings are believed to have occurred between 3:00 a.m. and 4:00 a.m. on Sunday, November 13, 2022.
Earlier on Saturday night, Chapin and Kernodle were at an on-campus party at the Sigma Chi fraternity from 8:00 pm to 9:00 p.m., and returned home at 1:45am. The other two victims, Mogen and Goncalves, had gone to The Corner Club, which is a downtown sports bar at Main and 'A' Streets, at about 10:00 p.m. The left the sports bar at 1:30am. A livestreamed video from Twitch, captured from a camera on a food truck known as The Grub Truck, was four blocks south at Friendship Square at Main Street and Fourth Streets. The video showed Mogen and Goncalvekks at 1:41 a.m., chatting and smiling, getting their food. They left in a one mile car ride provided by a "private party," and arrived home at 1:56 a.m. The private ride was initially incorrectly classified as a an Uber ride.
All four of the victims were home by 1:56 a.m.
Seven phone calls were made from the phone of Goncalves to her former longtime boyfriend and fellow student, Jack DuCoeur, from 2:26 a.m. to 2:52 a.m. There was no answer. Mogen also called DuCoeur three times with no answer from 2:44 a.m. to 2:52 a.m.
These calls were investigated, and police said they concluded they did not believe DuCoeur was involved in the crime.
The two surviving roommates had returned home by 1:00 a.m., and were in their beds on the ground floor of the home at the time of the murders. They were not attacked or held hostage, and were initially believed to have been asleep until later that morning after the murders. The four victims were stabbed to death on the second and third floors of the home, where they are believed to have been sleeping.
Moscow police received the first 9-1-1 call at 11:58 am with a call from inside the house from the cellphone of one of the surviving residents at the house. The 9-1-1 call requested help for an "unconscious" person. When police arrived, the door to the home was open, there was no sign of forced entry or intentional damage inside the home. However, walls inside the home showed signs a violent crime had occurred.
The two surviving roommates were in the residence when the police arrived, but other friends of the victims were also on the scene potentially having at least accidentally destroyed evidence at the crime scene.
The surviving roommates had called friends over to the house for help because they believed one of the second-floor victims was unconscious, and was not waking up.
The four victims, who were not gagged, bound or restrained, were pronounced deceased at 12:00 p.m.
A video showing two of the four slain University of Idaho students walking with another person known as 'hoodie guy' on the night of the University of Idaho student murders surfaced during the investigation. "I told Adam everything," the woman believed to be Madison Mogen said to Kaylee Goncalves as they walked down the street with 'hoodie guy.' The Law&Crime Network's Angenette Levy and retired FBI special agent Jennifer Coffindaffer discuss the video. YouTube Tips ⓘ
See also … Police Bodycam recorded encounter at party at house on September 1, 2022 …
TMZ: IDAHO MURDER HOUSE, BIG PARTY WHEN VICTIMS WEREN'T HOME … Lots of Folks Had Access
Indiana Traffic Stops …
Bodycam of first traffic stop of Bryan Kohberger: Stopped by Hancock County Sheriff's deputy for tailgating on December 15, 2022. YouTube Tips ⓘ
Bodycam of second traffic stop of Bryan Kohberger: An Indiana trooper pulls over Bryan Kohberger in Hancock County on Dec. 15, 2022. Kohberger was arrested weeks later, suspected of murdering four Idaho students. YouTube Tips ⓘ
Get updates from The Cardinal ALL NEWS FEEDS on Facebook. Just 'LIKE' the 'Arlington Cardinal Page (become a fan of our page). The updates cover all posts and sub-category posts from The Cardinal — Arlingtoncardinal.com. You can also limit feeds to specific categories. See all of The Cardinal Facebook fan pages at Arlingtoncardinal.com/about/facebook …

Help fund The Cardinal

Arlingtoncardinal.com/sponsor